Last Updated on August 22, 2023 by louischilton
Acne is widely common among teenagers, but that's not always the case. Statistics have shown that this skin problem is still common among adults.
Some adults even experience acne and wrinkle at the same time, some of the factors that result in wrinkling of the skin during aging may also cause acne.
Though some dermatologists are of the opinion that acne sufferers are less prone to wrinkle, they stated that those without acne suffer more wrinkled skin.
But there is no real fact backing up that dermatologic opinion. It's a bigger headache for adults battling both acne and wrinkle. Don't panic, We are here to help you fix this. In this article, we are reviewing the top 5 products for adult wrinkles and acne.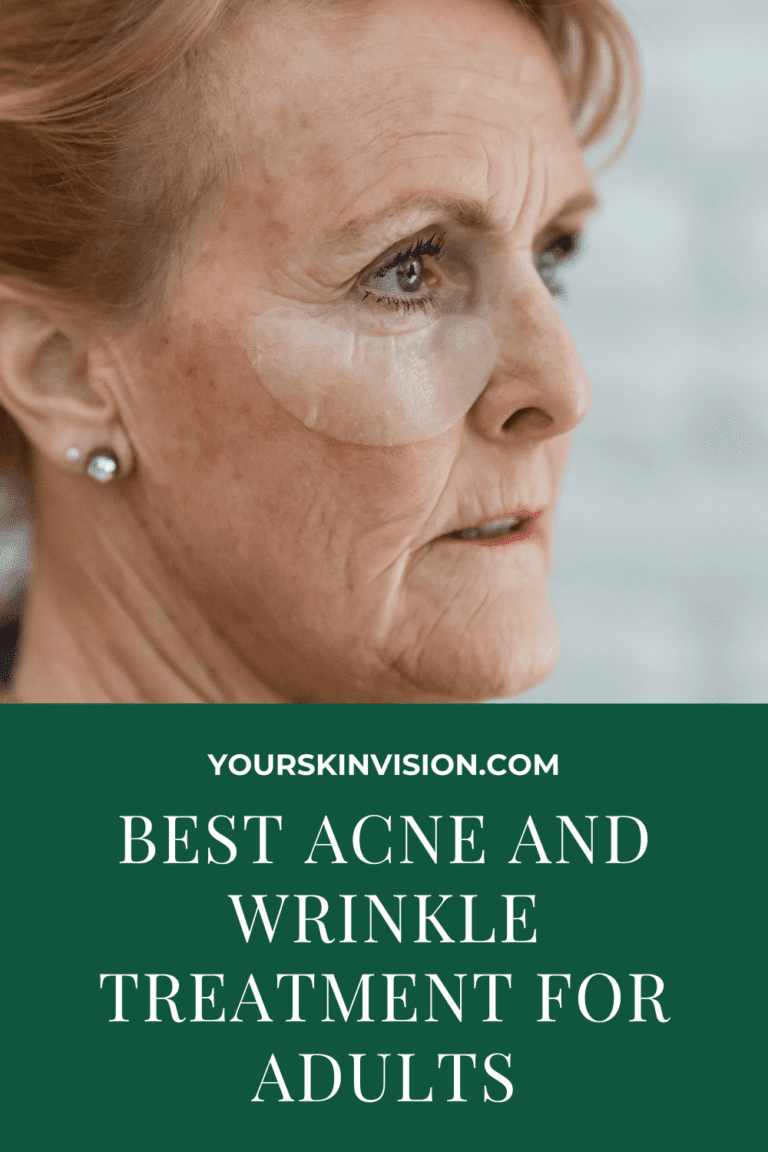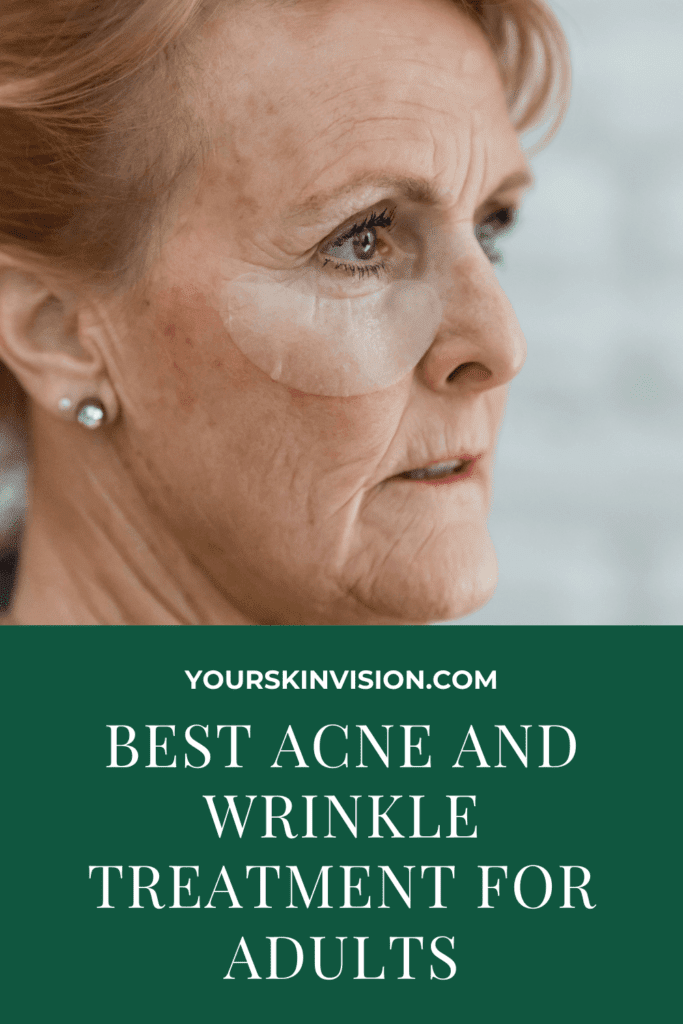 What Are The Main Causes Of Acne In Adults
Acne is generally caused when excess sebum (oil) is produced in the sebaceous gland. This oil then builds up in the hair follicle resulting in the clogging of skin pores. Other than oil, acne is also triggered by bacteria, hormonal changes, and dead skin cells.
In adults, acne is generally caused by
Hormonal changes
This is widely common in males and females, the progesterone hormone produced during ovulation can also enhance sebum production which will result in acne.
This does not only occur to the female gender. In males, the testosterone hormone plays a key role in beard growth, sex, and muscle mass. This hormone also produces excess sebum which can cause acne.
Stress
This is not a direct cause of acne, some dermatologists stated that stress can sometimes trigger and even worsen acne outbreaks. Also, excessive stressing of the skin without a proper remedy can accumulate bacteria causing acne.
Food
This has really not been proven as a fact, Some experts are of the opinion that food rich in sugar, fast food, and milk can trigger acne outbreaks in adults.
Using Wrong Medications
Other than junk food, medications are one acne-causing factor. certain medications like corticosteroids, lithium, barbiturates, and androgenic steroids can trigger acne outbreaks in the body. These drugs can alter the production of hormones in adults resulting in acne
Causes Of Wrinkled Skin
The following factors are responsible for the presence of wrinkled skin.
Wrinkled skin is very common in older people, this is mainly because their skin losses its natural elasticity due to the excess drop of moisture and natural skin oil. Aso, aging comes with less collagen production which can lead to wrinkle formation.
Frequent Exposure To The Sun Ray
One major factor that enhances premature and mature wrinkles is exposure to the sun. This ultraviolet (UV) radiation in sunlight can alter the texture of your skin. Other than fine lines and wrinkles, there is also evidence of sunspots on the skin.
Air Pollution
This is mainly common in urban areas where there are heavy petrochemical industries. And are mainly common with air pollutants like particulate matter (PM), and nitrogen(2)oxide.
Some experts stated that when the skin is exposed to these fly particles in the lower atmosphere, there is an association that leads to the formation of wrinkled skin.
Smoking
Does smoking cause wrinkled skin? the answer is yes. Smokers are prone to deep wrinkles on their faces.
Different researchers have stated that tobacco smoke is infused with toxic formulas that can damage skin cells. This can result in premature aging. Another outcome of smoking other than wrinkled skin is fine lines
Dry Skin
When your skin lost its natural oil and moisture, it becomes dehydrated causing dry skin. This can make the texture of your skin appears to have wrinkles. Although dry skin is not among the major cause of wrinkled skin, the fact is those with dry skin are more affected by wrinkled skin.
Can Acne Cause Wrinkles
Acne itself doesn't directly cause wrinkles, but there is a relationship between acne and the potential development of wrinkles over time. Let's break down the connection:
Inflammation: Acne is often associated with inflammation, particularly in more severe cases. Chronic inflammation can lead to the breakdown of collagen and elastin, which are proteins responsible for maintaining skin firmness and elasticity. As these proteins degrade, the skin can become more prone to developing wrinkles.
Scarring: Severe acne can result in scarring, including pitted or depressed scars known as "acne scars." While these scars themselves aren't exactly wrinkles, they can alter the texture and appearance of the skin, making it appear less smooth and potentially more prone to developing wrinkles over time.
Sun Exposure: Acne-prone skin can be more sensitive to sunlight and prone to sunburn. Sunburn damages collagen and elastin fibers, leading to premature aging of the skin, which can manifest as wrinkles, fine lines, and age spots.
Skincare Habits: People with acne-prone skin might use harsh or abrasive skincare products in an effort to control their acne. Over time, such products can compromise the skin's natural barrier and contribute to skin dryness, which in turn can make fine lines and wrinkles more noticeable.
Age and Genetics: Both acne and wrinkles are influenced by genetics and age. Some individuals are more predisposed to developing acne or wrinkles due to their genetic makeup. Additionally, as people age, their skin naturally undergoes changes that can lead to the development of wrinkles, regardless of whether they've had acne in the past.
How Do I Get Rid Of Both Acne And Wrinkle In Adults
The following tips will help you get rid of both acne and wrinkled skin
Using Aloe Vera Gel
Aloe vera as a home remedy is infused with so many antioxidants and vitamins. These ingredients help to protect the skin against ultraviolet UV radiation causing fine lines and wrinkles.
Aloe vera is also infused with salicylic acid, this anti-inflammatory ingredient also helps control bacterial and serum-causing acne.
Don't Forget To Make Use Of Coconut Oil
Coconut oil contains is rich in saturated fats, and this fat helps to stimulate collagen production in the body. This collagen helps to drastically reduce wrinkles building up in the skin.
Coconut oil also contains lauric acids, different studies have shown that this fatty acid is more effective than benzoyl acid for acne treatment.
Make Use Of Lemon Juice
Lemon juice is rich in vitamin C, this antioxidant helps to restore collagen in older ages which can help reduce wrinkles and fine lines. Also, lemon juice contains citric acid, a type of AHA used to reduce excess oil and bacteria causing acne.
Eat Enough Pineapple
One best-recommended fruit for aging skin and acne is pineapple. It contains both vitamin C and antioxidants for collagen supply. This can help improve the skin texture reducing the appearance of fine lines and wrinkles. It is also good for treating acne.
Wear Sunscreen
Sunscreen will help protect your skin against sun radiation. This will reduce the chances of wrinkled skin.
Quit Smoking
When you don't smoke, your health structures and texture improves. Smoking causes premature aging with deep wrinkles and fine lines. Other than wrinkles and fine lines, quitting smoking will also help reduce the risk of premature death.
What Are The Best Acne And Wrinkle Treatment For Adults
There is no specific product that targets both acne and wrinkled skin, the idea here is to pick a mild acne cleanser and a combating moisturizer for wrinkled skin.
The cleanser should contain either benzoyl peroxide, salicylic acid, alpha-hydroxy acids, retinol, or sulfur. These ingredients are the best for treating all forms of acne.
On the other hand, the best anti-aging treatment for wrinkled skin requires a moisturizer with
Vitamin C
Peptides
Hyaluronic acid
Niacinamide
These ingredients are best recommended for adults with fine lines and wrinkled skin alongside those with prematurely aging skin.
The best acne and wrinkled treatment for adults include
This product stands out as a resurfacing scar gel that specifically targets acne scars and spots on the face. Its unique formula includes Bakuchiol, making it a suitable option for all skin types, especially those prone to acne and sensitivity.
What sets this product apart is its gentle approach to skin care. It's formulated to provide effective treatment without causing further irritation. This is particularly beneficial for individuals with acne-prone and sensitive skin. The inclusion of Bakuchiol, a natural alternative to retinol, adds to the product's appeal by offering potential anti-aging benefits.
One notable aspect to consider is the pricing. Falling within the mid-range category, the Differin Gel Acne Scar Spot Treatment offers a balanced combination of quality and affordability. This makes it a viable choice for individuals who are seeking an effective solution without breaking the bank.
Rave Review: "I've had acne scars for years and years now but this stuff actually works. It takes a week or two to kick in but it helps with discoloration and surfacing. Tip: use acne scrub/cleanser first then apply just gel on the spot; don't clog your face with products on top of this gel. Very happy with this purchase."
---
This acne serum treatment is best recommended by dermatologists for treating acne breakouts. It is formulated with 5% benzoyl peroxide, This ingredient helps to penetrate deep into skin pores, eliminating current breakouts and preventing the outbreak of new spots.
The product also has 5% glycolic acid, this ingredient helps to brighten your skin's appearance through the remover of acne scars and spots. It also helps to completely minimize the presence of pimples, whiteheads, and blackheads when used.
Other than acne, this serum treatment is still very much effective in combating dry, oily, combination, and normal skin.
Rave Review: "I hardly ever take the time to write reviews, but I feel like I need to make an exception. This product has worked WONDERS for my skin. I've been using it consistently for about a year now, and let me tell you: for the first time in my adult life, my skin has been completely clear. No more cystic acne, no more blackheads, nada. My skin tone has evened out too! The only downside is that it will dry your skin out a bit- but it's nothing a couple of serums and moisturizers can't fix."
Pros
This product helps to remove redness and inflammation
This product works without drying out the skin
Cons
---
This product is best recommended by Amazon for clearing up future acne breakouts. It is formulated with 2% salicylic acid, this ingredient helps to completely reduce excess oils and unclog pores causing an acne breakout.
This adult fast acne cleansing serum also exfoliates the skin leaving you without unwanted discoloration.
Rave Review: "I've been using this for years and it always helps get rid of stubborn acne with regular use or spit treatments"
Pros
Not drying, very effective for acne and combination skin
Best product for cystic acne
Cons
---
If you are looking for a hydrating facial moisturizer for wrinkled skin, call for Olay Regenerist Collagen product, This moisturizer is infused with active Collagen Peptide and Vitamin B3 to help smoothen fine lines and wrinkles when used within a short time.
Other than fine lines and wrinkles, this facial moisturizer is also recommended for those with sensitive acne-prone skin.
Rave Review: "I got this for my wife who wanted to try this to reduce lines and wrinkles. She used it for a short time and she said the fine line on the side of her eye is gone and it even out her skin tone. The smell is also very pleasant and feels good on her skin. She said this absorbs quickly, perfect for putting this one before the foundation. Great product would recommend it."
Pros
The product is lightweight
Pros
---
This amazon recommended product is the best wrinkle-smoothing moisturizer. This hydrating moisturizer is formulated with hyaluronic acid, Peptides, and vitamin C to help diminish aging and wrinkled skin.
It also targets collagen to help reduce stretch marks and sagging skin.
Rave Review: "I have used this StriVectin product off and on for a couple of years and love how it reduces wrinkles around my eyes and throat. During the pandemic, I decided to order it through Amazon. The price was comparable to what I pay at Ultra and very fast delivery to our home. I was very pleased with the ease and safety of online shopping.
Pros
Cons
---
Double-Duty Ingredients For Acne And Wrinkled Skin
Other well-Recommended Products
You can also try this product. they are still much effective in the problem
Conclusion
If you want to get rid of acne, it is important that you make sure that the product you use will not cause any long-term scars or damage. The same applies if you want to decrease the wrinkles on your face.
You want a product that will work fast, relieve your symptoms, and will also be safe for your skin. There are many products in the market claiming to do this, but most of them are full of chemicals and do not work as they say at all.
So before using an acne and wrinkle product, follows that you need to read the ingredients and see if they will be right for your skin.
Also, Check Out The Following Articles