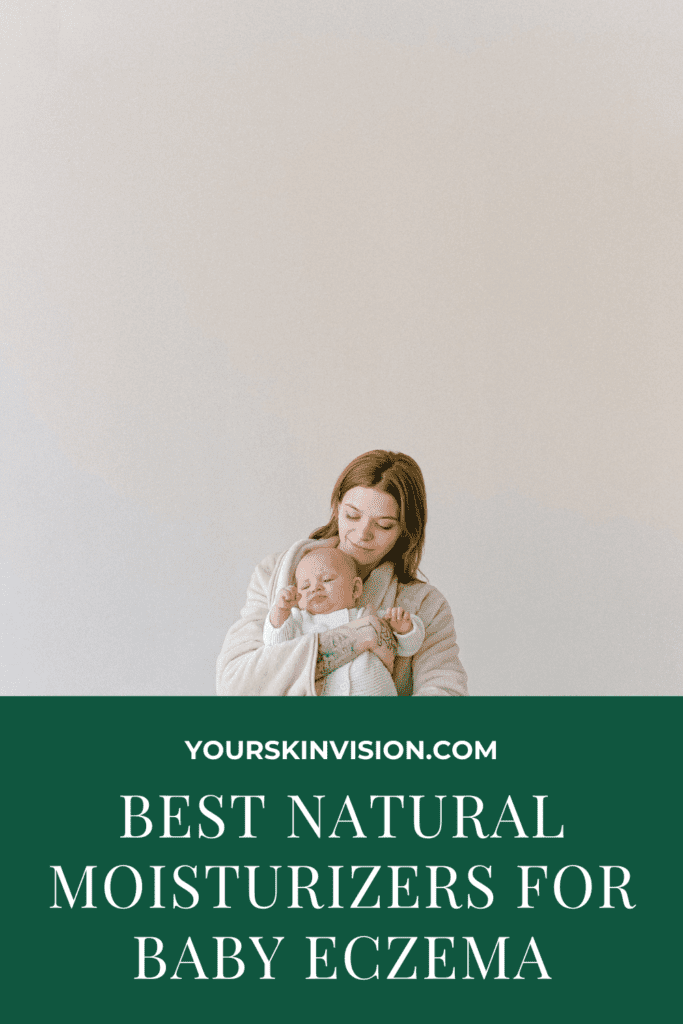 Statistics have shown that about 31.6 million people in the U.S have some form of eczema. This skin problem appears to be more common with people who have a personal history of asthma.
Eczema has different types, the most common form is atopic dermatitis. This type is very common in children. it mainly starts from babyhood and can improve as the child grows.
The most common symptoms of this baby eczema include dry skin, redness, itchy, and even cracked skin.
The major cause of eczema is unknown, in the case of babies, it can be transferred through genetics from parents to the child. Also, lack of moisture and accumulation of germs can also result in this problem.
Infections can make eczema get worse, this can be a very big headache mostly when seen on your child's face.
Don't panic, the most severe forms of eczema are even treated. In this article, we are listing the top 5 natural moisturizers to combat any form of baby eczema.
What Are The Factors That Can Triggers A Baby Eczema?
There are some triggers that can be responsible for the flare-up of your baby's eczema.
These common triggers include
The use of some harsh detergents and soaps
Certain food like milk, egg, wheat, and peanuts can cause eczema
Dry skin caused by Cold winter
Environmental allergens, such as pollens and household dust
How To Choose The Best Natural Moisturizer For Baby Eczema
What makes a moisturizer natural? it is when it has an unprocessed ingredient like aloe vera extract and others to give a boost of instant hydration. Other than a boost of hydration, this ingredient does not irritate the skin.
So when looking for a moisturizer for baby eczema, it is advisable to go for the one that won't irritate the baby skin. These ones are likely to be more effective.
Always look for oil-based moisturizers, these moisturizers hold moisture for a longer time compared to water-based moisturizers.
Also, check the product labels for fragrance-free and hypoallergenic, products with these labels don't irritate the skin.
The following moisturizers are most recommended for babies battling eczema, these products are free from any toxic ingredient.
This is best recommended for babies with eczema, It is basically formulated with Colloidal Oatmeal and shea butter to combat eczema-prone skin.
Also, these ingredients help to fight against irritation caused by eczema.
This product is best recommended by dermatologists to keep baby skin soft and hydrated. It is hypoallergenic and is mineral and fragrance-free.
Pros
Best cure for itchy rashes
Best for mid to severe eczema
Pefect for adults with dry skin
Cons
If you are looking for a moisturizer to boost instant hydration, call for Aveeno baby eczema therapy Moisturizer.
It soothes irritated eczema skin and strengthens the skin's moisture barrier to prevent and protect against dryness.
This cream is formulated with natural colloidal oatmeal and Vitamin B5 for baby eczema relief.
Pros
It works for adults with eczema also
Phthalates and phenoxyethanol free
Cons
This product is formulated with 100% natural nutrients to calm baby eczema. it is designed to smoothen irritation caused by eczema.
Its active ingredients include colloidal oatmeal, shea butter, and Dimethicone. This baby moisturizer is free from paraben, Phthalate, Sulfate, and dye.
Pros
Perfect for winter dry skin
Work very fast on mild eczema
Cons
One key factor about this product is its intense moisturization. This product is formulated with powerful ingredients to soothe and relieve baby eczema flare-ups.
These ingredients include colloidal oatmeal, Aloe Vera, Coconut Oil, and Calendula. Also, this gluten-free product keeps your skin feeling hydrated for longer and prevents future outbreaks.
Pros
Its steroid and fragrance-free
Great for sensitive and eczema-prone skin
No harsh chemical present
Cons