Last Updated on January 14, 2023 by louischilton
Finding a safe moisturizer for dry sensitive eczema skin that doesn't make your skin worse can be challenging, but it doesn't have to be. There are a few factors to keep in mind when considering a perfect eczema moisturizer.
If you've tried a bunch of over-the-counter products and everything seems to make your skin worse, we are here to help. So sit back, relax, and don't panic.
In this article, we have reviewed the best moisturizer for dry sensitive eczema skin that won't cause further irritation or discomfort.
A Quick Look At The Best Moisturizer For Dry Sensitive Eczema Skin
What Are Moisturizers?
Moisturizers are a type of skincare product that works to hydrate the skin. They are usually water-based, and they can be used on the face and body.
There are basically three kinds of moisturizers, they include:
Cream
These are thicker and heavier moisturizer that takes a longer time to absorb into the skin and might feel greasier. They are generally made for use on the dryer areas of your body, like your hand s arms, legs, and feet.
Lotions
Lotions have a thinner consistency than creams and are less greasy. They can be used all over your body. If you find a cream too greasy for your skin type, you might prefer lotions.
Ointments
Ointments are similar to creams and lotions, just that they contain wax or more oil. These products can be very greasy, so they are usually used sparingly on dry spots like elbows and heels.
Who Needs A Moisturizer For Dry Sensitive Eczema Skin
Moisturizing is crucial to the healing process when you have eczema. Eczema makes your skin more prone to environmental factors, which means it can be harder to keep your skin in a balanced state.
Since moisturizers work by helping your skin retain water, They offer a way to keep your skin hydrated and glowing.
If you are prone to very sensitive eczema skin, this article is for you. It gives a brief idea of how it will help you overcome the problem.
Are Those Moisturizers For Dry Sensitive Eczema Skin Different From Regular Ones?
The main thing that sets moisturizers for dry sensitive eczema skin apart from regular ones is their composition. The moisturizers for eczema in this article are made with the major key ingredients like aloe vera, colloidal oatmeal, ceramides, and hyaluronic acid.
These are just some of the ingredients you'll want to look out for when choosing a moisturizer for dry sensitive eczema skin. You'll also want to watch out for any ingredients you know may irritate your skin.
Such as specific fragrances or perfumes, or alcohols that cause drying. Instead, focus on moisturizers with simple formulas that contain these core ingredients.
How We Choose The Best Moisturizer For Dry Sensitive Eczema Skin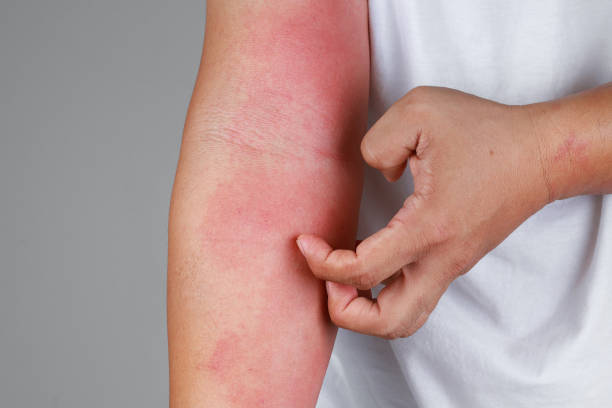 Our top picks were chosen with eczema-prone skin in mind. It's important to use a moisturizer that is free of irritants, ingredients with no allergic potential, and ingredients that soothe inflamed skin.
We considered the following criteria in our selection:
Ingredients
Does the product have aloe vera colloidal oatmeal? This two help to soothe and heal damaged skin (They are also great ingredients for sunburn treatment).
Does it have ceramides? Ceramides are the lipids in your skin that help keeps water from evaporating so your skin stays hydrated longer. They're an important part of any good moisturizer especially if you suffer from dry skin or eczema.
Only fragrance-free products should be considered for selection. Eczema sufferers tend to have sensitive skin and are often allergic to fragrances which can make their flare-ups worse.
We also excluded products containing lanolin and formaldehyde, as these have been known to trigger eczema flare-ups.
Brand reputation
We looked at a brand's overall reputation and whether they had any specific expertise when it comes to eczema skin care.
Price
We looked at the price points of each product to ensure they all fell within the range of affordability for most people.
Reviews
We read through hundreds of customer reviews to get an idea of how well each product performs in real-life situations.
What Are The Best Moisturizers For Dry Sensitive Eczema Skin?
If you have eczema, you know how important it is to find a good moisturizer. The wrong moisturizer can make your eczema flare up and feel even more uncomfortable than usual. But the right one can help soothe your skin and prevent future flares.
So what's the best moisturizer for dry, sensitive eczema skin? The following products are most recommended by dermatologists.
Are you looking for a moisturizing cream that can help soothe your sensitive skin? Aveeno Eczema Therapy Daily Moisturizing Cream is just what you need.
This cream is designed to help relieve the itchiness, redness, and irritation associated with eczema. It contains both ceramide and colloidal oatmeal, which helps to lock in moisture and protect the skin.
The Aveeno Eczema Therapy Daily Moisturizing Cream is also fragrance-free, steroid-free, and non-comedogenic, making it suitable for even the most sensitive skin.
Pros
It is clinically proven to relieve dry eczema skin
It is recommended by dermatologists
Cons
This CETAPHIL RESTORADERM Soothing Moisturizer is perfect for those with eczema-prone skin. It helps to soothe and moisturize your skin, making it feel soft and healthy.
This moisturizer is non-greasy and won't clog your pores, making it perfect for everyday use. It's also hypoallergenic and dermatologist-tested.
It's also gentle enough for sensitive skin. Give your skin the nourishment it deserves with this CETAPHIL RESTORADERM Soothing Moisturizer.
Pros
It doesn't irritate skin or clog pores
The lotion absorbs quickly
Cons
Introducing the Organic Aloe Vera Moisturizing Cream made with organic aloe vera. This cream is perfect for those with sensitive eczema skin as it deeply moisturizes and helps to calm and soothe irritated skin.
It can be used on both the face and body and is gentle enough for everyday use. The light, refreshing scent will leave you feeling refreshed and rejuvenated. So why wait? Give your skin the nourishment it deserves with this Organic Aloe Vera Moisturizing Cream.
Pros
Best recommended for acne, psoriasis, and rosacea
Great for dry sensitive skin
Cons
Acure's Everyday Eczema Lotion is just what you need. Other than its effect on eczema, this lotion is made with 100% vegan ingredients(colloidal oatmeal and aloe vera) to help soothe and protect sensitive skin.
It also features other unique blends of plant extracts to help hydrate and nourish your skin. Plus, it's free of harsh chemicals, sulfates, parabens, phthalates, and artificial fragrances.
Pros
Cons
Cetaphil Pro RestoraDerm Eczema Soothing Moisturizer is a clinically proven, non-irritating moisturizer that provides fast and long-lasting relief for people with eczema.
It is formulated with patented technology that helps to restore the skin's natural barrier, resulting in reduced dryness, redness, and itchiness.
Additionally, it contains ceramides to help lock in moisture and prevent future flare-ups.
Pros
Dermatologist recommended
Cons
This clinical strength formula has been specially crafted to relieve dryness and soothe sensitive, eczema-prone skin. A "restorer" for the skin barrier that helps your skin retain its natural moisture over time.
Who it's for?
Anyone living with dry or sensitive eczema skin which becomes itchy and irritated.
What it does
This lotion calms and soothes dry skin by restoring the skin's moisture barrier to help maintain hydration for a longer period of time. It contains ceramide and patented filaggrin technology to provide relief from dryness and itchiness as well as moisturizers and vitamins E, B3, and provitamin B5 to provide hydration
Pros
Dermatologist tested for dry, sensitive, eczema-prone skin
Clinically proven to restore moisture
Its a creamy, non-greasy moisturizer
The formula is hypoallergenic and proven gentle on sensitive
Cons
Looking for a natural and gentle facial cream to help soothe your eczema? Look no further than our Eczema Honey Soothing Facial Cream.
This cream is made with colloidal oatmeal, which has been shown to help hydrate and protect sensitive skin. Additionally, it is formulated with honey, which is a natural humectant that helps lock in moisture.
Plus, this cream is free of harsh chemicals and fragrances, making it ideal for those with sensitive skin. Use it daily to help hydrate, nourish, and protect your skin.
Pros
Sulfates and phthalates free
The product is accepted by the national eczema association and is dermatologist tested
Cons
Best Face Moisturizer For Dry Eczema Skin
Eczema is a very common skin condition in the United States and is often difficult to control. It is a complex disorder that affects the skin and is characterized by dry, itchy, and sometimes painful red patches that cover large areas of the body.
Eczema is caused by a combination of genetic and environmental factors and can occur at any time in a person's life. The best moisturizer for dry eczema skin is a lot less complicated than you might think.
For facial eczema, there are moisturizers that can help. These moisturizers may be different from regular moisturizers and should be chosen based on the condition of eczema. The list below is our best facial moisturizer for dry eczema skin.
What Are The Best Face Moisturizer For Dry Eczema Skin
Conclusion
In short, our overall best includes Aveeno Eczema Therapy Daily Moisturizing Cream. From our research, it is one of the best moisturizers for eczema skin because it is known to be rich in ceramides, and colloidal oatmeal. Colloidal oatmeal is responsible for its healing properties.
This product is perfect if you are looking for a rich moisturizer without a greasy texture or odor. So if you are in need of something that works very fast, consider using this moisturizer.
Other Top Related Articles