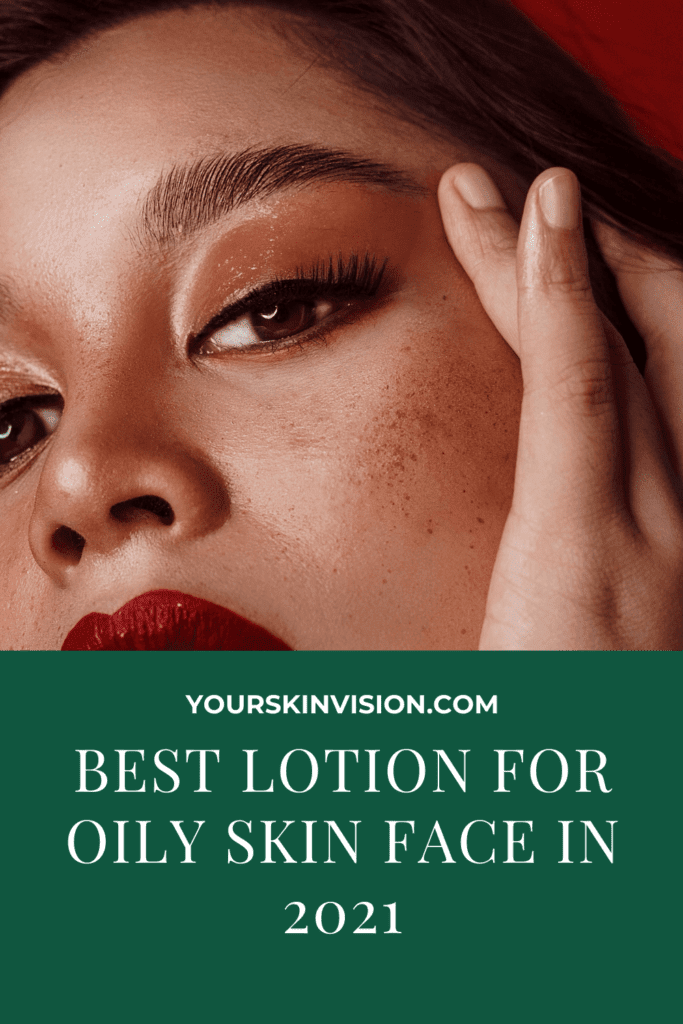 Oily skin is common on the face, it can clog pores and lead to increased acne breakouts when left untreated. Some people with oily skin know this, they try to balance their skin with oil-free lotions or moisturizers.
Picking the right lotions isn't easy, the fact still remains that there is always one factor that makes one lotion different from the other.
One major factor you need to consider in a lotion for oily skin is the ingredients.
Oily skin needs ingredients like Hyaluronic Acid, Retinol, Salicylic Acid, Niacinamide, clay, peptides, glycolic acid, and Antioxidants.
Because of how sensitive the face is alongside the difficulty of getting an ideal lotion for the skin, we have gone through a series of research picking the best lotion for an oily skin face. They are listed below.
What Causes Oily Skin On The Face
Oily skin is caused when excess oil is produced in the Sebaceous glands. The sebaceous glands are located in the mid-dermis. This excess oil is attached to the hair follicle thereby clogging the skin pores.
Oily skin is triggered by the following factors
Genetics
Sometimes, genetics can be the major reason, if your parents have oily skin, you may likely inherit the trait. Oily skin can be passed on through your genes.
The Wrong Used Product
Most people don't know their skin type, some use skincare products infused with so much oil( cream). Applying a dry skin cream to a combination of skin may cause your skin to be more oily.
Hormonal Changes
Generally, both males and females produce hormones, some of these hormones produce excess oil. Examples of such hormones include androgens. These female hormones are produced during their puberty period. They can lead to noticeably oily skin when an excess of it is produced.
Excessive Exfoliation
Frequent face exfoliation also contributes to what makes your skin to be oily, exfoliating your skin regularly may strip your skin of moisture. These usually result in the overproduction of sebum in the Sebaceous glands
How Do I Choose The Best Lotion For Oily Skin Face?

The lotion is a very essential product because it helps to moisturize the skin. So it is very important to take notes of the following tips because the right lotion will give you glowing skin.
Consider your skin type:
Since you are optioning for an oily skin product, try light lotion and avoid ingredients that have mineral oil. Avoid ointments and creams as they are greaser and contain oil-based. They can make your skin oily. Choose a water-based Lotion, they are less likely to aggravate oily, acne-prone skin.
Check for the right ingredients
In our introduction, we listed the best ingredients meant for an oily skin face. They include Hyaluronic acid, Retinol, Salicylic Acid, Clay, Peptides, Dimethicone, Glycolic Acid, Niacinamide, and Antioxidants.
Try as much to watch out for these ingredients. While all the above ingredients are best when it comes to finding a good lotion for an oily skin face, the following ingredients should be avoided, fragrance and perfume, parabens, phthalates, and triethanolamine.
Go For Product With Label "Non-Comedogenic"
Non-comedogenic products are the best for oily and acne-prone skin. These products help avoid skin pores and hair follicle blockages. You know clogging of the skin pore can lead to oily skin. These oil-free products also help to reduce the chances of pimples and pimples.
Try Testing the Product:
Oily skin needs something that can absorb quickly and not feel greasy. If after applying a small amount of this lotion on your face and it doesn't show this result, it means it is not good for your skin.
What Are The Best Lotion For Oily Skin Face
The following listed products below are best recommended for an oily skin face.
Image Skin Care Clear Cell Mattifying Moisturizer for Oily Skin
Clear cell mattifying moisturizer is a facial moisturizer that helps to minimize oil production, restore moisture balance and reduce irritation, making It a deal for oily skin, sensitive skin, and acne-prone skin types.
It hydrates while absorbing surface oils and can help to restore a healthy appearance to the skin. This powerful moisturizing complex provides lightweight moisture, supports elasticity, and improves the skin, texture, and tone.

Pros
Great for oily skin
Lightweight
It is non-greasy
Cons
None
Glow Skin Beauty Oil-Free Moisturizer/Light-Weight Antioxidant Face Lotion with Hyaluronic Acid to Moisturize and Balance Recommended for Oily Skin
This oil-free moisturizer delivers lightweight moisture with antioxidants, botanicals, and essential hydration to help balance and strengthen skin without weighing it down.
It is best recommended for oily and normal skin types. It is formulated with Hyaluronic acid, Algae extract. Even oily skin needs moisture.
It is oil-free even though it includes Jojoba oil and is ideal for acne and blemish-prone skin.
Pros
Best Recommended by dermatological for oily skin type
Great for sensitive skin
Best for oily skin type
It is lightweight and oil-free.
Cons
None
DRAMATICALLY DIFFERENT MOISTURIZING GEL For COMBINATION And OILY SKIN
This product is a lightweight, oil-free hydrator for combination and oily skin. A three-step skincare system to maintain optimal moisture balance.
The gel provides a refreshing moisture drink for the complexion. It is non-comedogenic and a non-greasy lotion.
Pros
Best for sensitive skin
Best for oily skin face
It does not clog pores
It is non-greasy
Best moisturizing lotion
Cons
Presence of fake products.
Paula's Choice Skin Balancing Pore Reducing Toner for Oily Skin, Minimizes Large Pores
This product is ideal for those with normal to oily skin with are also struggling with enlarged pores, bumps, and dry flaky areas of skin.
It is formulated with hyaluronic acid, Niacinamide, Vitamin C, Glycerin, and other active ingredients.
Also, it contains antioxidants and hydrating ceramides, making oily areas less noticeable. It also functions for acne or blemish-prone sensitive skin.
Pros
No fragrance
Best for combination with oily skin
It does not clog pores
It is lightweight
cons
Presence of fake products in the market.
Epionce Renewal Lite Facial Lotion for Oily Skin
This product is best recommended for those with oily skin and acne. This oil-free product dries out completely the oily appearance alongside adding moisture through the help of sodium hyaluronate.
It is formulated with other active ingredients like glycerin, dimethicone,e, and other active ingredients.
Pros
It is lightweight
has a nice smell
It is non-greasy
Cons
None