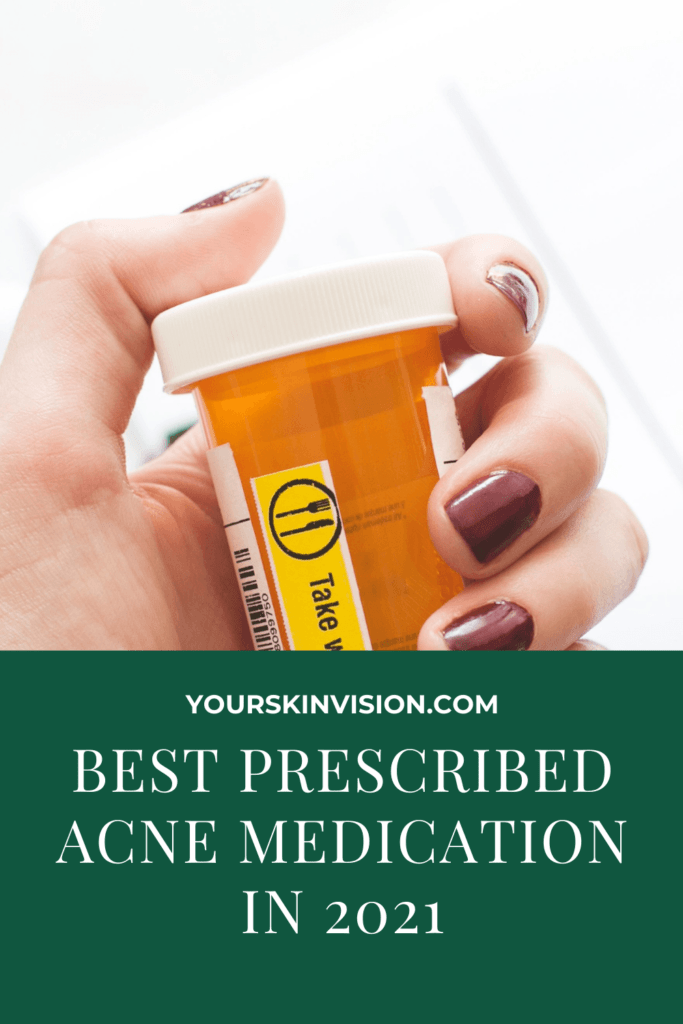 You may have tried different acne products, most especially those OTC (Over-The-Counter) acne products severally and they are not working.
The question now is have you tried or even thought about acne-prescribed medication?
Acne-prescribed medications are just one thing you shouldn't neglect.
Although they do not work as fast as other acne products that take just four to eight weeks to work, It may take months before clearing up acne completely.
Acne medications work by limiting the production of excess oil or sebum. It also helps to fight the already present acne reducing its severe form on your skin.
This acne-prescribed medication includes Retinoids and retinoid-like drugs, Antibiotics, Azelaic acid, and Salicylic acid, and Capstone.
Combined oral contraceptives, oral antibiotics, isotretinoin anti-androgen agents, benzoyl peroxide.

Getting this prescribed Acne medication is really not easy, that is the reason why we are here.
In this article, we will be listing out the best-prescribed acne medication for your skin that is safe and healthy for you, Check below for the products.
Why You Need A Prescribed Acne Medication

Regular acne products are very effective in managing simpler outbreaks of acne. If you have persistent acne that gives you a lot of headaches, you don't need a normal regular acne product.
You need a prescribed acne medication, this offers a stronger level of acne treatment than those regular acne products. They are the final answers to Cystic or other severe cases of acne.
The different medications are applied according to your type of acne.
Those with mild acne are advised to go for topical acne medications like the retinoids and retinoid-like drugs Azelaic acid, Salicylic acid, and Antibiotics.
Those with moderate acne are advised to go for topical acne medication plus oral acne medications like antibiotics, and isotretinoin.
Those with severe acne are required to go for oral acne medication like isotretinoin plus oral antibiotics.
Well Known Prescribed Medications For Acne
There are different medications for acne, These medications are available in prescribed acne drugs like
Isotretinoin
The best oral medication for acne is isotretinoin. This oral retinoid treatment helps to combat all forms of acne ranging from mild to severe. They are generally recommended by dermatologists for treating all forms of acne scars.
Isotretinoin is very effective but is generally not meant for everybody mostly pregnant women. Different research has shown that isotretinoin causes a serious birth deformity.
Antibiotics
Antibiotics are another treatment for acne. They help to reduce the acne-causing bacteria in the hair follicles. They are usually added to topical retinoids to help hasten their functions.
Retinoids
These medications are derived from vitamin A, they are widely used for treating all forms of acne and are mostly available in tretinoin and isotretinoin drugs.
Tretinoin:
Tretinoins are generally common in cream, gel, or solution. They are mostly used for those battling cystic acne.
These medications are best recommended by the American Academy of Dermatology for mild to moderate forms of acne. They help in reducing skin inflammation and acne scarring.
Erythromycin:
This is majorly used for treating inflammatory acne. It helps in killing bacteria that hasting the presence of acne.
Trimethoprim:
This is another antibiotic used for treating inflammatory acne.
What Are The Best Prescribed Acne Medications

The following prescribed medications are best to combat mild to severe acne.

This product has been shown to help people reduce oil production, reduce pore size, and improve the healing time of their skin.
It uses natural ingredients to clear your skin so that you can take a more healthful approach to fight pimples. It must be taken every day to get a perfect result.
Acnetame works by giving your body an effective blend of vitamins, a mineral, antioxidants, and amino acids to supercharge your skin keep.
It is less oily with a truly enhanced appearance. To judge the strength of these acne pills we suggest adult men and women with teens start with half a tablet. It is also formulated for choice with hormonal acne.
Pros
Helps To combat cystic acne
It helps to reduce oil production
For treating pimples and controlling blemish
Cons
This pill is formulated to improve the overall health looks of the skin from the inside out. It eliminates acne scars and prevents new acne and pimples from forming with this proprietary blend of acne-fighting ingredients.
Each of these ingredients was specifically chosen for their known impact on skin health and acne in males, females, and adolescents.
These vie Naturelle acne pills are completely free of fillers, binders, or artificial ingredients.
Pros
Great product for hormonal acne
Works for those with pimples
The product is completely free from fillers
It is completely free from artificial ingredients with the side effects
Cons

Unlike tropical products which treat the surface of the skin, this Acne pill attacks Acne at the source stimulating the body's own recovery response.
Acne pill helps stop new acne from forming for clearer healthy beautiful skin day after day. It works for both mild and severe adult acne.
As it works internally, it clears all types and severity of acne for healthy skin from within.
Pros
It helps to prevent breakout and controls acne
Great to treat cystic acne
Cons
Acne Remedy:
The Most Effective and Powerful Acne Pills on the Market Today to clear Pimple and Blemishes from the inside out.
Acne remedy uses a powerful formula to combat acne which no face wash, the cream can hope to achieve.
If you have tried every topical acne treatment with little or no results, there is a natural mote powerful way to solve the acne problem.
Out remedy works from the inside out addressing the root cause of acne. It helps in clearing out breakouts and blemishes and also reduces redness and inflamed skin.
Pros
Works for those with moderate acne.