Last Updated on February 19, 2023 by louischilton
One of the common conditions of aging skin is wrinkled skin. Being a natural part of aging, they are most notable on sun-exposed areas of the skin, such as the face, neck, and hands.
Wrinkled skin affects mostly 30s and above. However, nobody likes the appearance of wrinkles, this makes the anti-aging market in the United States so booming. it's worth over 50 billion dollars yearly.
Other than exposure to the sun, heavily wrinkled skin can also result from dry skin, This is a widely accepted fact. The reality is that with dry skin you may appear to have more wrinkles compared to oily skin, When your skin is dehydrated, your skin displays signs of aging like less elasticity and more fine lines and wrinkles.
Other causes of wrinkled skin include smoking, some medications, and genetic factors. You can deal with wrinkled skin using a moisturizer every day to reduce its appearance mostly when it has to do with your face
Don't panic because we are here to help you, in this article, we will be reviewing the best facial moisturizer for heavily wrinkled dry skin.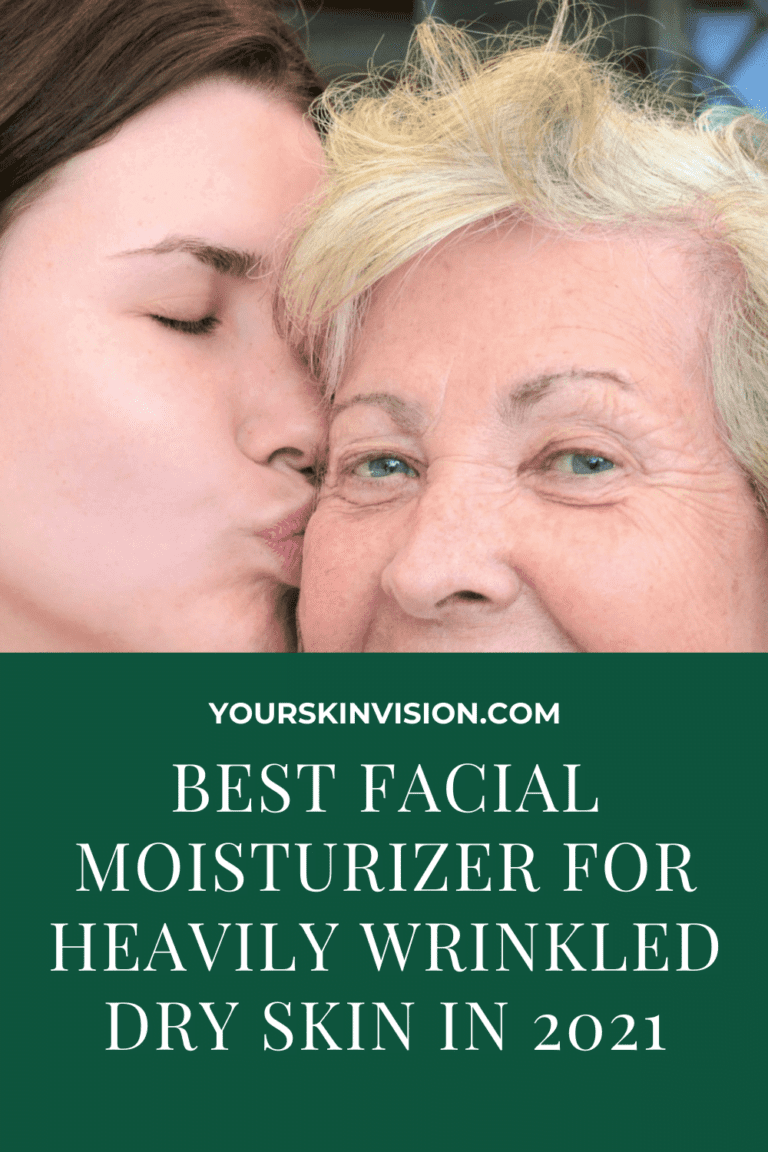 What Are Wrinkles?
Skin wrinkles are the small lines and creases that form on your skin when it is stretched. They are caused by a combination of gravity and movement and may be hereditary, although this is not always the case.
Skin wrinkles can be classified into two types:
When you smile, your skin wrinkles around your mouth; this is called the "smile line."
When you frown, your skin wrinkles between your eyebrows; this is called "the frown line."
How To Prevent Heavily Wrinkled Dry Skin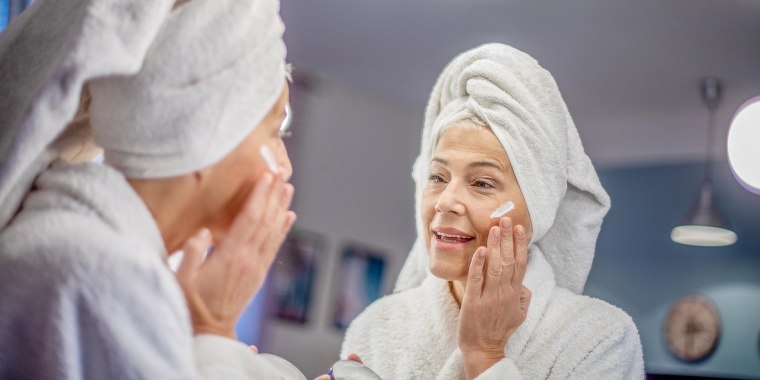 Like we said previously in our intro, applying a moisturizer is really a big boost to reducing wrinkled dry skin. Those with more dry skin are optioned to apply a sunscreen moisturizer.
These moisturizers should contain skin-restoring ingredients like Hyaluronic acid, antioxidants, and vitamins to improve the overall appearance of the skin. This ingredient gives a long-term solution to the skin by reducing premature wrinkling through the growth of collagen.
Another most important factor is restricting your skin from the sun, limiting your skin from sun exposure can help reduce wrinkles.
Other ways to reduce wrinkled dry skin are regular exercise and proper sleep, not smoking, the use of botox, and eating food rich in vitamins.
How Do I Choose The Best Facial Moisturizer For Heavily Wrinkled Dry skin?
In order to get everything you want in a facial moisturizer, you have to know how to choose the right product properly. Here are some tips that will help you:
Consider Your Type Of Skin
Different skin types have different needs, the ingredient working best for those with dry skin won't work for an oily skin type.
Those battling wrinkled dry skin for instance are advised to avoid retinol as it could additionally dry out your skin or cause irritations.
Check For Active Ingredients
As it was mentioned earlier, reading the ingredient list is highly relevant mostly when dealing with heavily wrinkled skin.
Check out for ingredients like Vitamin C, antioxidants, Hyaluronic acid majorly for moisture supply, Niacinamide, and Peptides. These ingredients help to fight against the presence of fine lines and wrinkles.
Check Customers review
Always check customer comments on the product. are they writing good reviews on the product? This should also be a factor to consider.
What Are The Best Facial Moisturizer For Heavily Wrinkle Dry Skin
Check out the following product, they are best recommended for dry wrinkled skin.
This amazon best-recommended serum reduces signs of deep fine lines and wrinkles while improving the overall look of firmness and elasticity in the skin. It is formulated with Collagen and Peptide Complex to smooth the appearance of the skin.
This face serum also contains some key hydrating and moisturizing formulas like Hyaluronic Acid, these ingredients give the skin a boost of hydration for smooth, nourished skin.
These ingredients deeply moisturize the skin to improve tone and texture leaving behind a radiant complexion. Also, this product works great for men, and women and is perfect for dry, sensitive, and mature skin.
Pros
Does not cause skin breakout
Cons
This night recovery moisturizer help to drastically reduce the appearance of fine lines and wrinkles. It is made with a super active Peptide Complex to help penetrate deep into the skin. This ingredient also helps to stimulate collagen production.
This anti-aging Moisturizer is made without fragrance and is non-greasy, it absorbs quickly into the surface of the skin. The product is also formulated with hyaluronic acid, these active ingredients also provide intense hydration to help regenerate the skin surface.
Pros
Gets rid of dead skin cells.
Cons
The bottles are so small in my opinion.
This facial moisturizer delivers seven anti-aging skincare benefits, it moisturizes, reduces the look of wrinkles, smooths skin, visibly evens skin tone, visibly minimizes pores, plumps the look of skin, and gives you the look of glowing skin.
This product is formulated with hyaluronic acid, ceramides, anti-aging collagen, and peptides to give your skin a supple, healthier, younger-looking appearance instantly and over time.
Perfect for all skin types, especially those battling dry wrinkled skin.
Pros
The product is talc-free.
It also helps to minimize skin pores
Cons
If you wish to say no to the appearance of wrinkles and prevent new ones, then you really need this.
This natural facial moisturizer provides intense hydration that nourishes and regenerates skin to improve tone, clarity, and softness while restoring firmness, suppleness, and radiance.
This face moisturizer is formulated with both Alpha Hydroxy Acids, this ingredient helps to remove dull surface skin cells. It also has both collagen & vitamin E, both of which help to diminish the appearance of fine lines, wrinkles, and signs of early aging.
It also acts as an anti-inflammatory to help reduce redness, inflammation, and irritation.
Pros
Its sulfates and silicones free.
It's fragrance-free also.
Do not have mineral oils.
Cons
FAQs
Is wrinkled skin a sign of dehydration?
Wrinkled skin can be a sign of dehydration. When you're dehydrated, your body is losing water, and the body tries to hold onto as much water as possible to keep you alive. So your skin gets tight and wrinkly.
But it's not because you don't like yourself, It's just part of the process of keeping your body safe from dehydration. You can help yourself out by drinking more water or drinking something other than plain water when you're thirsty.
Can drinking more water get rid of wrinkles?
Drinking more water can help you get rid of wrinkles, but it's not as simple as just gulping down a glass of H2O.
Water is a good hydrator for the skin, but it does not have the same effect as other ingredients that have been proven to help with wrinkles. The most common ingredient used in anti-wrinkle creams and serums is retinol, which can be found in many over-the-counter products at department stores like CVS.
Retinol is a vitamin A derivative that helps increase cell turnover and collagen production. Retinol is also known to improve elasticity and firmness in the skin by stimulating collagen production and increasing cell turnover.
While retinol has been proven to help reduce fine lines and wrinkles on your face, it doesn't work quite as well on deeper wrinkles such as those around your eyes or mouth.
This is because the facial structures are thicker than those around the mouth or eyes therefore they need more time to respond to retinol's effects than thinner areas like cheeks do.
Conclusion
We hope you enjoyed our article about how to find the best facial moisturizer for heavily wrinkled dry skin. We know this is a topic that many faces and skin health enthusiasts are curious about.
Our site contains a range of different informative posts on this topic and also the best way to find the best moisturizer for dry aging skin on the face. Whether the product is for you or for someone else, you will find our blog post to be a helpful resource.
If you have any further questions, please don't hesitate to reach out to us at [email protected]. Thank you for reading, we would love to hear from you.
Other Articles