Body acne and scars can be a double headache, most times, you are even more frustrated when you have the wrong product. Sometimes, it becomes severe that you can't wear fancy backless clothes.
Most people don't know the trick, using a body spray with the right ingredients is the best remedy. A body spray infused with salicylic acid and Benzoyl peroxide can help combat acne and scars to the finish. These sprays help in treating permanent acne scars that result from inflammation of acne blemishes.
It is not really easy getting these products. Don't panic, we are here to help you with the right one. In this article, we have reviewed the best body spray for acne and scars. they are listed below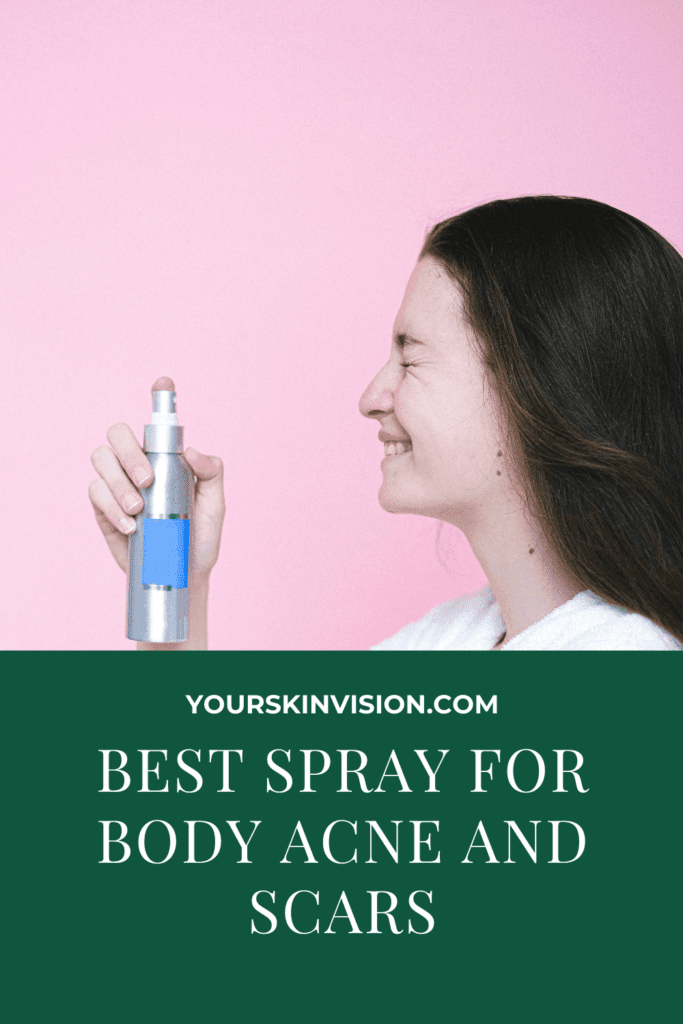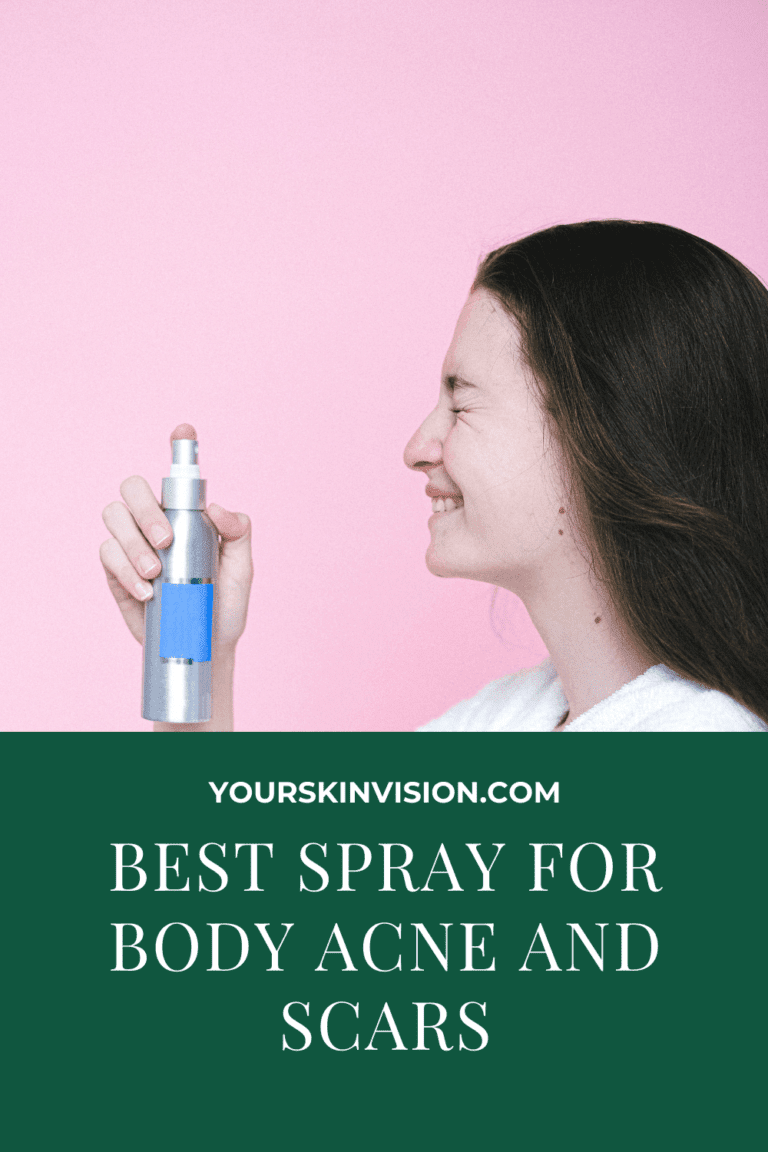 A Quick Look At The Best Spray For Body Acne And Scars
What Causes Acne Scars?
Most serious scars are caused by more severe forms of acne which are formed as a result of swelling of acne blemishes. When this occurs, there is a breakdown in the wall of the pore.
Some acne blemishes are minute and the scars produced are shallow and heal quickly. Sometimes the substance of blemishes spills into the surrounding tissue to produce deeper scars with nodules more likely to leave permanent scars than other types of acne.
And these scars are mostly found on the face, chest, and back. A more severe acne breakout can damage the skin and tissue beneath it.
People Who Get Acne Scars
Generally, acne is a very serious problem, When left untreated, it can transform into a more severe form. People who are reluctant to treat inflammatory acne suffer more scarring.
Also, those with severe cystic acne have a higher chance of developing scarring. This type of acne tends to penetrate deep into the skin to cause damage.
How Do I Choose The Best Spray For Body Acne And Scars
Body spray can be used in various ways. Before buying any of these products, it is expected of you to consider which options are best suitable for the problem.
When dealing with body acne and scars, the first thing that will be considered when choosing body spray is the ingredients. this ingredient include
Salicylic acid:
This ingredient helps in penetrating and to exfoliates the skin to remove dead skin cells that clog your pores and cause breakouts.
It's one of the most effective over-the-counter ingredients to reduce acne and clear scars. It also helps control inflammation associated with acne, like redness and swelling.
Benzoyl peroxide:
Apart from salicylic acid, another powerful ingredient is benzoyl peroxide, try a body spray featuring benzoyl peroxide. This gentle acne ingredient is effective in controlling the acne-causing bacteria on your skin.
It also eliminates pore-clogging dead skin cells by drying them out and causing your skin to peel.
Tea tree oil is another natural ingredient used for treating your body acne and scars, many sprays feature tea tree oil. they are much more very effective ingredients for antimicrobial and anti-inflammatory.
It majorly fights against both acne and scars and treats redness caused by inflammation. those with severely sensitive skin need this ingredient.
It is also advisable to pick a spray with very low concentrations. Other active ingredients include aloe vera, alcohol also avoids spraying with fragrance and phthalate.
Check also the scent of the spray. does it smell good on you?
What Are The Best Spray For Body Acne And Scars
The following body spray listed below is suitable for acne and scars
This targeted easy-to-use spray fights acne and scars fast & prevents new breakouts while calming redness.
It is formulated with 2% Salicylic acid, colloidal silver as well as tea tree and peppermint oils to help eliminate bumps, pimples, and blackheads. This super exfoliating spray helps to gently clear away dead skin and impurities.
The spray also helps to heal damages caused by body scrubs or brushes. It is even suitable for skin prone to cystic acne.
Pros
It also helps in treating fine lines
Cruelty-free
It does not have harsh preservatives
No color
Cons
This is one of the best acne spray products formulated with Salicylic Acid and Tea Tree to help cleanse both acne scars and pimples wherever they are.
This breakout prevention spray comes with oil-absorbing Hydrocolloid patches to make sure you're acne-free. Also, it is made for those with hormonal acne purely for teens, women, and men.
Pros
It helps to reduce irritation
Help in combating all forms of acne
No harsh preservatives
Best acne spray for back acne
Good product for sensitive skin
Cons
This is one of Amazon's Choices for body acne and scars, it combines with both Benzoyl Peroxide and Salicylic Acid to reduce pore size and soothe breakouts, blackheads, and bumpy skin without overdrying.
This body sprays for acne is infused with vitamins and minerals to moisturize your skin to stay healthy and prevent future breakouts while calming redness and preventing future breakouts.
Other active ingredients include Eucalyptus Oil, Witch Hazel, and Tea Tree Oil.
Pros
It helps in an acne blemish
Cons
This body spray is formulated with salicylic acid to help prevent acne breakouts. The spray is easy to use on back acne, scars, blemishes & irritated skin.
The product helps to exfoliate dead skin cells while penetrating deep into pores for an even tone and texture.
Pros
It is free from harsh preservatives
It is infused with natural ingredients
CONS
Glytone Acne Treatment Spray is excellent for the treatment of acne, cystic acne, breakouts, blackheads, whiteheads, and pustules, and can be used as a preventative treatment to reduce acne breakouts on the back and chest.
The product can also be used as a spot treatment for acne on the face. Use sunscreen and a hydrocortisone cream when using Glytone Acne Treatment Spray as a preventative treatment.
Pros
. This formula does not contain alcohol
Its a lightweight product
Cons
Other Well-Recommended Body Spray For Acne Scars
The following products will also help
Best Drugstore Setting Spray For Acne Prone Skin
Pimples, blackheads, and other blemishes are unsightly, but they are more than that. They are a sign that something is going wrong with your skin's natural oil production and skin-cleaning process.
Too much oil clogs pores and causes the skin to overproduce oil, which is the fuel the pimple-making bacteria in sebum need to survive. This can lead to acne.
If you are prone to acne and want to prevent pimples, a setting spray for acne-prone skin is the best option to help fight it completely. Below is a list of the best drugstore setting spray for acne-prone skin.
What Are The Best Drugstore Setting Spray For Acne Prone Skin
Conclusion
If you choose the right skin care product, you can dramatically reduce your acne, scars, and other blemishes.
However, it can be difficult to know if a product is right for you until you try it out. In this article, we have listed some of the most effective sprays for acne and scars that really work for you. Let's begin.
Other Articles