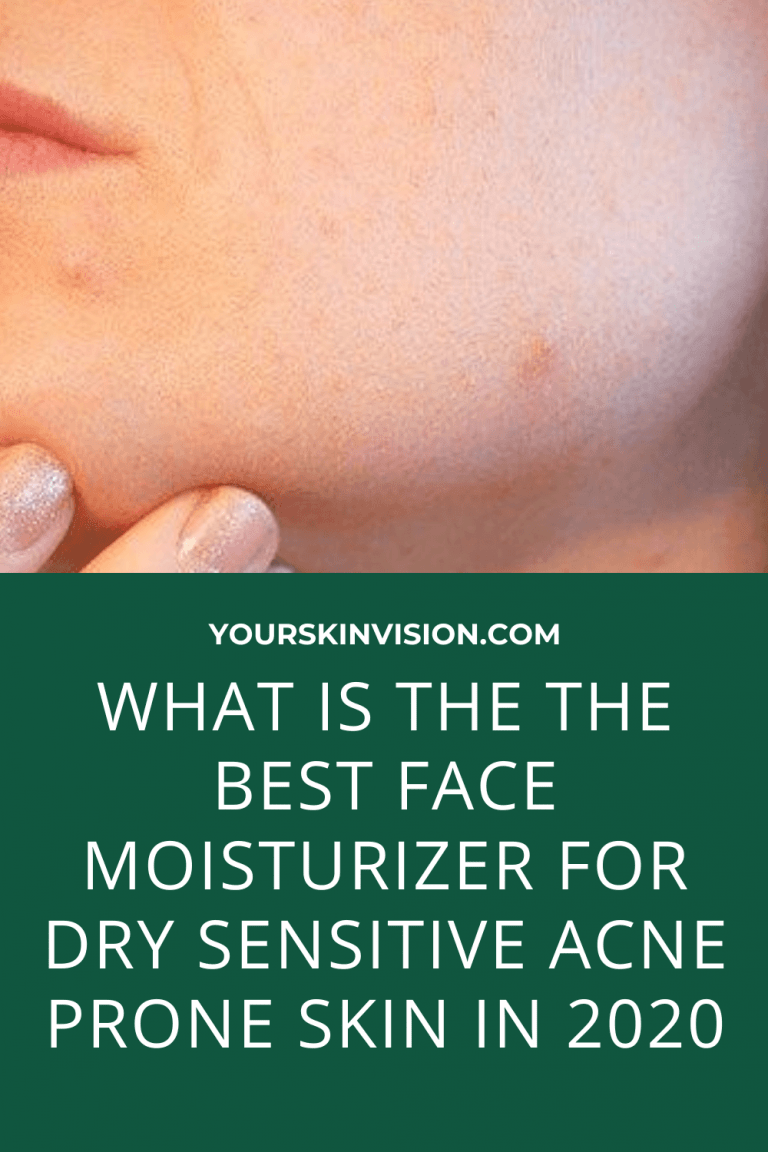 Acne-prone skin is a major problem affecting about 50 million Americans every year. It affects mostly teenagers between 12-24 years of age.
What causes dry sensitive prone acne skin? It mainly occurs when the skin overreacts by pumping up excess oil which clogs skin pores leading to a breakout.
The oil is produced in the sebaceous gland, When an excess of it is present they block the skin pores resulting in the formation of acne, Other culprits are dead skin and bacteria.
The acne skin becomes dry and sensitive when it lacks water.
All this process results in redness, cracking, dryness, inflammation, pimples, or blackheads on your skin which brings about depression, low self-esteem, and poor self-image.
I really don't want you to panic because in this article we will unveil the best face moisturizer for dry sensitive acne-prone skin.
Who Needs To Use A Face Moisturizer For Dry Sensitive Acne Prone Skin?
There is always this bad feeling when you look at the mirror seeing redness, pimples, and cracking in your face. It brings depression along the line.
Your face accounts for more variation among ratings than other parts of the body. It is one of the most sensitive parts of the body for self-recognition.
So the need for a face moisturizer is vital because it helps in maintaining balance. Moisturizing every day helps to reduce the chances of developing extreme dryness or oiliness.
This dryness and oiliness are harmful because they bring about defects like acne, itching, and others.
Moisturizers act as good protection for your skin and they help in the removal of fine lines and other dead skin, making your skin look youthful (fresh).
Are These Face Moisturizers For Dry Sensitive Acne Prone Skin Different From Regulars Ones?
Yes! Know that treating dry sensitive acne-prone skin can be a little bit difficult because we are looking at two different things in one.
There, you will need to be very careful because almost all acne products you get are majorly made for treating (clearing) sebum and dead skin cells which can further dryness.
Understand that dealing with acne and dry sensitive skin, you need to avoid heavy skincare products. This includes oil-based moisturizers, lotions, and creams.
They can leave a lot of residues that block pores. Try going for oil-free non-comedogenic products. This product will not irritate your skin.
The products in this article have highly-emollient brands that will moisturize your skin properly.
Another way you can protect your skin is by applying moisturizer first then applying acne treatment over it.
According to research, dermatologist feels that the moisturizer act as a means to mitigate dryness and irritation caused by acne products.
How Do I Choose The Best Face Moisturizer For Dry Sensitive Acne Prone Skin?
The following steps should be followed when picking a particular face moisturizer because choosing the right product will not only make you happy but will nourish your skin, making it hydrated.
The steps are:
Try to define your skin problem
This is when you need the help of a dermatologist for a proper check-up, applying the wrong product to a different skin type can be a catastrophe waiting to happen.
Go for a face moisturizer
Go for a face moisturizer with key ingredients like salicylic acid, hyaluronic acid, antioxidants, zinc oxide (sunscreen), and glycerin amongst others.
Avoid heavy-weight products and choose products that are oil-free (petrolatum) and non-comedogenic moisturizers.
Coconut oil act as a natural moisturizer, especially for your face. It is gentle enough to be used around sensitive areas like under your eyes and on your lips. We are dealing with dry sensitive acne prone skin so there should be an order of applying products.
What Are The Best Face Moisturizers For Dry Sensitive Acne Prone Skin In 2020?
Below are the best face moisturizers for acne-prone dry sensitive skin.
They are oil-free and non-comedogenic moisturizers. Understand that there is no single moisturizer that works for both dry sensitive and acne-prone together.
Like we've said earlier, you add a face moisturizer first for dryness before adding an acne-prone product. So we are unveiling the best for both dry sensitive and acne-prone here below;
Paula's choice water infusing electrolyte face moisturizer, lightweight deep hydration for all skin including dry sensitive, and acne-prone skin.
This is one of amazon's best choices for treating dry sensitive acne-prone skin. It's Paula's choice of facial product.
It is an oil-free face moisturizer that contains active ingredients like antioxidants, ceramide, B vitamins, and pro-biotic sugars to optimize hydration in the skin's uppermost layer.
It helps in restoring vital hydration and helps to electrolyte and replenish dry skin water content. This product is also made for acne or blemish-prone sensitive skin.
It works great for acne-prone people and also helps in strengthening moisture balance, creating healthier skin. This product is fragrance, paraben, and oil-free, and also a lightweight product.
Pros
It has no fragrance
No paraben
Great moisturizer
Lightweight
Cons
Doesn't work for a normal skin
This oil-free daily hydrating moisturizer for acne-prone skin with retinol and allantoin helps to reduce oil, tightens pores, and calms skin.
It goes all the way to keep pores clear and minimize to create smoother-looking skin and delivers shine-free hydration while reefing skin texture.
It works both for oily and dry sensitive skin.
Murad's acne control skin perfecting lotion helps blemish-prone skin stay clear, smooth, and healthy by providing oil-free hydration.
It is a non-comedogenic moisturizer that soothes irritation and re-texture skin while keeping oil at a minimum.
It works for eczema and also soothes red skin.
Pros
Helps keep pores clear and visible
Lightweight moisturizer
Helps heal acne-prone and dry patches
Hydrating and soft
Great moisturizer for combination skin
Works too for oily skin
Cons
This is one of the best products for both acne-prone and dry sensitive skin.
This moisturizer contains active ingredients like niacinamide, aloe vera, and antioxidants with other ingredients.
This moisturizer hydrates without clogging pores and it is oil-fragrance free and also a dye-free moisturizer that absorbs quickly to hydrate skin without clogging pores.
It helps in restoring the water level and strengthening the moisture. It works perfectly for acne-prone skin and it is a very light moisturizer.
Pros
Best oil free moisturizer
Very light
Very good for dry combination skin
Great for confused skin
Good for sensitive skin
Gives skin silly sootiness
Best for acne prone
Cons
This is one of the best products for acne-prone recommendations by amazon.
It contains active ingredients like salicylic acid combined with others like glycolic acid which helps to clear skin and prevent future breakouts.
Salicylic acid treats and prevents acne.
It is a lightweight soothing gel serum that targets blackheads, oiliness, and blemish-causing bacterial inhibition while minimizing dryness and irritation.
Formulated without paraben, glutens, mineral oil, petrolatum, and petroleum.
It also reduces the appearance of enlarged pores and it is applied by cleaning your skin thoroughly before applying it.
Avoid contact with your eye.
Pros
Works effectively
Prevents breakouts and related
Cons
This is one of the most chosen face moisturizers (sunscreens) recommended by dermatologists because it helps calm and protects sensitive skin types prone to acne, rosacea, and discoloration.
It is formulated with active ingredients that help in promoting healthy-looking skin and also contains zinc oxide which protects against UVA and UVB rays.
This lightweight does not contain fragrance, oil, or paraben.
Pros
Best UVA/UVA for Rosacea
None greasy product
It makes skin calm
No sensitivity
Best sunscreen product
It is lightweight and can absorb quickly
For oily skin type
Cons