Last Updated on January 10, 2023 by louischilton
Do you know that the baby's skin is more sensitive than that of the adult's? Kids naturally pass through this because of their less-developed immune systems, they are not resistant to irritants that trigger or flare up sensitive skin.
Some of these irritants include laundry detergents, fragrance products used on baby's skin, soaps with harsh chemicals, and clothing.
The most obvious signs of sensitive skin in babies include heat rashes, dry itching skin, and redness. Most babies battling sensitive skin suffer from severe itching, which can cause a lot of headaches.
You don't have to panic, we have compiled a list containing the best baby bath products for sensitive skin. Check below to see our top reviews
A Quick Look At The Best Baby Bath Products For Sensitive Skin
What Is Sensitive Skin
Sensitive skin is a condition that causes the skin to react easily to external irritants. Sensitive skin is more likely to be dry, itchy, and inflamed than other types of skin. It's also more likely to be prone to breakouts and rashes., such as friction, temperature changes, and even chemicals.
The symptoms of sensitive skin include
Flaking or peeling of the skin
Why You Need A Baby Bath Product For Sensitive Skin
There are many reasons why you need a product like the one outlined in this article. Just to name a few, babies can have a lot of allergies and it's important to make sure that the product you are using is natural, doesn't include any harmful chemicals, is affordable, and will keep their skin moisturized.
Also, the best baby bath products have ingredients that can soothe rashes in the baby's skin and keep it moisturized. The relief from rashes and itching can be life-changing for you and your baby.
Plus, using the best baby bath products usually means that the baby will want to be bathed more frequently and you will be able to make sure their skin is clean, soft, and healthy.
What To Consider When Optioning For Baby Bath Products
As we said in our introduction, babies naturally have very sensitive and soft skin. That is why you need to be careful when optioning a product in the market.
All you need is a gentle product made from natural ingredients. These products are meant to improve alongside maintaining the health and texture of the baby's skin. The following tips will help you when optioning a baby bath product.
Consider Product With Lesser Ingredients
The more ingredients in a skincare product, the more likely that the baby may develop irritation.
Choose A Natural Product With Good Preservatives
This is when you consider the type of ingredient present in the product. It doesn't matter what the product is, it may be a shampoo, baby wash, or bar soap.
All you need is a product formulated with natural ingredients. Some of these natural ingredients include coconut oil, glycerine, colloidal oatmeal, and shea butter.
Another thing you need to know is the preservative present in the product. Considering how sensitive your baby's skin feels, it is advisable that you pick a product free from allergens and irritants.
Some preservatives like paraben and formaldehyde are pretty not cool for the baby's skin. They are too harsh for their skin.
Understand that skin irritation is due to ingredients present in skincare products. Other notable ingredients to avoid include propylene glycol, sulfate, fragrance, and phthalates.
What we are saying here is to consider preservatives with lesser concentrations like phenoxyethanol, this ingredient has a very low concentration of 0.25 percent and it doesn't react with another active ingredient in a product.
Consider A Balance PH Products
Most often, adults don't take the PH in skincare products very important.
In babies, it is a very important factor to consider. A skincare product with a slightly acidic PH level won't disturb the skin's protective layers.
However, Considering a product with a 5.5 PH level, this product is the best deal for both infants, babies, and toddlers' skin.
Read Product Label
One thing you need to do before optioning for a baby bath product is read product reviews. All you need is to check for terms like clinically tested, hypoallergenic, cruelty-free, and how gentle the product is on the skin.
Reading to check for these terms will give you an insight into how functional the product is.
Check Product Reviews Online
So many customer reviews are present on Amazon and other platforms. Check to see people's comments on the product to see its cons and pros. This will tell you if the product is good for your baby's condition.
What Are The Best Baby Bath Products For Sensitive Skin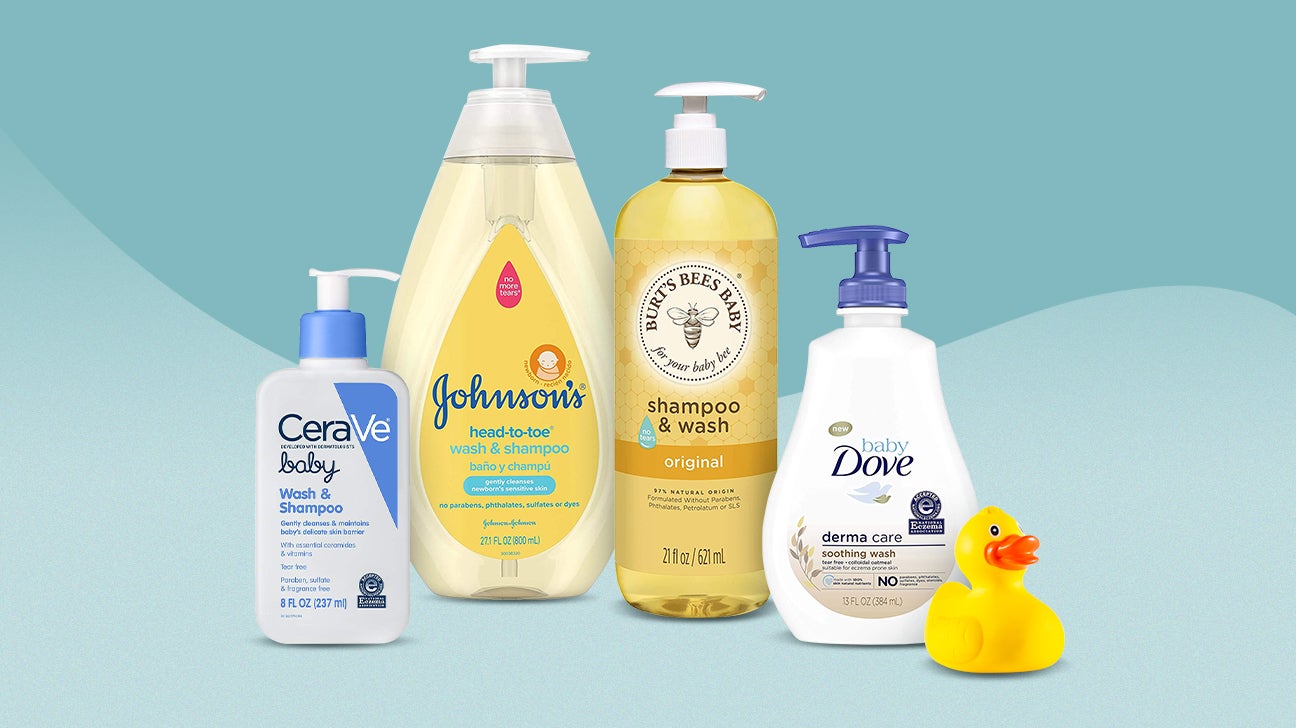 Check out the following product. They are best recommended for your kids with sensitive skin.
This baby bath set is comprised of both baby wash, shampoo, baby lotion, and cream. It is formulated with the best natural ingredients to help cleanse, moisturize and relieve baby skin from irritation and dry skin.
Pros
Formulated with gentle ingredients
It is a perfect PH balance product
Its parabens and phthalates free
Tested by dermatologist and pediatrician
It is specially designed for babies with sensitive skin
The sets of product smell nice
Cons
This set contains 5 skincare products infused with plant-based ingredients. It helps in cleansing newborn babies.
This 5-in-1 product helps to quench the baby's irritation and redness from sensitive skin. The ingredients found in these products are all-natural and gentle on the baby's skin.
Pros
This product is paraben-free
It is tested by dermatologists and pediatricians
Best product for baby acne
The lotion is lightweight
Cons
Baby dove calming product is formulated with hydrating ingredients to help moisturize the baby's skin. This gentle baby wash is recommended for kids battling sensitive skin.
It is made with all-natural ingredients to help quench baby irritation. This product is dermatology and pediatrician recommended for babies with eczema.
Pros
Cons
This is one best amazon recommended products for all babies with dry sensitive skin. it is infused with oatmeal extract to help smoothen dry itching skin.
The calming baby wash is designed to relax and protect the baby's skin leaving it feeling clean, soft, and healthy. It is gentle on the baby's sensitive skin and doesn't cause any baby skin irritation.
Pros
The product is PH balanced
It is tested by both dermatologists and pediatricians
Best product for a newborn baby with sensitive skin
It doesn't dry out the baby's skin
Cons
This product is formulated with naturally derived ingredients like lavender oil, aloe vera, and vitamin E. It is gentle and very effective for your baby's sensitive skin.
This 2-in-1 product helps to moisturize your baby's skin giving it smooth soft feelings. It is highly recommended for your baby's delicate hair.
Pros
It is a completely natural product
It is not tested on animals
It doesn't dry out the baby's skin.
Best product for toddler dry skin
Cons
This four-in-one set is formulated with natural ingredients to help cleanse and moisturize the baby's skin. It is infused with coconut oil, aloe vera, and shea butter.
It is gentle enough and can hydrate and soothe sensitive skin. The product is pediatrician and dermatologist approved transforming bath time into an enjoyable unstopping moment for your rad little kids.
Pros
Formulated for all skin types
Cons
Why Are Babies More Vulnerable To Skin Sensitivity?
There are some very specific reasons why babies are more vulnerable to skin sensitivity. It's not that adults are physically stronger, but rather that their skin is more resistant to physical damage.
As babies, our skin is much thinner, which is good for growing, but bad for sensitivity. There are many other factors that contribute to this as well.
Babies are also much more likely to scratch themselves, and the skin is much more sensitive to temperature changes. This in turn makes babies more likely to contract a skin condition.
Best Baby Bath Soap For Eczema
Eczema allergies can make a baby itchy, and uncomfortable and sometimes even cause skin rashes. When it comes to baby eczema, one of the best ways to reduce the issue is to bathe the baby with a soap that is designed specifically for eczema.
But if you're not sure which soap to use for this, we have the best bath soap for your baby with eczema.
What Are The Best Baby Bath Soap For Eczema
Best Baby Bath Wash For Newborn
Are you struggling to find the right solution to help make bath time with your infant less stressful, more enjoyable, and more effective? Fortunately, there is a solution that can make bath time easier than ever.
We all know the importance of bath time with a newborn, but it is not easy. . Below we have listed the best baby bath wash for newborns. You can use these washes to create an experience that is gentle and effective while caring for your newborn.
What Are The Best Baby Bath Wash For Newborns
FAQ
Is Baby Lotion Good For Sensitive Skin?
Lotions are good for babies with sensitive skin. The best lotion recommended for your baby's skin is those safe for both irritation and eczema, and those free from allergens. The major task here is how do I locate the right baby lotion.
Why Should You Not Bath Your Baby Every Day?
Many people found it hard to believe that the baby's skin doesn't need regular bathing. Bathing your baby regularly can trigger eczema and skin irritation.
Dermatologists advise bathing babies three times a week, too much exposure to water might worsen the condition of babies with eczema.
What Makes A Good Baby Bath Product?
But what makes a good baby bath product? Here are some things to look for when you're searching for the right one:
The product should be easy to use, even without reading the instructions
It should be gentle on your baby's skin, but also effective at cleaning him or her off after a day of playing in the dirt
It should smell good. Your baby will spend a lot of time in this bathtub, so it's important that he or she enjoy every minute of it
Avoid ingredients that may irritate sensitive skin.
Conclusion
We hope you enjoyed our article on the Best Baby Bath Products For Sensitive skin. If you have a baby with sensitive skin, it can be frustrating finding the right products out there. We hope the products in this article help you and your baby's sensitive skin.
If you have any other questions or concerns about this topic, please contact us anytime at [email protected] Thank you for reading, we are always excited to share information like this.
Other Related Articles