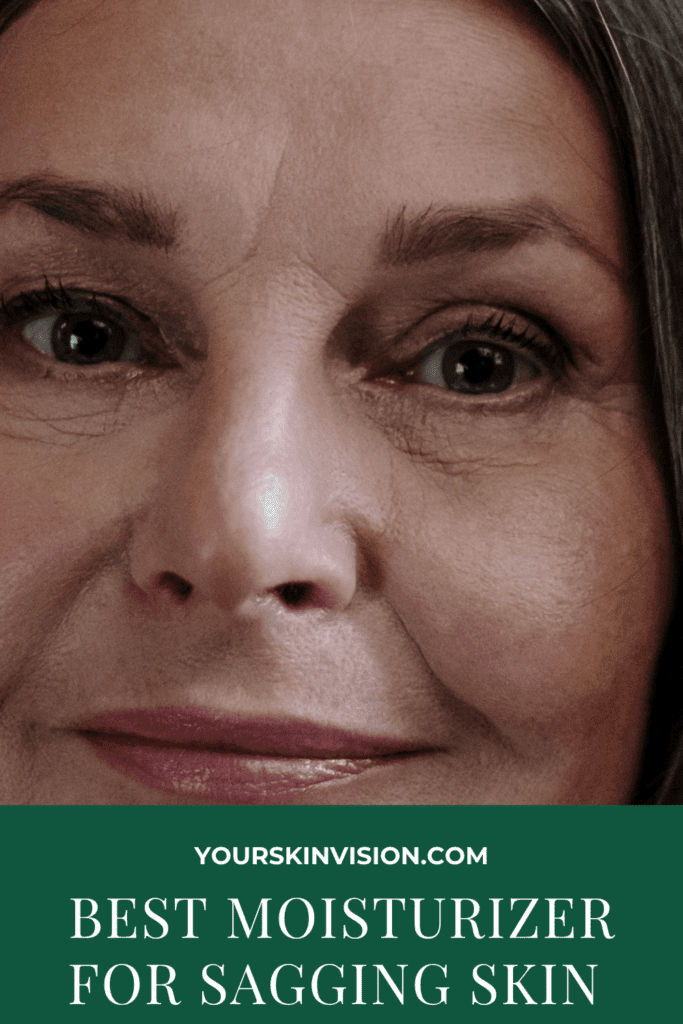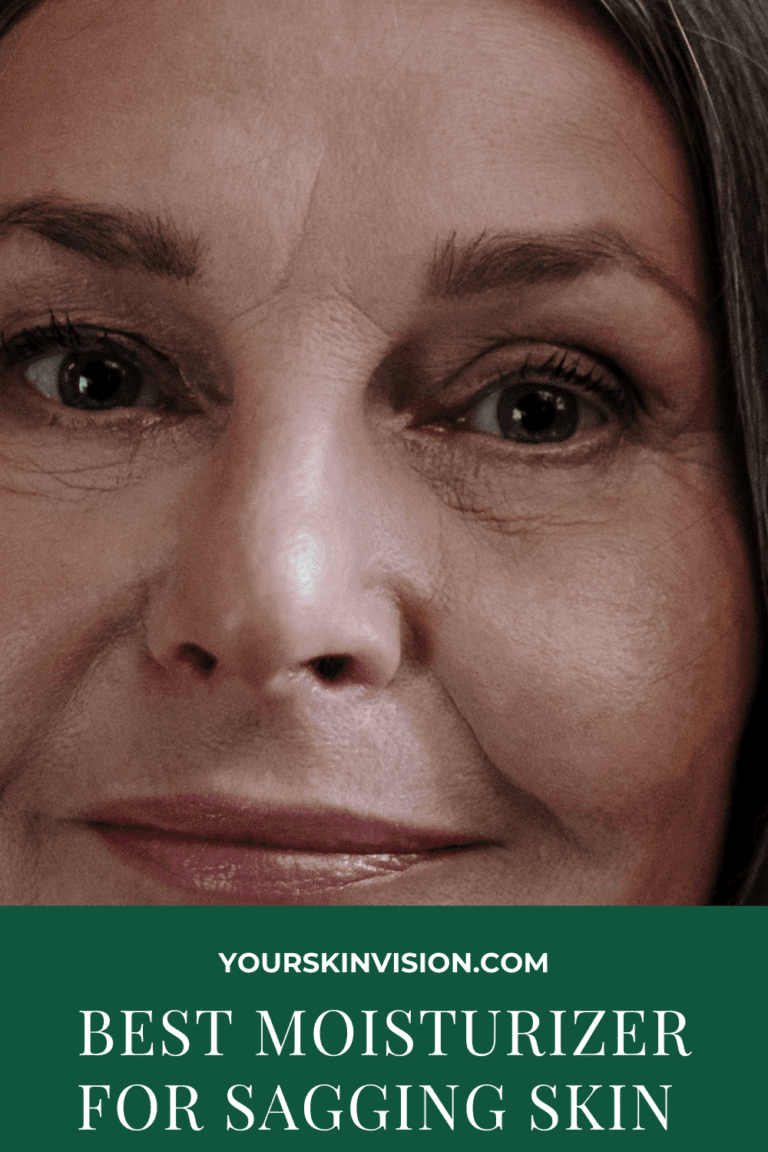 As we get older, our skin undergoes changes in structure and functions. This change comes naturally due to a gradual loss of collagen and elastin. Other factors include loss of natural skin oil and moisture.
This generally results in different skin conditions like fine lines, wrinkles, age spots, and others.
Another aging skin condition that comes as we get older is sagging skin. It generally appears in form of drooping skin and loose skin. Other than aging, it can also come through the loss of excess weight, smoking frequently, and exposing your skin to the sun.
You can do a lot on your own to relieve sagging skin, moisturizers with the right ingredients are most recommended for sagging skin. Some home remedies like aloe vera, coconut oil, and others can also help.
In order not to stress you with the right product, we have reviewed the best dermatologist-recommended moisturizers for sagging skin. They are listed below in this article.
How Do Sagging Skin Moisturizers Work?
You won't disagree with the saying that sagging skin needs moisture, collagen, and elastin. Using moisturizers infused with the right ingredients like hyaluronic acid will help increase your skin lost hydration.
Also, a good firming moisturizer increases collagen and elastin, this can help plump up your skin, making fine lines and wrinkles less noticeable.
Moisturizers are the major key used for preventing skin sagging, they help in improving and firming up sagged skin when used alone. These products are also safe on the skin when used.
Since they're infused with antioxidants and peptides, they're great for improving the overall health of your skin while targeting sagging and loose skin.
How We Choose The Best Moisturizer For Sagging Skin
There are some factors you need to put into consideration before optioning for a firming product. When you're shopping for these moisturizers, read labels and look for the right ingredients that have evidence behind them. These ingredients should act to help
Increase the moisture content of the skin
Should help supply enough collagen and elastin to help firm up sagging skin
Some of these recommended ingredients by experts include
Retinol
Retinol is also related to vitamin A, these antioxidants help to stimulate collagen production in aged and damaged skin. these ingredients help to combat fine lines, wrinkles, and age spots in older people. it also helps to firm up skin.
Hyaluronic acid
Hyaluronic acid is a natural ingredient in the human body and is found to decrease as we age. These moisture ingredients are infused in moisturizers to help restore skin from sagging, fine lines, and wrinkled skin.
Peptides
This ingredient helps to boost collagen and elastin in aging skin. Using a serum or moisturizer infused with peptides ingredients can help restore a youthful appearance with firm-up skin.
Both Vitamin A And Vitamin C
These two ingredients are both antioxidants, they mainly help in stimulating collagen and elastin for both sagging skin, fine lines, and wrinkled skin.
Caffeine
Caffeine ingredients are very recommended for sagging skin, they are infused with antioxidants that help to boost firming skin.
Glycolic Acid
If you want a quicker means to rejuvenate both sagging and wrinkled skin, call for glycolic acid. This anti-aging ingredient helps in supplying enough collagen.
What To Avoid
When shopping for a sagging skin moisturizer, it's best to avoid
These ingredients ain't helpful to the skin, they can further cause irritation and allergic reactions to the skin.
Other than using moisturizers, There are some simple habits you need to adopt in order to combat and prevent premature sagging skin. Some of these include
Indulge in frequent exercise
Eat food rich in vitamin C
Reduce the intake of alcohol
Try as much to reduce stress
What Are The Best Moisturizer For Sagging Skin
The following are the best tightening skin moisturizer for sagging skin recommended by dermatologists.
This product is one of the best amazon recommended products for sagging skin. This firming skin moisturizer is formulated with active peptides, antioxidants, botanical extracts, and Caffeine to help tighten and lift sagging skin.
The product helps to restore hydration and helps support the skin's moisture barrier. Also, it improves skin collagen and elasticity with the help of peptides and antioxidants to help combat both fine lines and wrinkles.
Pros
Infused with so much hydration
Help to combat crepey skin
Cons
If you are looking for a quicker product to help tighten up your loose skin, Then call for strivectin tightening cream. The moisturizer is formulated with active peptides to help brighten and tighten the skin.
It also helps to improve skin elasticity alongside hydration and firmness. This clinically tested product works faster in restoring sagging skin.
Pros
Best product for crepey skin
The product helps to boost skin luminously and improve skin tone
It's a good product for crepey skin
It is recommended for combating stretch marks
Cons
This hydrating moisturizer is infused with active hyaluronic acid and peptides. The two powerful ingredients help to tighten sagging skin.
The peptide ingredient in this product supplies up to 95% collagen and elastin, These two basic fibers help to smooth lines and wrinkles. The hyaluronic acid helps to deeply hydrate the skin, This helps to work against volume loss and laxity.
Pros
The product is free from artificial dyke
It is not tested on animal
Best firming product for neck
It help to diminish dark spot
Cons
This moisturizer is one best-recommended product used to soften or firm up sagging skin. It is formulated with oil-based antioxidants and other natural ingredients. This anti-aging product is so active that it is used to combat sagging skin on your face, neck, hands, body, and feet.
Other than sagging skin, it also helps to diminish wrinkles, fine lines, and the presence of dry skin.
Pros
It diminish Stretch Marks and Cellulite
Pros
This skin firming lotion help to completely restore skin from sagging and crepey skin. It is formulated with hydrating hyaluronic acid, vitamin E, and glycolic acid to help improve the skin's appearance.
The product also helps to diminish the presence of fine lines and wrinkled skin.
Pros
Helps in combating both age spot and stretch marks
It can be used on all skin types
Infused with all-natural ingredients
Cons