Last Updated on July 25, 2023 by louischilton
The best at-home device for marionette lines can be a contentious topic. This is because everyone has a slightly different idea of what makes a good at-home device. Many creams and exercises promise to reduce marionette lines, but how many of these actually work? There are now safe at-home devices used to help combat marionette lines, wrinkles, and fine lines.
If you are looking for these devices, then you have come to the right place. In this article, we have listed the best at-home device for marionette lines for sale. We review the different devices and give an outline of what to look for when shopping for an at-home device.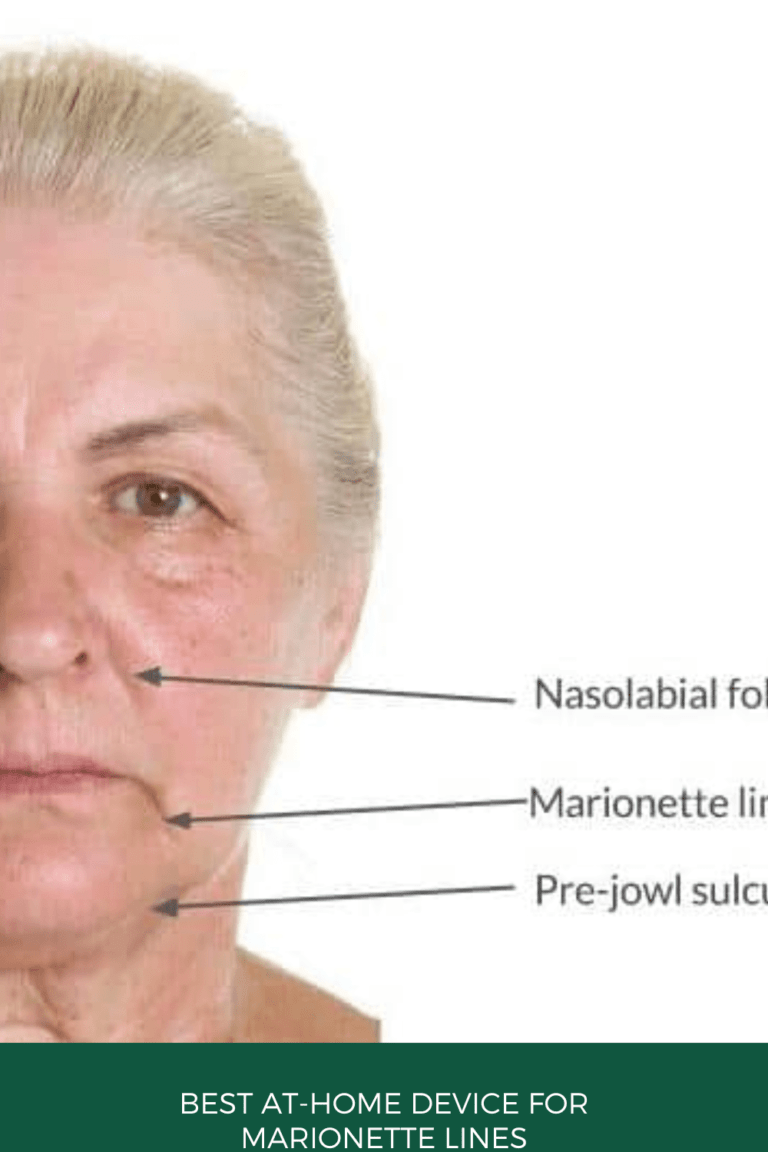 A Quick Look At The Best At-Home Device For Marionette Lines
What Are Marionette Lines
Marionette facial lines are a common occurrence in the facial skin of older adults. They are vertical deep deep lines on either side of your mouth. These deep lines can also be referred to as "melomental folds.".
Typically, when you look at someone with marionette facial lines, you will see a patterned wrinkling around their mouth to their chin. These lines are caused by collagen fibers that have been broken down and replaced with scar tissue which is much less elastic than normal collagen.
Marionette lines can be treated temporarily with dermal fillers, cosmetic peels laser resurfacing, or dermabrasion, but in most cases, they will continue to develop over time.
What Causes Marionette Lines
Marionette facial lines are caused by the skin's natural aging process and may occur as you get older. They are also caused by sun damage, and other environmental factors If you have them, it's important to consider lifestyle changes that can help prevent them from forming in the future.
How To Shop For A Marionette Lines At-Home Device
When shopping for a marionette lines at-home device, there are a few factors to consider to ensure you choose a suitable product. Here's a step-by-step guide to help you with your purchase:
Research different devices
Start by researching the available options in the market. Look for devices specifically designed to target marionette lines or overall facial rejuvenation. Read product descriptions, customer reviews, and ratings to get an idea of their effectiveness and user satisfaction.
Understand the technology
Learn about the technology behind each device. Some common technologies used for marionette line treatment include radiofrequency, microcurrent, LED light therapy, and ultrasound. Understand how each technology works and its potential benefits for reducing marionette lines.
Check safety and FDA clearance
Ensure that the device you choose is safe to use at home and has proper FDA clearance or approval. Look for information regarding the device's safety features, such as automatic shut-off, temperature control, and skin sensors.
Consider your budget
Determine your budget range for the device. Prices can vary significantly, so it's important to find a device that fits your budget while still meeting your requirements. Remember that more expensive doesn't always mean better, so prioritize effectiveness and user reviews over price alone.
Assess ease of use
Look for a device that is user-friendly and easy to operate. Consider factors like device size, ergonomic design, and control settings. Check if the device comes with clear instructions, tutorials, or user guides to assist you in using it effectively.
Determine treatment duration
Understand the recommended treatment duration and frequency for the device. Some devices may require multiple sessions per week, while others might have longer treatment times. Assess if the device's treatment schedule aligns with your availability and lifestyle.
Check additional features
Some at-home devices come with additional features or attachments that can enhance their effectiveness. For marionette lines, check if the device offers interchangeable treatment heads or settings specifically designed for this area.
Warranty and customer support
Look for devices that come with a warranty or guarantee, as it ensures you can get a replacement or refund in case of defects or dissatisfaction. Additionally, check if the manufacturer provides reliable customer support, in case you have any questions or concerns.
Consult a dermatologist or aesthetician
If possible, consult a dermatologist or aesthetician before making a purchase. They can provide personalized recommendations based on your specific needs and skin condition, and suggest suitable devices that are clinically proven.
Make an informed decision
After considering all the above factors, make an informed decision based on your research, budget, and personal preferences. Choose a device that has positive reviews, uses effective technology, fits your budget, and aligns with your lifestyle.
What Are The Best At Home Device For Marionette Lines
The following at-home devices are best recommended for those with Marionette Lines.
GLO24K Face and Neck Skin Rejuvenation Beauty Device are used to stimulate collagen to help lift and tighten sagging skin for a radiant appearance. It uses Triple Action LED, Thermal, and Vibration Technologies.
It is suitable for a sagging neck, age spots, wrinkles, and marionette lines. The device is designed to produce the highest-grade skin care effect. This device has over 300 five-star ratings on Amazon.
Rave Review: "As a woman in my seventies, I have tried several anti-aging devices, but most were time-consuming and yielded delayed results. However, the GLO24k skin machine provides quick and excellent outcomes with minimal time investment. I recommend it for people serious about anti-aging".
---
TriPollar Stop X Rose is a lightweight, portable, handheld device that uses radio frequency to tighten skin and lift and tone facial muscles. It works with the skin's natural ability to repair and regenerate itself, leaving your skin looking firmer and younger after every use.
The device is designed to target ALL layers of the dermis for improved anti-aging treatment. Regular use can significantly reduce wrinkles, marionette lines, and facial toning. TriPollar Stop X Rose's radio frequency device is a painless, non-invasive device that lifts, tones, and tightens the skin. Just lean back and breathe while the TriPollar Stop X Rose does all the work for you.
Rave Review: "I want to leave a review as a response to another review that claims the machine caused premature aging. I have used this product for years and followed all directions. The Tripollar Stop is not meant to melt face fat but instead targets a specific skin layer. It is important to understand how rf frequency works before purchasing. The machine turns off if it gets too hot, so burning or fat melting is impossible unless there is a malfunction. I use small circular motions and wait for the orange light to turn on before moving on to another area. I have not experienced any problems and still look the same. This product works".
---
Nulift's anti-aging device for under eyes and wrinkles is one of the safest and most effective wrinkle-removal machines. It uses radiofrequency (RF) treatment to improve the appearance of wrinkles and marionette lines.
The device also helps to clear up crow's feet in 4-8 weeks, puffiness and dark circles start to disappear in just 2 – 4 weeks. This radiofrequency device is a completely safe, non-invasive treatment with real long-term results.
It is suitable for all skin types, including sensitive skin. It comes with a 1-year warranty and a 60 days money back.
Rave Review: "I purchased the Nulift device to address my dark circles, and it has shown promising results. This compact and portable RF and microcurrent device requires the application of an RF base gel for use. I followed the instructions, starting at a low-intensity level, and felt a stimulating sensation with no pain. After five minutes per eye, I could notice a difference in the dark circles. The device comes with a USB charging cable, a tube of RF base gel, a manual, and a travel pouch. It is well-packaged and could be an excellent gift. I recommend trying it as it works well and is convenient for travel. Additional RF base gel can be purchased for under $8″.
---
Say goodbye to those pesky wrinkles and Marionette Lines with this COSBEAUTY 6-in-1 facial massager. It is designed to offer you a deep firming treatment with a large relaxing face massage to help improves your skin appearance. This device has six functions for maximum results.
It also has a waterproof design for the whole machine allowing you to wash the product freely and keep the body and the head clean.
Rave Review: "In my thirties, I have minor glabellar lines on my face that I wished to diminish. After two months of religiously using the COSBEAUTY 6 in 1 Facial Massager, I have observed slight improvement in the lines. The device is recommended for milder wrinkles and requires lotion before use. While the device causes a slight tingling sensation and temporary redness, it can be used at night before bed. The stand is a bit flimsy, but the investment is worth it".
---
The MLAY RF Radio Frequency Facial Massager for Women is the new way to keep your skin looking young. Use radio frequency technology to gently heat the deep layers of your skin.
This facial massager tightens your skin, firms up your face, neck, eye area, arm, thighs, and stomach as well as helps to reduce the appearance of wrinkles around the eyes, forehead, lips, and mouth. It tightens your skin and gives you glowing, radiant skin in just 4-12 weeks.
The MLAY RF Radio Frequency Facial Massager for Women is safe for all skin types including those with sensitive skin and has been scientifically proven to reduce the appearance of marionette lines. Though, the facial device is very expensive.
Rave Review: "After spending thousands of dollars on various products and devices, this particular one has provided excellent results, making the investment worth it.
---
Best Treatment For Marionette Lines
Superficial marionette lines can be the most disappointing part of aging. But they don't have to be a sign of aging, they are actually a response to the muscle losing elasticity and becoming more slack.
When a person's facial muscles weaken over time, these lines can form and continue to see as they age. When you find yourself with these lines, there are many options that you can choose from. Luckily, they are all easily attainable, almost within reach. Below is a list of the best treatment for marionette lines.
What Are The Best Treatment For Marionette Lines
The BLUMBODY Face Wrinkle Patches seem to be designed as a solution for addressing facial wrinkles, specifically targeting smile lines and fine wrinkles between the eyes. Here's a breakdown of the product based on its description:
Targeted Wrinkle Solution: The patches are intended to be placed on specific areas of the face, such as smile lines and wrinkles between the eyes, to help smooth and reduce the appearance of those fine lines.
Non-Silicone Patches: These patches are described as non-silicone, which might be a positive feature for individuals who prefer alternative materials for their skincare products. Silicone-based patches are more common, so these non-silicone patches may appeal to those seeking an alternative option.
Overnight Use: The product claims to be suitable for overnight use, suggesting that you can apply the patches before going to bed, allowing them to work while you sleep. This convenience could be appealing to people who want an easy and time-efficient skincare routine.
Other Ways To Help Get Rid Of Marionette Lines
The key to getting rid of marionette lines is to use a combination of treatments. First, you will need to get your skin ready with a daily regimen of exfoliation, moisturizer, and sunscreen.
Then, you can treat the problem areas with a series of treatments that include laser therapy, microdermabrasion, and chemical peels.
Also, consider dermal fillers. Dermal fillers are substances that are injected into the skin to make it look younger and plumper. Consider using hyaluronic acid dermal fillers because they work faster and show a quicker change when used. They can be used to treat marionette lines as well as wrinkles around the eyes, lips, and nose.
Finally, you should consider using a product like collagen injections that help to regenerate collagen in the skin and improve its elasticity.
What Is Better For Marionette Lines: Botox OR Dermal Fillers?
Botox and fillers are both great options for reducing the appearance of marionette lines around your eyes, but they have different effects on the skin.
Botox, or botulinum toxin, is a popular treatment for crow's feet and forehead lines. It is injected into the muscles in those areas to relax them, reducing wrinkles and lines on the face.
Fillers, which are usually made from hyaluronic acid and can be used either as a filler for wrinkles or to plump up lips, cheeks, or other facial areas, also have been shown to be helpful for crow's feet and forehead lines.
So which one is better? From our research, dermal fillers are better because it works by relaxing the underlying muscle tissue that causes deep wrinkles and lines. Botox work by filling in those same wrinkles and lines but can not work on deep folds around the nasolabial area.
Best At-Home Device For Sagging Jowls
As we age, we are faced with many different physical changes that can cause a lot of self-consciousness and embarrassment. One of those physical changes is the sagging jowls. As you grow older, the skin under your jowl starts to sag.
Sagging jowls could be due to a number of factors including age, poor nutrition, or as a result of weight loss. There are a lot of factors that contribute to the development of sagging jowls and in order to get the best at-home treatment for this condition, it is important that you understand the cause of sagging jowls.
This will help you to understand how to get rid of sagging jowls that are caused by different factors. Sagging jowls are one of the reasons why a lot of people are unhappy with their physical appearance even if they don't look old.
You may choose to go under the knife for a facelift or a neck lift but that's not the only way to get rid of the jowls. Below are the best at-home device for sagging jowls. These devices are recommended by our top dermatologists and are safe for use.
What Are The Best At-Home Device For Sagging Jowls
Best At Home Facial Firming Device
Can you really make your skin firmer with a device at home? That is the big question. There are so many different devices that you can use at home nowadays to help you improve your skin such as a facial.
However, many of these come with heavy price tags and require you to make regular appointments. So, we decided to look at the best facial-firming device to see if we could determine which device can help your skin the most.
What Are The Best At Home Facial Firming Device
Best At Home Device For Stretch Marks
Stretch marks are severe, permanent, and often disfiguring. In many cases, these stretch marks change a person's self-image, especially when they appear on the skin that is in close contact with the person's body.
There are treatments available, but they may not be enough to completely conceal these marks. At the same time, a person may not want to invest in treatments such as laser surgery and chemical peels.
Other than using laser surgeries and chemical peels, there are now home devices used to completely remove stretch marks without side effects. Below is a list of the best home devices for stretch marks
What Are The Best At Home Device For Stretch Marks
Best At-Home Devices For Back Pain
There are many devices to choose from when you are trying to find the best home device to reduce back pain. Be careful when you are choosing these devices because not all of them are safe to use.
If you are suffering from back pain, you should choose a device that has not only been medically proven to work but is also one that is safe to use. Below is a list of the best at-home devices for back pain.
What Are The Best At-Home Devices For Back Pain
Best Device For Frown Lines
Over time, we all develop frown lines, caused by a combination of genetic markings, facial expressions, and age. Are you wondering how to get rid of frown lines and how to keep them from not coming back?
If you are looking for a device that can help, here are some of the best devices available to get rid of frown lines.
What Are The Best Device For Frown Lines
Conclusion
Whether they are called marionette lines, " crow's feet " or simply wrinkles, they can be an unsightly part of the aging process. In an effort to slow down the formation of these lines and even remove them entirely, many people turn to at-home anti-aging devices.
The anti-aging device featured in this article were picked out with an eye toward effectiveness, affordability, and convenience. This article is a great read for anyone who is interested in finding the best at-home device for marionette lines.
Our overall pick from this list is the Nulift Wrinkle, Dark Circles Under Eye Device for Women Men. The device can be used to treat marionette lines and other skin conditions. It is safe for home use. The device is small and discreet making it easy to use for long periods of time. It is affordable and comes with a money-back guarantee.
Other Related Articles