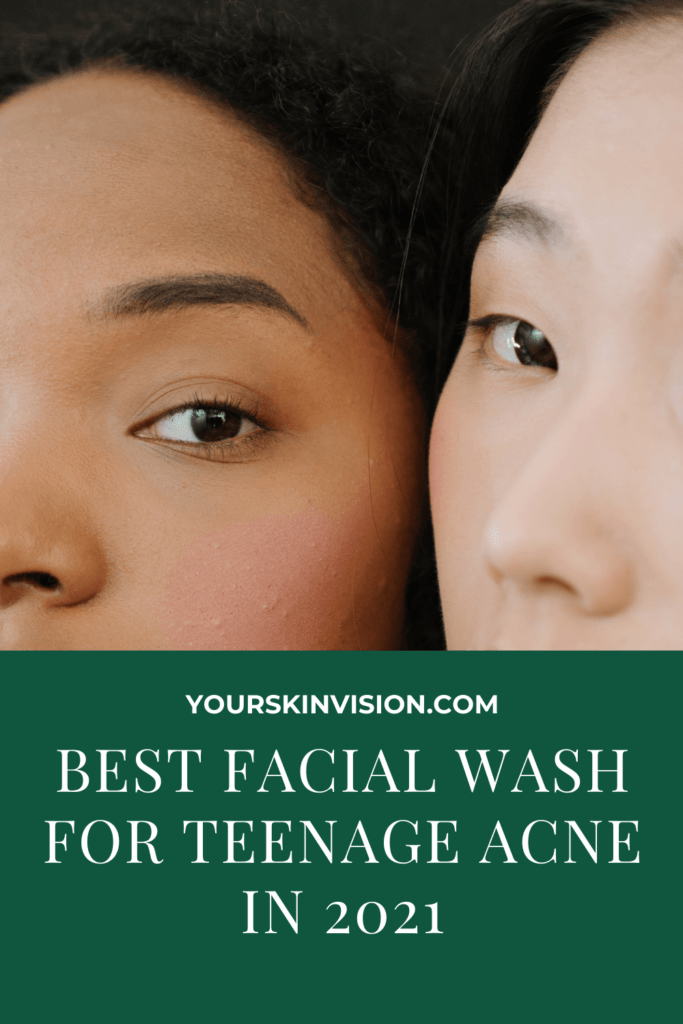 Getting the ideal facial wash for acne skin doesn't come easily most especially during the teenage age. While acne occurs at any age, it is very common among teenagers age and young adults.
Statistics have also shown that about 85 percent of individual affected with acne falls within the age of 12 to 24.
It is mainly caused by four major factors which are excess oil (sebum) production hair follicles clogged by oil and dead skin cells, inflammation, and bacteria.
Any teenage age that has facial acne understands that it can be a many-headed monster, you succeed in putting an end to it then another comes in. this mainly happens when the right ingredients are not in place.
The best facial wash to address teenage acne should contain the best fighting ingredients like Benzoyl peroxide, Salicylic acid, clay, alpha-hydroxy acid (AHA), and retinoids which most people don't know. Also beware of ingredients like fragrance paraben, phthalates which are toxic.
Because of how serious this acne is and the much damage it has caused, we have gone through series of research to get the best facial wash for teenage acne which will be listed below.
Are This Facial Wash for Teenage Acne Different From Regular Ones
Most acne products differ, the question now is what makes them different from each other?
Ingredients, the ingredients used make all acne products not the same. Those with the right ingredients treat mild to moderate acne or periodic breakouts without drying out the skin.
Here are some active ingredients found in the reviewed products in this article.
Benzoyl peroxide
This ingredient fight to kills the bacteria that cause acne, in most cause it reduces the amount of oil production.
Salicylic acid
Another ingredient is salicylic acid, it penetrates into the skin to prevent dead skin cells from clogging your pores.
How to Choose the Best Facial Wash for Teenage Acne
There are numerous OTC acne was in the market meant for those teenage ages with acne. This is good but the question now is; How do you choose the right product?
The following tips will help pick the right facial wash.
Understand your option:
There are different acne treatments like Toners astringents, creams, gel, and ointment. Specify basically on an acne wash product because they are made differently from those Toners medicated lotion and others.

Consider your skin type
Pick a facial wash that goes in line with your skin type. Most of these products are made differently because of different skin types.
Check the Ingredients:
The most effective active ingredients are benzoyl peroxide or salicylic acid. Check out these ingredients. Other ingredients to look at are sulfur, resorcinol, tea tree oil, and glycolic acid.
Choose the strength when picking your product:
The best product having salicylic acid contains 2%, also benzoyl peroxide can be more effective with 2.5%.
Visit a Dermatologist for more information
When you are not also too clear on how to get the right product, it is advisable to visit a dermatologist.
What is the Best Facial Wash for Teenage Acne
The following facial wash below is the best meant for those teenagers age with acne. They include:
Pro Acne Cleanser – Benzoyl Peroxide face wash and acne treatment daily facial cleanser and Hyaluronic Acid moisturizer with exfoliating beads.
This acne-fighting facial cleanser washes away excess oil, dirt, and other impurities. It removes dead skin cells with tiny, smooth exfoliating beads, the benzoyl peroxide used in this face wash is designed to quickly penetrate deep into pores to start to kill acne-causing bacteria on contact.
The combination of cleansing and exfoliating helps to clear up existing acne blemished and prevent new ones from forming.
Pros

For those with oily skin
Best for normal skin

Great for cystic acne
Best ever counter product to prevent breakout
For teenage age
Cons
It contains paraben
Presence of fake products in the market
Proactive MD Exfoliating face wash – gentle and hydrating facial cleanser acid acne treatment for sensitive skin
This gentle liquid cleanser is formulated to help clear dirt and debris from deep within the pores.
Tiny exfoliating beads to help gently resurface the skin for a smoother, softer-looking complexion includes pores resurface gently exfoliating beads help though away dull, dry layers of dead skin cells, helping to clear pores.
It is formulated with one of the best active ingredients (Benzoyl Peroxide).
Pros
Best product for teens
Treat Rosacea effectively
Best to clear blemish
Works great on sensitive skin
Work best for those with break out
Help to unclog pores
Cons
It contains fragrance
Fake products in the market
Neutrogena Oil-face acne-fighting facial cleanser with salicylic acid, acne treatment medicine, daily oil-free acne face wash for acne-prone skin.
This is one of the best dermatologist-recommended acne-fighting facial cleansers.
This daily face wash contains 2% salicylic acne medication and is formulated to gently clean deep into pores for clearer skin and even helps treat acne before it emerges.
It also helps to prevent future breakouts. This acne-fighting formula oil-free formula rinses clean without over-drying or irritating the skin.
Pros
Great face wash for blackheads
Best for acne-prone skin
Best face wash recommended for the teenage age
For those with oily skin
Works for combination skin
Cons
Not for those with dry skin
Not for those with sensitive skin.
Glow Skin Beauty Clear Skin Cleanser – Salicylic Acid Face Wash to Treat Acne and Breakout
This product treats and prevents breakout while leaving skin thoroughly cleansed.
Gentle scrubbing beads clear the skin's surface to allow for optimum Salicylic acid penetration. Contains 2% Salicylic Acid and is Paraben-free.
Pros
For those with hormonal acne
Best to treat cystic acne
Paraben-free
Cons
None
La Roche – Posay Effaclar Medicated Gel Acne Face Wash
This is a very good product made with 2.5% micronized benzoyl peroxide to help kill acne-causing bacteria on contact.
It also contains glycerin, a hydrating ingredient. This is a great cleanser for those with oily, combination skin to unclogged pores. Also, it helps to clear up whiteheads and blackheads.