Teenage acne is a very common skin condition that affects many teenagers. It is also known as teenage pustular acne or acne conglobata.
Acne in teenagers is not just about pimples and spots, it can be extremely painful and embarrassing for teenagers who are still developing their self-image. Acne can also cause scars on your face and body, which can last for months or years.
There are many different treatments available for teenage acne. Some of these have been around for years, while others have only recently become available. This blog post will look at the different acne treatment options for teenagers, and how you can get the best solution for your teenage son or daughter.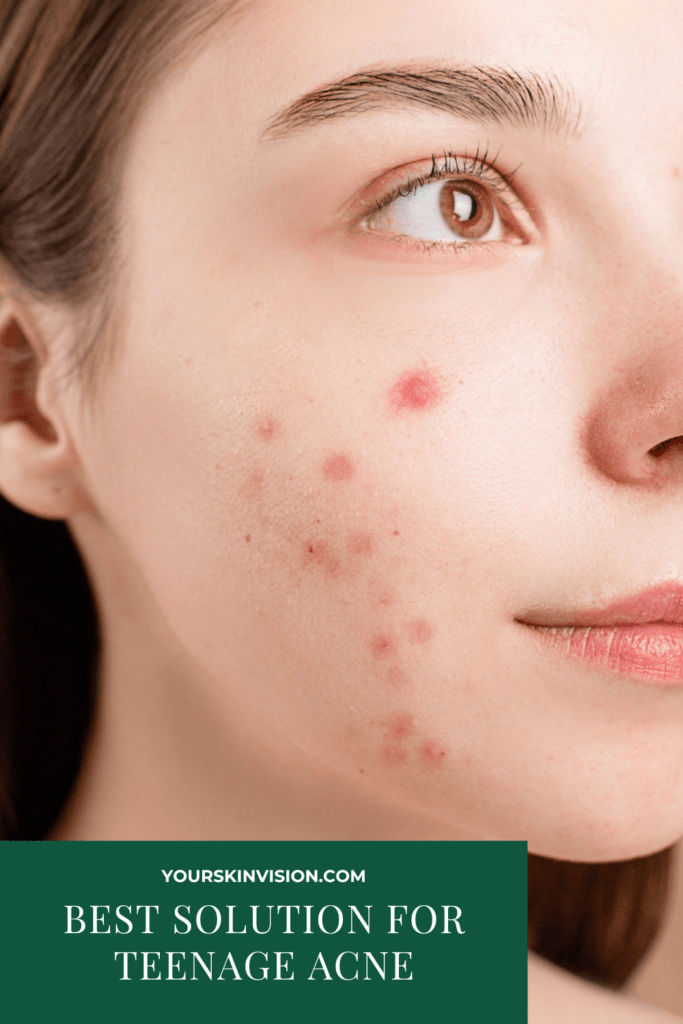 Our Best Solution For Teenage Acne
What Causes Teenage Acne?
Acne is a common condition that can be frustrating for teens and their parents. Here are some of the most common causes of teenage acne and how to reduce them.
Lifestyle
Teenagers are more prone to acne than adults because their skin is still developing and their hormones are changing. This means that their skin produces more oil, which can clog pores and lead to breakouts.
Hormones
Hormones may also play a role in causing acne. Teenagers tend to have higher levels of estrogen and testosterone, which can make them more prone to breakouts in areas where they are particularly sensitive like on their face or acne on the back.
Stress
Stress can lead to inflammation and infection in your body, which can worsen existing acne or cause new breakouts. Exercising regularly can help reduce stress levels; try yoga or meditation if you're having trouble finding time for exercise–it will help you feel less stressed out.
Foods
Certain foods can cause your skin to produce extra oil.
The Top Acne-Fighting Ingredients
Salicylic acid
A beta hydroxy acid that helps exfoliate the skin. It's a key ingredient in many acne products, but can also be found in over-the-counter cleansers like Neutrogena and Clean & Clear.
Tea tree oil
This plant extract has antifungal properties, which means it can fight both yeast and bacteria infections on your face. Its acne-fighting abilities have been shown to be particularly strong against oil-producing bacteria.
Benzoyl peroxide
Coming in at the top of this list, benzoyl peroxide is a powerful chemical treatment for acne that reduces inflammation from the redness caused by breakouts.
BPO is available in an over-the-counter form, but it's best to consult with a dermatologist before using it on sensitive skin because it can cause irritation or allergic reactions.
How To Choose The Best Solution For Teenage Acne
When you have teenage acne, it can be hard to know where to turn for help. The good news is that there are lots of options out there for treating teenage acne and the most important thing is to make sure you choose the best solution for you.
No matter what type of acne treatment you are looking for, we have got some tips below to help make the process a little easier.
First: figure out what's causing your teen's acne. It can be tough to know what's causing your teen's acne at first, but it's important that you figure out why their skin is acting up before you start treating them.
The sooner you know what's going on, the better prepared you will be when it comes time to choose a treatment plan. If your teen doesn't have any underlying medical conditions like diabetes or lupus (which can cause inflammation), they may just have an overproduction of oil glands on their face or neck which causes blackheads and whiteheads (also known as pimples).
If this sounds like your kid, then try using an over-the-counter product formulated with either salicylic acid or benzoyl peroxide. These two ingredients help to kill bacteria in contact with the skin and reduce swelling from inflammatory redness caused by blocked pores.
Ways To Reduce Teenage Acne
There are different ways to reduce teenage acne. First, try using a cleansing bar and/or toner designed specifically for acne-prone skin. This will help clean out your pores and reduce the amount of oil they produce.
You can also use a moisturizer with an SPF of at least 15. When choosing this moisturizer, look for one that contains salicylic acid or benzoyl peroxide (which helps fight bacteria), as these will help clear up breakouts more quickly than other products do.
In addition to these measures, make sure you are getting enough sleep. Sleep helps keep your skin clear by giving it time to heal from any damage caused by breakouts overnight (like redness or swelling).
The better rested you are during this time period, the better off your skin will be when school starts up again.
What Is The Best Solution For Teenage Acne
There are a lot of different treatments for acne, but the best solution for teenage acne is to use a combination of products designed to fight the bacteria that causes acne.
The first step is finding a product that treats your acne from within. There are many different types of masks and creams that contain ingredients such as sulfur, salicylic acid, tea tree oil, or even prescription medications like clindamycin or erythromycin. These products will help reduce inflammation and kill the bacteria that cause acne.
Next, you need to find something that helps prevent new breakouts by preventing them from forming in the first place. If you're looking for something that can help with this part of the treatment plan, try using an over-the-counter product like
This powerful cleanser help to clear up acne before it has a chance to form. This medication provides the necessary protection that your face needs to stay oil-free and also helps remove excess oil through exfoliation.
The product is formulated with both salicylic and glycolic acids. Both ingredients are proven to help clear acne and treat acne even before it emerges.
Rave Review: "This cream is perfect for anyone with an oily face. I love it because it is really exfoliating and I feel like it really gets the oil off of my face so that I can apply my other face creams".
Pros
Dermatologists recommended
It runs at an affordable price
Cons
This acne treatment kit is perfect for all ages and skin types. Each product is designed with the mission of eliminating the cause of acne and not just treating the symptoms. The Facial Cleanser is designed to cleanse your skin and remove all dirt, debris, and excess oils, allowing for a clearer and healthier complexion.
The Clarifying Tonic is designed to de-clog pores and remove excess oils, while also providing you with a healthy glow. The Acne Treatment Serum works to reduce inflammation and prevent further breakouts. Lastly, the Clarifying Mask is designed to draw out impurities and deeply cleanse your skin.
Rave Review: "This stuff is my fail-safe. Even at 39 I have terrible cystic acne. I recently had a baby (the old covid surprise :)) and my hormones got out of control–aside from being annoying the zits are so painful. So, spent some money on myself for once and ordered the full kit. In my younger days, I could get away with just the cleanser and toner but I needed the whole enchilada this time around. Hard to spend the diaper money but absolutely worth it for my sense of self. One word of warning is that the mask has sulfur in it so if you're blaming the dog, no need. But 10 minutes of a slightly smelly face is definitely worth it for the results. 10/10 for the win".
Pros
Gentle on the skin and is non-toxic
All the kits have salicylic Acid
Formulated for Oily, dry, combination, and sensitive skin
Cons
The Clear Pore Serum has a fragrance
This is a kit of parts that work together to create a powerful acne treatment regimen. It is designed to deeply cleanse the pores, remove impurities, and control bacteria.
The kit is a family of natural acne treatments that help control acne breakouts and prevent acne from coming back. This acne treatment is also designed to control blemishes & redness.
Rave Review: "I struggle with adult acne along my jawline and decided to give this product a try. It has tremendously helped with clearing my cystic jawline acne. It took about one month to start seeing results. I bought the set again because I was so impressed with the results. I like that the products are very gentle and don't irritate my skin with harsh chemicals. I'm so glad I found this product".
Pros
Exfoliates dead skin
It's sulfate-free
Corrects dark spots
Paraben-free
It is naturally based
Balances oil production
It is gentle on the skin
No GMOs
Cruelty-free
It has no artificial fragrance
Diminishes Inflammation
Cons
This gentle, acne-clearing cleanser helps to visibly clear skin and prevent future breakouts. It contains a 4% concentration of the active ingredient benzoyl peroxide, which is an effective treatment for acne.
This face wash is proven to help reduce oiliness and inflammation. It is also formulated with hyaluronic acid to help retain the skin's natural moisture while niacinamide helps to calm the skin.
Rave Review: "I love this product, it was recommended by my dermatologist. Works perfect for my cystic acne-prone skin. Salicylic acid products just aren't strong enough. Make sure to rinse thoroughly as it will bleach your linens due to the benzoyl peroxide. I usually use it once a day, followed by a moisturizer and my skin has never looked this good! I've ordered multiple times and it's always packaged well and delivered promptly without leaking."
Pros
Fragrance-free
Paraben free
Non-comedogenic
This product is a top-selling acne treatment that is endorsed by dermatologists. This acne treatment is available in a range of variants including different strengths, as well as a body wash.
The 3-step acne treatment is formulated with both benzoyl peroxide and salicylic acid to cleanse, exfoliate and minimize pores. The clarifying face wash and exfoliating treatment are designed for all skin types and to banish acne and reduce the visibility of pores.
Rave Review: "This product first brought out a lot of stuff from under my skin before clearing them up in no time- kind of like bringing out the worst before the best. Since then I have used it consistently at nights and it has cleared my acne without drying my skin or bleaching my skin (for my dark skin folk). I feel so much more confident and I will definitely repurchase".
The Natural Acne-Fighting Ingredients
The natural acne-fighting ingredients are:
Honey
Honey is an antibacterial substance that can help fight acne, and the antioxidants in it can help prevent it from coming back. It has a soothing effect on the skin, reducing redness and swelling.
Lemon juice
According to some studies, lemon juice is a natural way to fight acne. It contains citric acid and vitamin C, which both help clear pores and kill bacteria.
Tea tree oil
Tea tree oil has antifungal properties that fight bacteria that cause acne. It can also be used as a spot treatment for pimples.
Aloe vera gel
Aloe vera gel is another great way to treat acne because of its ability to heal damaged skin cells and reduce inflammation in the area where you have an outbreak.
Further Asked Questions On Acne
What makes teen acne worse?
Acne is a skin condition that affects many people in their teenage years. Teen acne can be caused by hormonal changes, genetics, or several other factors.
Here's what makes teen acne worse:
Stress: Teenage stress can cause your body to produce more oil than usual and clog up your pores. You could also have an overactive sebaceous gland (pits in your skin that produce oil). When this happens you're more likely to break out with acne.
Acne-fighting products: If you use skincare products that contain harsh ingredients like sulfates, it may cause the bacteria on your skin to get stronger. The bacteria will then produce more oil and make your acne worse
Sweaty days: Bacteria thrive in warm and humid conditions, and that means sweatier days for teens
Cleaning too much: If you cleanse regularly with antibacterial soaps like Dial or Clinique, it can disrupt the balance of bacteria on your face and make acne worse.
Who needs acne treatment?
Everybody, it doesn't matter if you have acne or not. Seriously, there's no denying it, acne is a real thing. It can come in all shapes and sizes and can seriously wreak havoc on your life if you let it get out of control.
But did you know that it can be treated? Sure, there are always going to be those people who don't respond to any treatment at all, but if you are looking for a way to see improvement or even eliminate your breakouts, there are methods out there that will help you do just that.
So if your skin is looking a little… broken out… just know that there's help for you.
How do you treat teenage spots on the back?
The spots on the back can be very itchy and uncomfortable, but they are not dangerous. You can do a variety of things to treat these spots, including
-Use a topical steroid cream twice a day for up to two weeks (most people find that this works well).
-Apply an over-the-counter soap or benzoyl peroxide lotion to the affected area twice a day for up to three weeks (the benzoyl peroxide is good for treating both whiteheads and blackheads).
Clear Skin Products
What is clear skin? Clear skin is a state of skin that looks healthy and glowing. It's not just about the look, though clear skin can also have health benefits.
What are clear skin products?
Clear skin products are skincare products used to clear blemishes and imperfections, leaving you smooth and silky with minimal pores. Clear skin products can be found at your local drugstore or supermarket. They come in all shapes, sizes, and colors so you can find the right one for your needs.
What Are The Best Clear Skin Products?
There are many different types of clear skin products on the market today, all claiming to have the perfect blend of ingredients to get rid of those pesky blemishes and zits once and for all.
Some people prefer natural remedies such as tea tree oil or honey while others swear by topical treatments like hydrogen peroxide or salicylic acid. If you're looking for a safe way to treat your blemishes without any harsh chemicals then we've got just what you need.
We've rounded up some of our favorite products for clear skin below. First on the list is
These kits help to reduce dryness and redness in the skin. The formula also helps to refresh your complexion by reducing inflammation and irritation, leaving you with noticeably smoother skin.
This cleanser helps to reduce the appearance of pores and prevents breakouts. It is formulated with unique salicylic Acid. it is formulated without Paraben.
Conclusion
We hope you enjoyed our blog about teenage acne. Teenage girls and boys often struggle with acne, but there are a few things that you can do to help clear it up without medicine. We wrote this blog to show you the best solution to teenage acne that will work for you.
Keep these things in mind as you are clearing up your teenage acne and achieving clear skin. If you have any questions, please don't hesitate to reach out to us at [email protected]. Thanks for reading, we hope to hear from you.
Other Top Related Pages