Last Updated on June 13, 2023 by louischilton
Getting the ideal skincare products for a teenage girl can be quite challenging. This happens because there are numerous numbers in the market. Those with lesser skincare knowledge suffer more, they key into using the wrong brands which are less effective.
The hunt for the best skin care product begins by understanding your skin type. Teenage girls that are prone to flaking and redness may likely have dry skin that will require added moisture.
There's also a good chance for those dealing with oily skin with excess shine. All this can be achieved when the right ingredients are fully in place.
However, we have gone through a series of research to pick the best and most suitable skincare products, and you can be sure of giving the best care to your skin.
Choose the best skincare products for a teenage girl and make your skin glowing and charming every time.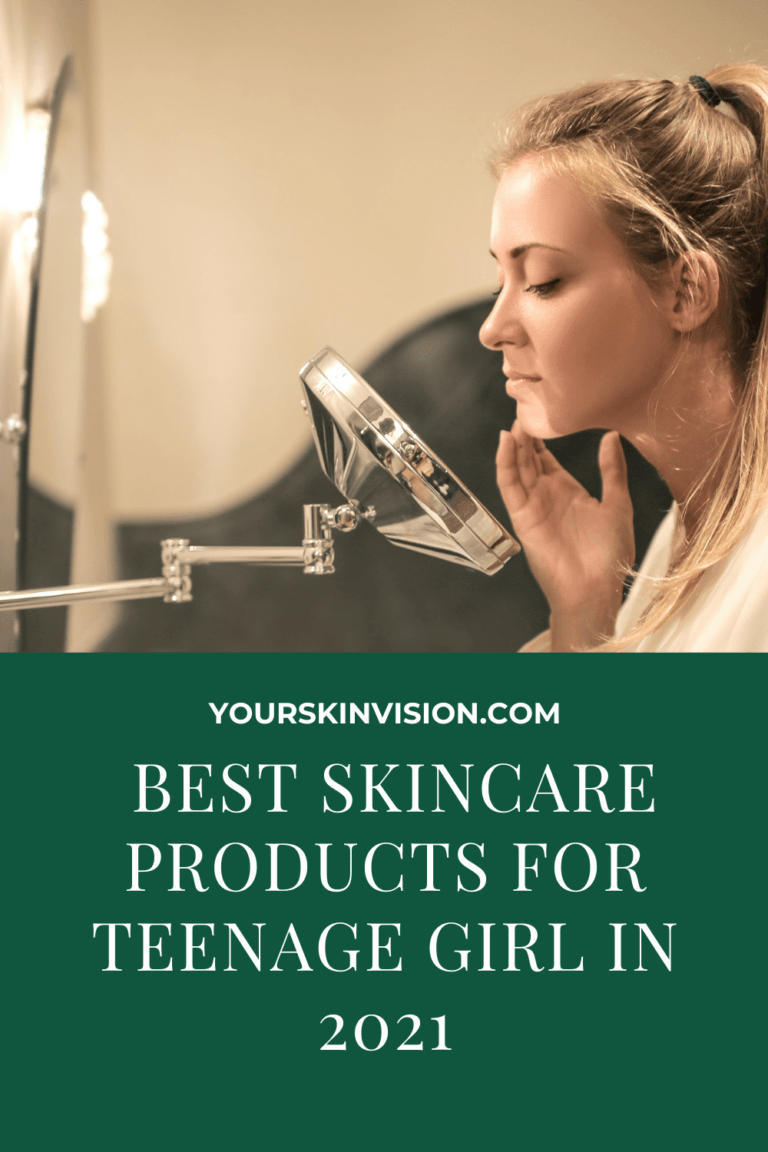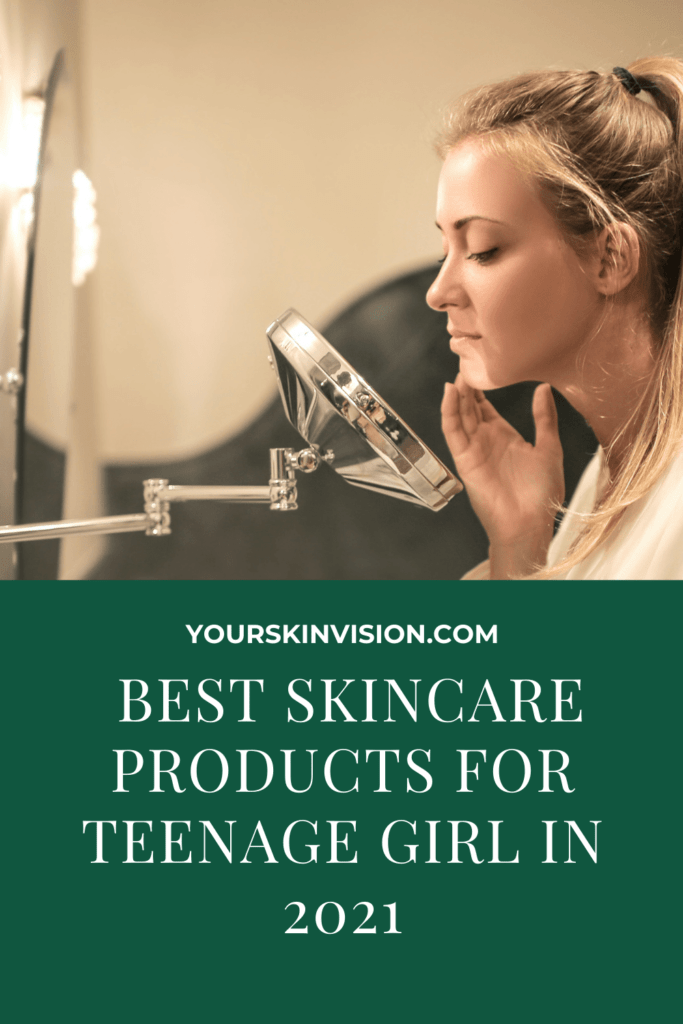 A Quick Look At The Best Skincare Products For Teenage Girls
Factors That Affect Teenage Skin The Most.
Not surprisingly, hormones are one of the biggest factors affecting teenage skin. And while they can be a blessing, they can also be a curse. The ability to grow facial hair and menstruation are both a cause of skin discoloration.
Body changes that result in hormonal imbalances can lead to acne and pimples, which can also be exacerbated by many different genes.
The biggest factor affecting teenage skin, however, is stress. Studies show that stress hormones are a huge factor in the way teenagers' skin forms and changes. Breathing exercises are a great way to clear your mind and reduce unwanted stress.
The Benefits Of Using Skincare Products On A Teenage Skin
Using skincare products on teenage skin can provide several benefits. Here are some of the key advantages:
Cleansing
Skincare products such as cleansers help remove dirt, oil, and impurities from the skin. Teenagers often have more active sebaceous glands, leading to oily skin and potential acne breakouts. Regular cleansing can help keep the skin clean and prevent clogged pores.
Acne prevention and treatment
Teenagers are more prone to acne due to hormonal changes during puberty. Skincare products containing ingredients like salicylic acid or benzoyl peroxide can help control acne by unclogging pores, reducing inflammation, and killing bacteria that cause acne. These products can be effective in preventing and treating pimples, whiteheads, and blackheads.
Hydration
Properly moisturized skin is essential for maintaining its health and preventing dryness or excessive oiliness. Skincare products like moisturizers help balance the skin's moisture levels, keeping it hydrated and reducing the risk of dry patches or oily skin. Look for oil-free or non-comedogenic moisturizers to avoid clogging pores.
Sun protection
Protecting the skin from the sun's harmful ultraviolet (UV) rays is crucial at any age. Teenagers often spend time outdoors, making sun protection important to prevent sunburn, premature aging, and long-term skin damage. Using a broad-spectrum sunscreen with a high SPF can shield the skin from harmful UV rays.
Skincare education and habits
Incorporating skincare products into a teenager's routine can help establish good skincare habits that will benefit them throughout their lives. Learning about the importance of proper skincare, including cleansing, moisturizing, and sun protection, can promote self-care and contribute to long-term skin health.
Boosting self-confidence
Teenagers may experience self-esteem issues due to skin concerns such as acne or other skin conditions. Using skincare products and seeing improvements in their skin can boost their confidence and overall well-being. Taking care of their skin can be empowering and help teenagers feel more comfortable and confident in their own skin.
How We Choose The Best Skincare Products For Teenage Girls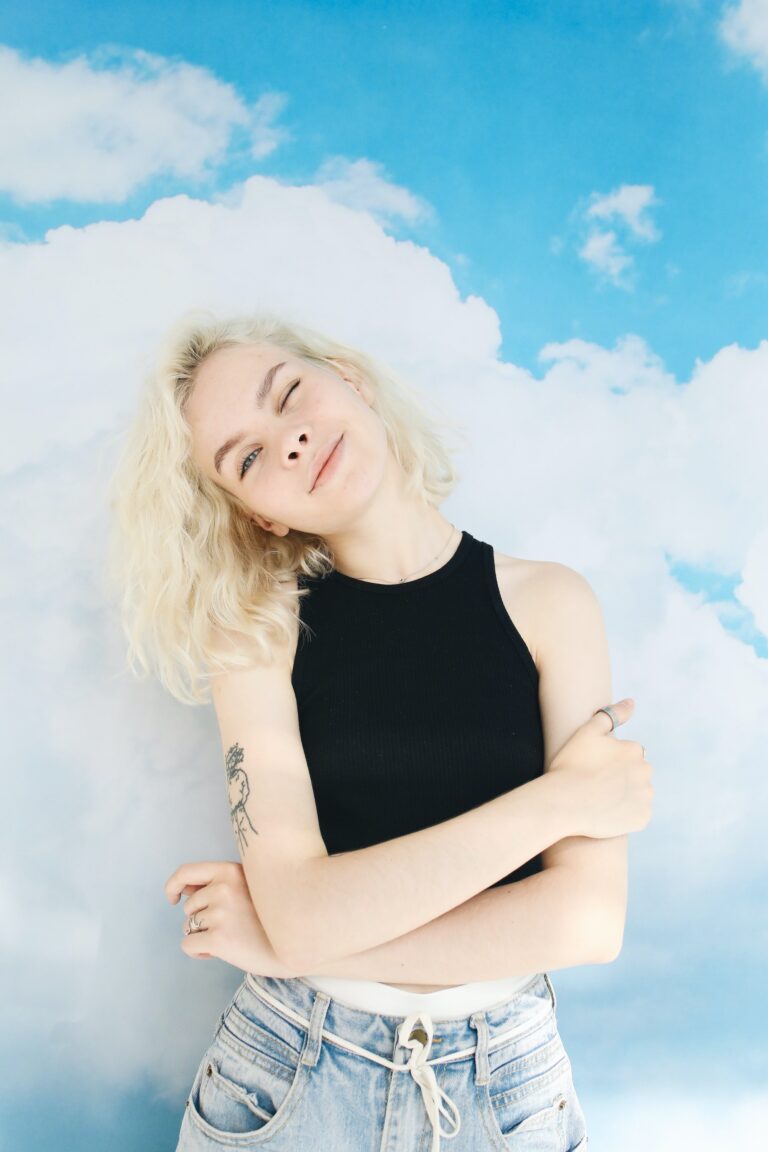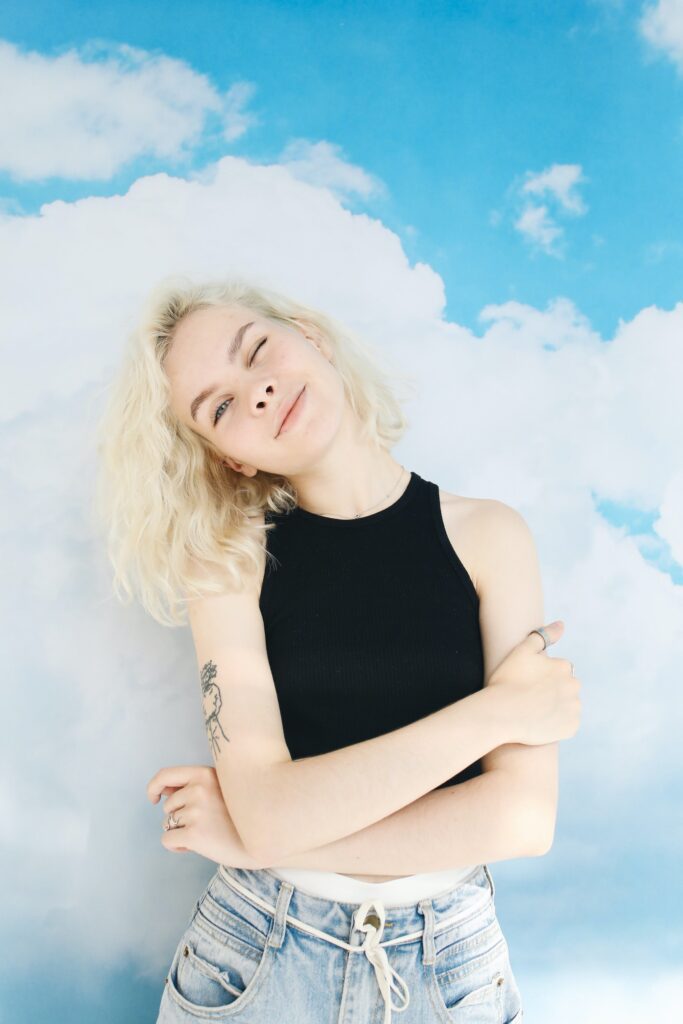 As we said in our introduction, there are so many skincare products in the market. Getting the right ones for you particularly is however not as easy.
Most of these products are made with toxic ingredients which you really need to watch out for. Here are some of the factors that you should keep in mind, before picking a particular product.
know Your Skin Type
Knowing your skin type will save you a lot of stress trying to opt for the right product that is best suited for your skin.
A product meant for dry skin is not the same for an oily skin type. Using a product that doesn't match your skin type is a catastrophe waiting to happen.
Examples of different skin types include dry skin, oily skin, and sensitive skin. If you know your skin type but still can't figure out the right ingredients, then you need a dermatologist's help.
Take Note Of The Ingredients
Lactic Acid, Aloe Vera, Ceramides, and hyaluronic acid, if you have dry skin it is advisable that you watch out for the following ingredients.
If you have oily skin watch out for the following ingredients, Hyaluronic Acid. Hyaluronic Acid, Retinol, Salicylic Acid, Niacinamide, Clay, Grapeseed oil.
Also avoid ingredients like fragrance, phthalates, and paraben.
Try Reading Labels
Most times we don't really consider reading product labels, We mostly rely on recommendations from friends and family (just because it worked for them) Which is a very bad habit.
Reading product label help you in checking if the product is cruelty-free, non-comedogenic and if the product is animal tested.
Make sure to read reviews about the whole brand/ company and the particular products. See how other people like it. That can save you some regrets later too.
What Are The Best Skincare Products For Teenage Girl In 2021
The following 5 products are the most suitable for teenage girls. They are safe and healthy for the skin.
This skin cleanser targets the healing of sensitive, irritated, and compromised skin conditions. The Antioxidants and peptides provide wonderfully hydrating and soothing benefits.
 This mild, frothy cleanser foams when adding water, offering the perfect balance of hydration and lightweight consistency. It is formulated for children, tweens, and teens of all skin types. All of our products are paraben-free, fragrance-free, sulfate-free, and cruelty-free.
Rave Review: "Typically, I don't take the time to write reviews, but this product compelled me to do so! I bought it for my 10-year-old daughter, who had some under-the-skin zits/bumps on her forehead. It was disheartening to see her struggle with skin issues at such a young age, so I embarked on a search for facial washes specifically designed for kids.
After extensively reading through numerous reviews and feeling skeptical, I decided to give it a try based on the positive feedback (I also purchased the facial scrubbing pads). And let me tell you, it worked wonders! She began using the wash on a Friday, and today, just five days later on Tuesday, her forehead is almost completely clear! It's hard to believe it's the same skin I was observing a few days ago. She uses it both in the morning and before bed. I'm thrilled with my decision to purchase this product and will definitely order more. I highly recommend it to others as well."
PROS
work for both whiteheads and blackheads
The right answer for teenage girls
Cons
This moisturizer is meant for teenagers who experience body changes, excessive sebum secretion, and stress. Also, it naturally smoothes and moisturized skin enhancing the skin to be smooth and hydrated.
It contains a list of 4 natural plant extracts and hyaluronic acids that make the skin moist and comfortable.
Also, it contains a sebum adsorption powder that selectively absorbs only oil, cares for excess sebum, and prevents evaporation of moisture to adjust the skin oil and moisture balance.
Rave Review: "I adore this moisturizer designed for my combination skin. It provides me with a delightful, lightweight moisturizing experience that doesn't leave my skin feeling greasy. Instead, it effectively hydrates and maintains a balanced state throughout the day. Notably, it is an excellent choice for sensitive skin due to its fragrance-free formulation. Moreover, I have a fondness for the adorable frosted pink bottle it comes in. I've discovered that it pairs seamlessly with virtually any serum, active ingredient, or other skincare product, without causing any interference. Instead, it imparts a refreshing boost of moisture, enhancing the overall hydration of my skin."
pros
It is also suitable for those who suffer from oily skin.
For those with dry skin
Helps remove excess oil while preventing water loss
Does a good job of moisturizing dry patches
Dermatologist tested
It's fragrance-free
Cons
Our multitasking oil control moisturizer balances hydration to leave skin smooth, soft, and nourished with a matte glow.
The exclusive multi-fruit moisture complex comes with Watermelon, Apple, Tamarind, and Lentil Fruit extract to lock in nutrients and smooth the overall look of the skin. Start the day off bright with the refreshing Foaming Cleanser.
This instantly foaming, sulfate-free formula uplifts the senses with a refreshing, juicy pomelo scent while key natural ingredients target dirt, oil, and shine.
Image skincare vital c product is an advanced moisturizing complex that progressively replenishes hydration.
It also shields dehydrated skin against moisture loss and environmental stressors. The shea butter and the hyaluronic acid-rich formula help to block water evaporation and lock in moisture.
The whipped texture absorbs quickly to comfort tight, irritated, or sensitive skin.
Formulated with hyaluronic acid to plump the skin, along with an advanced form of vitamin C that brightens and supports collagen. Preserves skin elasticity and supports elastin proteins.
Rave Review: "After squandering money on various brands and dedicating years to finding the ideal match for my dry, mature skin, I can confidently state that this facial moisturizer is the best I have ever encountered. Image Vital C, unlike other options, is lightweight and provides outstanding coverage. Although it may be slightly costly, it is undoubtedly worth every penny, and I vow to never return to any other facial moisturizer! In fact, I promptly purchased two bottles. I stumbled upon IMAGE by chance when a beauty supplier from another country generously provided me with a tiny sample, and I was astounded to discover my dream moisturizer! I wholeheartedly recommend it."
Pros
Fights many signs of aging
Reduce the appearance of fine lines and wrinkles
And also mineral oil-free
Cons
Kidskin Z-Blast TeenSkin Acne Serum is a powerful acne treatment with maximum strength salicylic acid that helps to battle acne and prevent future breakouts. It's scientifically proven to be an effective treatment for moderate and severe acne.
It also provides a flawless and radiant complexion. The formula allows you to use it as a treatment, prevention, or as an acne spot treatment.
Rave Review: "We experienced remarkable improvements after using LOVE! Upon the initial application, noticeable changes became evident. My daughter, who is 9 years old, had been consistently experiencing breakouts along her hairline. However, ever since she started following the recommended routine, her breakouts ceased, and the redness and irritation vanished! We express our gratitude for the exceptional products that you offer."
Pros
Paraben-free
Sulfate-free
Fragrance-free
Cruelty-Free
Made in the USA
Cons
Best Skin Care Products For Pre Teenage Girls
The teen years of life are associated with lots of change. All of these changes can cause the skin to react in different ways.
This change in skin is also common in pre-teens. They experience fluctuating hormones, which can cause changes in the skin. Below we have listed the best skin care products for pre-teenage girls.
What Are The Best Skin Care Products For Pre Teenage Girls
Best Soap For Teenage Girl
Have you noticed some irregular changes in the smell of your teenage skin? If so, they probably aren't using the best soap for teenage skin, which can really make a difference in the way they smell and feel.
There are many different types of soap that you can use for your teen girl. Here are some of the different types and why they are good for your teen.
What Are The Best Soap For Teenage Girl
Tips From Dermatologist On How To Best Care For Teenage Skin.
Teenagers tend to be less aware of how they treat their skin, but there are things they can do to lessen the effects of teenage skin. First of all, teenagers should always wear sunscreen on their faces, even when they're going to be inside all day.
Cuts, scrapes, and burns are common for teenagers, so finding a sunscreen that's waterproof and transparent is a must. If you're going to be outside for a long time or swimming, you should reapply sunscreen every few hours.
Also, teenagers should always avoid scrubbing their face harshly, as this can irritate the skin and lead to breakouts. Whether you're looking for a hydrating moisturizer or a cleanser to get rid of blackheads, you're sure to find something that helps you with your skin.
Conclusion
We hope you enjoyed our blog post on the best skincare products for teenage girls. We know that looking good is important to girls of all ages.
With these helpful tips, we hope your teenage girl feels confident and happy with her skin. For more information, we recommend you reach us at [email protected].
Other Related Articles