Last Updated on January 2, 2023 by louischilton
Facial Serum is generally a very essential product that is targeted to treat skin problems like dry skin, acne, hyperpigmentation, and others.
But it is quite challenging because some of these products especially the liquid or the gel-like texture can be a poor match for people with chronic skin like eczema or rosacea, weakening the skin barrier, as a result, causing irritation.
Although this facial serum has taken over the skincare world due to its major functions. It does not only act as a lightweight moisturizer bringing hydration to dry skin, but It also provides additional protection and can penetrate deeper into the skin.
They are preferable to regular moisturizers because they do not have heavy ingredients. But getting the right facial serum is not quite easy. This is why we have gone for this research in order to help you pick the right facial serum.
In this article, we have reviewed The best 6 facial serums for dry Skin.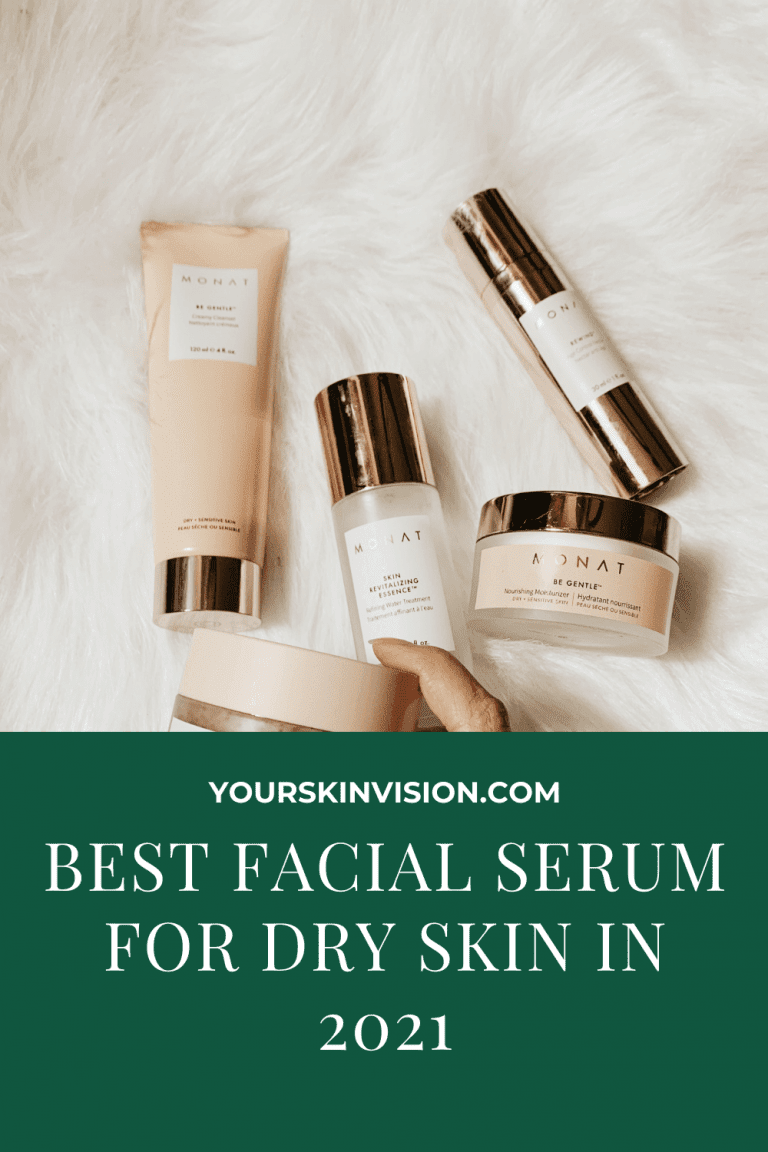 What Are Facial Serums?
Facial serums are great for your skin, and if you make smart choices about which ones to use, they can help you get the complexion of your dreams.
A serum is a substance made up of tiny molecules that can penetrate the skin. Facial serums are typically made from more than a single ingredient, and the specific ingredients in any given serum will determine what its benefits are.
For example, some serums have anti-aging properties, while others help moisturize or protect against environmental damage. Your best bet is to pick a serum that addresses the specific concerns you have about your complexion.
Who Needs To Use A Face Serum For Dry Skin?
During winter, a face serum can be very effective and useful on dry skin when it contains the right ingredient that binds moisture to the skin alongside creating a layer that holds moisture to the skin.
Dry skin is a major skin problem that really needs a proper checkup, especially when dealing with the face. In order to avoid extreme dryness, you need to use a facial serum for proper hydration.
This Facial Serum does not only give your skin proper moisturization but also penetrates deeply into skin pores to deliver active ingredients making it better than regular moisturizers.
Also, it contains anti-inflammatory properties that help to fight pigmentation and redness. With all these functions, serum generally is very useful when you have dry skin.
Are These Face Serums For Dry Skin Different From Regular Ones
The face is a vital part of the human body and is very sensitive. So there is a need for you to be very careful trying to get a facial serum because of safety.
The facial serum that is reviewed in this article is free from regular ones because they contain the best ingredient that is meant for dry skin and is very safe,
They include Hyaluronic acid, Peptides, Luminescine, Vitamins C, E, and Niacinamide. These ingredients are the major hydrating fixings found in a facial serum.
It is also very advisable for you to avoid the following ingredients. They include SD Alcohol 40, denatured alcohol, fragrance, and phthalates.
This ingredient encourages dry skin cell build-up alongside dehydration, also it can cause irritation.
How Do I Choose The Best Facial Serum For Dry Skin?
Getting the best facial serum does not really come easy because you will be left with so many options in the market.
In order to get it right, it is suggested that you take the following factors very seriously.
Know Your Skin Problem
knowing your type of skin is very vital, different skin types e.g dry skin, combination skin, normal skin, oily and sensitive skin have different serums working for them.
The facial serum that works for a dry skin type won't work for an oily skin type. If you are a little bit confused about your skin type, it is advisable that you visit a dermatologist
Concentrate on the Ingredients that Suit your skin type
It is usually very advisable for someone with dry skin to go for ingredients like hyaluronic acid and Vitamin C. These are the best serum ingredients for dry skin.
How Do I Use A Face Serum For Dry Skin
Proper cleansing and toning of your skin is the first major step to take before applying a facial serum.
Both facial serum and moisturizers are very important when you have dry skin but it is advisable to apply a serum first.
Make sure the serum does not have ingredients that can increase sensitivity like Retinol and Exfoliating Acids.
The next step is to apply the moisturizer to seal in the serum alongside providing moisture for proper hydration.
Also because these facial serums are lightweight products moisturizers can also hold them to the skin.
What Are The Best Facial Serum For Dry Skin
The following face serums listed below are the best for dry skin. They are toxic-free and healthy for all skin types.
This is an amazon best-recommended product that works perfectly on dry skin. It helps to brighten, resurface, renew, tighten, and equalize your skin in a simple skin moisturizing step.
The product is gluten-free, non-GMO, and also tested for safe use on all skin types and skin tones. It is formulated with the best hydrating ingredients (Hyaluronic acid) and does not contain fillers.
Other active ingredients present are Glycerin, seed oil, and others. It is phthalates-free. Also, it is formulated with both vitamin C & E which take full charge of collagen synthesis.
Pros
Best to calm dry sensitive skin
It doesn't cause a breakout
Absorbs quickly into the skin
It is completely vegan
The product helps to combat Hyperpigmentation
CONS
The Super Smart Hydrator Serum helps to penetrate more deeply enabling a groundbreaking level of hydration to thirsty, stressed, and damaged-looking skin.
It is formulated with a combination of four unique Hyaluronic Acids which help to hydrate the skin at different layers.
It also creates a highly durable, multi-layered moisture barrier, resulting in increased integrity, skin bounce, smoothed away fine lines and wrinkles, and majorly significant hydration for dry skin.
Formulated with other active ingredients like Vitamins C + E, peptides Antixants and AHAs, it is cruelty-free, gluten-free, and non-GMO.
Pros
Make your skin soft and silky
Best to remove fine lines.
Cons
This is an amazon recommended product for both anti-aging skin and dry skin. It provides instant hydration and smoothing of the surface of the skin.
This is achieved through the help of hyaluronic acid. This soothing blend of ingredients provides deep, long-lasting hydration for moisturized skin from the inside out.
It is also formulated with other active ingredients like Niacinamide, Dimethicone, Glycerin, and others. Free from fragrance, synthetic dyes, no animal testing and it contains safe ingredients
Pros
Best for dry skin and oily skin with occasional flaking
Gives silky skin after use
Cons

This amazon recommended product is formulated with very sound and safe ingredients to treat those with dry skin and mature skin.
It contains hyaluronic acid which penetrates deeply and absorbs easily directly into the skin dermis layers to achieve real moisturizing.
These leave the skin feeling soft and fresh. Also, it helps to stabilize the moisture content via the top layer of the epidermis which helps to diminish fine lines and wrinkles caused by dryness.
Generally, this facial serum helps to moisturize and tone skin, prevent aging, prevent spots, repair damaged skin, reduce pimples, and increase the number of collagen production.
It is safe for sensitive skin, pregnant, and nursing mommies.
Pros
Best to treat dark spots and age spots
It absorbs quickly and is very moisturizing
For those with sensitive skin
Cons
U Beauty Resurfacing Compound + SUPER Hydrator Kit is complete skincare set to help you look radiant, young, and healthy.
The U Beauty Resurfacing Compound is an anti-aging and anti-pigmentation serum that helps to diminish the appearance of acne, wrinkles, and fine lines. The Anti-Blemish Serum is made with Vitamin C, Vitamin E, and AHA to create a healthy and radiant look. The Hyaluronic Acid Serum helps to plump and hydrate dull dry skin.
Pros
Its a completely Vegan product
Cons
NEOCUTIS Bio Serum Firm Hydrating and AntiAging Serum is a revolutionary innovation in skincare. The serum is a powerful anti-aging serum that can be used in the morning and evening to improve the appearance of fine lines, wrinkles, and uneven skin texture.
This serum is loaded with antioxidants, hydrates, and firms skin with its high concentration of hyaluronic acid. It also features a natural blend of vitamins, antioxidants, and plant extracts for maximum skin regeneration. The serum is oil-free, non-comedogenic, and dermatologist-tested.
Best Hydrating Serum For Dry Sensitive Skin
If you have sensitive, dry skin, then you have to have the right serum. With sensitive skin, you have to be careful not to irritate it or cause breakouts.
This is why it is important to find a serum that is suitable for your sensitive skin. If you are looking for a hydrating serum that won't irritate your skin you need to try the following serum.
What Are The Best Hydrating Serum For Dry Sensitive Skin
Best Hydrating Serum For Dehydrated Skin
Many people are reluctant to use a serum on their skin because they are afraid that it will be too harsh. Thankfully, they need not be afraid of hydration serums.
If you have dehydrated skin, you need it to balance up the lost water in your skin. It can be difficult to find the right hydrating serum that will revitalize and soothe your skin. Below is a list of the best hydrating serums for dehydrated skin.
What Is Dehydration
Dehydration is a condition where there is a significant loss of water or a decrease in the amount of water in the body. It's a common issue for those who have overworked themselves and don't drink enough water. Other causes of dehydration include vomiting and increased urination.
What Are The Best Hydrating Serum For Dehydrated Skin
Best Face Serum For Dry Skin And Wrinkles
With aging, dry skin and wrinkles start to appear in most people. This is often a sudden occurrence, but the good news is these skin changes can be slowed down and even prevented. One of the things to do is moisturize, but this is harder to do on a daily basis.
That's when a moisturizing serum, like this one, can be a lifesaver. Many people experience wrinkles and dry skin, and they feel they have no reliable tools to help with these problems. Using a serum with the right ingredients can help solve this problem. Below is a list of the best face serum for dry skin and wrinkles.
What Are The Best Face Serum For Dry Skin And Wrinkles
Conclusion
We hope you enjoyed our article on the best facial serum for dry skin. We know how frustrating it can be to feel your skin start to get dry and irritating.
We're here to tell you that there are many products on the market that can help your skin maintain a balance. One product to try is the U Beauty Resurfacing Vitamin C Serum.
It is a lightweight gel that's designed with antioxidants, hydrating properties, and even a hint of color. If you have any questions, please don't hesitate to reach out to us at [email protected]. Thank you for reading, we would love to hear from you.
Other Top Related Blogpost