Hyperpigmentation can be a nightmare for those who suffer from it. The dark spots and discoloration on the skin can leave you with an uneven complexion and lacking confidence.
The good news is that there are many products available to help improve your skin texture and even out your skin tone. One of these options is the use of vitamin C serum, which is a common treatment for hyperpigmentation.
In this article, we will be discussing some of the best Korean vitamin C serums for hyperpigmentation. We will also provide some information on how they work and what ingredients they contain.
The Benefits Of Vitamin C Serum In Skincare
When it comes to skincare, vitamin C serum is very vital. This powerful antioxidant helps to repair damaged skin cells and reduce the appearance of fine lines and wrinkles.
Vitamin C is actually an antioxidant that helps prevent damage caused by free radicals. Free radicals are unstable molecules that can damage your cells and DNA. When this happens, your body sends out enzymes that try to repair the damaged tissue by removing or neutralizing the free radicals.
But if there are too many of these unstable molecules in your body, it may not be able to keep up with their removal. These can lead to cell damage and eventually disease or even cancer.
However, when you take vitamin C orally or apply it directly to your skin in the form of a serum or cream, it will help protect your skin from free radical damage by boosting your body's natural defense system.
This makes vitamin C one of the most important ingredients in any skincare routine because it has been shown time and again to improve acne scars. It can also help fade away dark spots caused by sun damage.
How Do Vitamin C Serum Help To Prevent Hyperpigmentation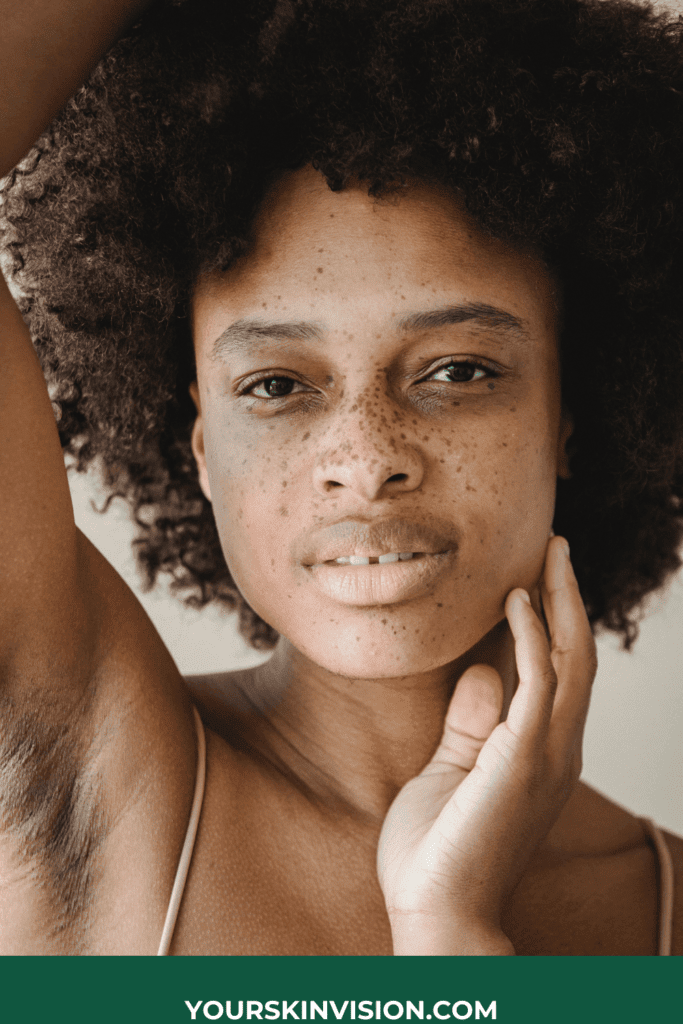 Vitamin C Serum is a great way to prevent hyperpigmentation. Hyperpigmentation refers to an alteration in the skin color caused by excessive melanin production, which can make your skin look aged or blotchy.
Vitamin C serum can help to reduce the appearance of dark spots and other signs of hyperpigmentation by helping to reduce melanin production in the skin.
Vitamin C is an effective antioxidant that protects the skin from free radicals and environmental damage, which can cause hyperpigmentation. While it's not the only ingredient that works, vitamin C serum has been shown to be an effective treatment for both white and brown spots on the skin.
How We Choose The Best Korean Vitamin C Serum For Hyperpigmentation
When it comes to choosing the best Korean vitamin C serum for hyperpigmentation, there are a few things you need to keep in mind.
First, you should know that there are many different types of vitamin C serums on the market. Some of them have been formulated to target specific skin conditions like acne or skincare concerns like sensitive skin or rosacea. We picked a product that targets hyperpigmentation in 90percent.
Secondly, it's important to understand how much vitamin C you're getting per ounce. This number will vary depending on your desired results and how much time has passed since you began using the product.
Thirdly, we consider a serum safe for use on sensitive skin (we recommend avoiding anything that contains alcohol).
Finally, we read through reviews that have been posted online by users who have tried this product before.
These reviews will give us an idea of whether or not this product is right for your skin type. And if it works based on other people's experiences with similar products from other brands.
What Are The Best Korean Vitamin C Serum For Hyperpigmentation
The following Korean vitamin C serums are most recommended for hyperpigmentation.
InstaNatural Vitamin C Serum with Hyaluronic Acid & Ferulic Acid
For an all-natural, fresh, and youthful glow, InstaNatural's Vitamin C Serum is the ultimate anti-aging skin care product you really need. The serum is a strong yet mild-mannered product that has been formulated with the highest quality ingredients to provide the best results.
With the help of vitamin C, It lightens and fades the appearance of sun spots, discoloration, redness, and hyperpigmentation. The product also helps to firm the skin while effectively reducing dark spots, wrinkles, and fine lines.
This potent concoction brings a cocktail of ingredients to target different skin goals. These include hyaluronic acid, a moisture magnet that rejuvenates the skin. Ferulic acid in the product act as an antioxidant that boosts the complexion and helps fight against free radical damage.
Pros
This Vitamin C Serum is hypoallergenic
It's non-irritating and safe for all skin types
Cons
Korean Skin Care – Dr. Song Vitamin C Serum with Hyaluronic Acid Anti-Aging Korean Beauty
This Korean anti-aging beauty serum protects skin from harmful outside elements that cause skin damage and aging. Our Korean beauty serum helps you achieve radiant and younger-looking skin.
With regular use, you'll experience a noticeable reduction in hyperpigmentation, discoloration fine lines, wrinkles, and dark spots. Your face will look smooth and plump with a more youthful appearance.
Pros
Helps clean, tone, and protect skin
Non-greasy
Fast-absorbing formula
Gentle on all skin types
No fragrance
No parabens
Cons
JUMISO All Day Vitamin Serum, Brightening & Balancing Facial Serum
This Korean skincare formula is infused with pure Vitamin tree extract and natural Vitamin C, The product is perfect for protecting your skin and keeping it healthy. Also, it helps to fight free radicals and improve the appearance of hyperpigmentation.
This lightweight formula is easily absorbed by the skin and quickly gives you smooth and radiant skin. It also has other vitamins such as A, B, D, and E to help brightening, antioxidant, anti-inflammation, wound-healing, and skin recovery.
Pros
It is light and fast-absorbing
Help to clear up acne scars
Formulated for aging skin
Cons
Vitamin C Facial Serum with L-Ascorbic Acid(Cos De BAHA)
This Vitamin C Serum helps to eliminate dead skin cells, hyperpigmentation, wrinkles, and skin discolorations. It is ideal for preventing early signs of aging and provides a brighter, fresher complexion.
The Korean vitamin C serum also combines with hyaluronic acid to help boost effective antioxidants and also promote collagen production. Both combined ingredients help to neutralize free radicals that lead to premature signs of aging, age spots, and sunspots.
Those with inflammations are not left out as it is prime for dark spot corrector for face, breakouts, blackheads, and acne.
Pros
Lightweight
It's a non-greasy serum
Non-oily product
Great for acne-prone skin
Cruelty-free
Paraben-free
Fragrance-free
Sulfate-free
Cons
PURITO Pure Vitamin C Serum
PURITO Pure Vitamin C Serum is a powerful anti-aging serum that boosts collagen production to help combat hyperpigmentation, acne marks, even skin tone and improve elasticity.
Other than this, the serum also helps to reduce fine lines, wrinkles, dark spots, and acne scars. This potent serum also contains Hyaluronic Acid and Vitamin E to keep the skin supple, smooth, and plump.
Pros
Cons
Dear, klairs Freshly Juiced Vitamin Drop
This vitamin C serum protects cells from damage caused by free radicals. This help to fight the presence of hyperpigmentation, fade dark spots, and soothes sensitive skin.
In addition to this, it has been found to be effective in brightening the skin. This serum also has hyaluronic acid, which is a humectant that can retain moisture. The serum gives a clear and bright skin tone.
Pros
Gentle enough for sensitive skin
Prevent breakouts and scars
Cons
[By Wishtrend] Pure Vitamin C21.5% Advanced Serum
This unique formula allows your skin to receive high-quality vitamins and minerals that are vital to maintaining your natural beauty. This powerful serum is formulated with highly rated vitamin C ingredients to help fade away hyperpigmentation.
It also reduces the risk of aging and enhances the look of your skin. The serum penetrates your skin and moisturizes the area from within.
Other than hyperpigmentation, the serum also helps to reduce wrinkles, dark spots, redness, sun spots, and fine lines.
Pros
Artificial fragrance-free
Cons
The Role Of Vitamin C In The Body
Vitamin C is a water-soluble vitamin that is important in the body. It helps with collagen formation and helps in the formation of blood vessels. It is also known to be an antioxidant, which means that it can help protect the body from free radicals.
Vitamin C helps to keep the skin healthy and strong. Vitamin C also helps to protect against certain types of cancer and heart disease.
Its role in collagen formation
Vitamin C plays a vital role in the formation of collagen, which is necessary for healthy skin. Vitamin C can be found in foods like green leafy vegetables, citrus fruit, papaya, and strawberries as well as many others.
Its role in blood vessel formation
Vitamin C helps to form new blood vessels by helping with collagen production and preventing inflammation within them. This can help prevent conditions like arteriosclerosis or atherosclerosis.
Its role in fighting free radicals
Free radicals are molecules that cause damage to our body's cells when they are not properly handled. They can damage DNA and cause mutations which could lead to cancerous growths if left unchecked.
How To Use Vitamin C Serum
Vitamin C serum is a great way to brighten your skin and reduce the appearance of wrinkles. It's also a great way to get your skin in the best shape possible, so it can handle future damage.
Here's how to use a vitamin C serum:
Cleanse your face with a gentle cleanser.
Apply a thin layer of vitamin C serum over your entire face, including your neck and décolletage area.
Allow the vitamin C serum to absorb into your skin for 10-15 minutes before applying moisturizer or makeup if desired.
How Often Should I Use A Vitamin C Serum
Vitamin C Serums are a great way to get your daily dose of vitamin C, but they can be a little confusing.
The general rule is that you should use a Vitamin C serum twice a day. It should be used in the morning and evening. However, there are some people who do not get enough vitamin C in their diet, so it is important to make sure that you are using the right product for your skin type.
If you have dry skin or blemishes, you should use a serum with hyaluronic acid in it because it will help hydrate your skin. If you have oily skin or acne, then try an oil-free serum because it will not clog pores and leave behind oil buildup.
Conclusion
When it comes to Vitamin C serum, it's important to know what you're dealing with. You can't just pick any old product and expect it to work for you.
You need one that addresses your concerns and resolves them efficiently. We analyzed seven different Korean Vitamin C serums and reviewed them all extensively in our linked review section above. If you want the best Korean Vitamin C Serum for hyperpigmentation, start there.