When we think about dull skin, we imagine it as being lifeless and colorless. We think of it as skin that is dry and lacks luster. But dull skin is not necessarily dead skin, it can be a sign of environmental damage, or it can be a result of skin care neglect.
With your face serum, you can clear up those facial uneven skin tones making your skin look dry and dull. This article goes into detail about the best face serum for dull skin.
We talk about the various options to choose from and the pros and cons of all these face serums, then it also goes into some of the benefits of using a face serum.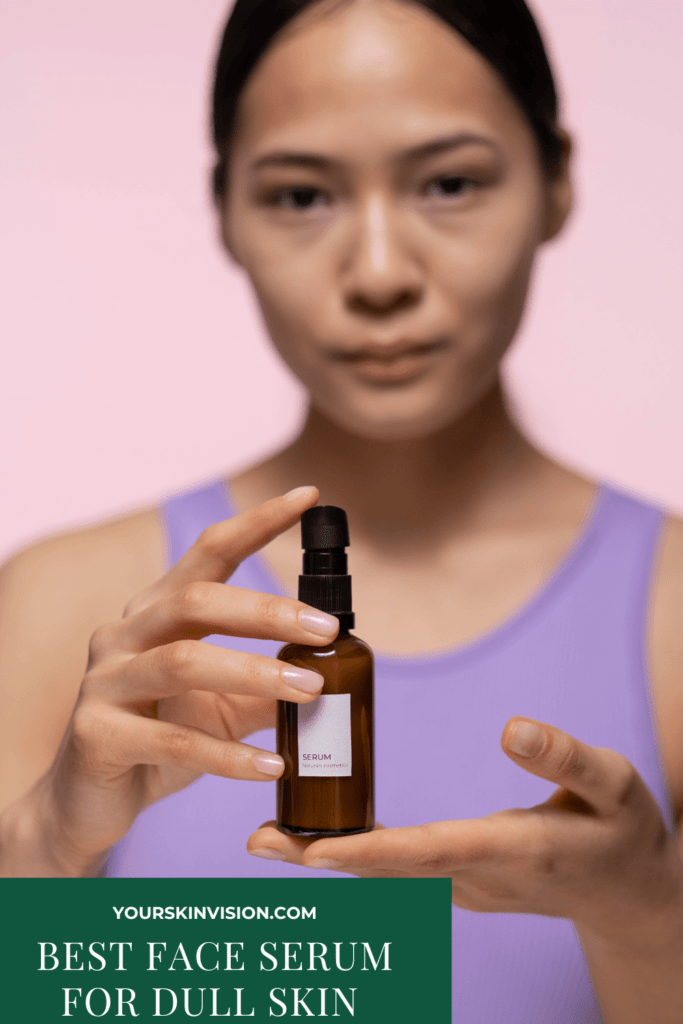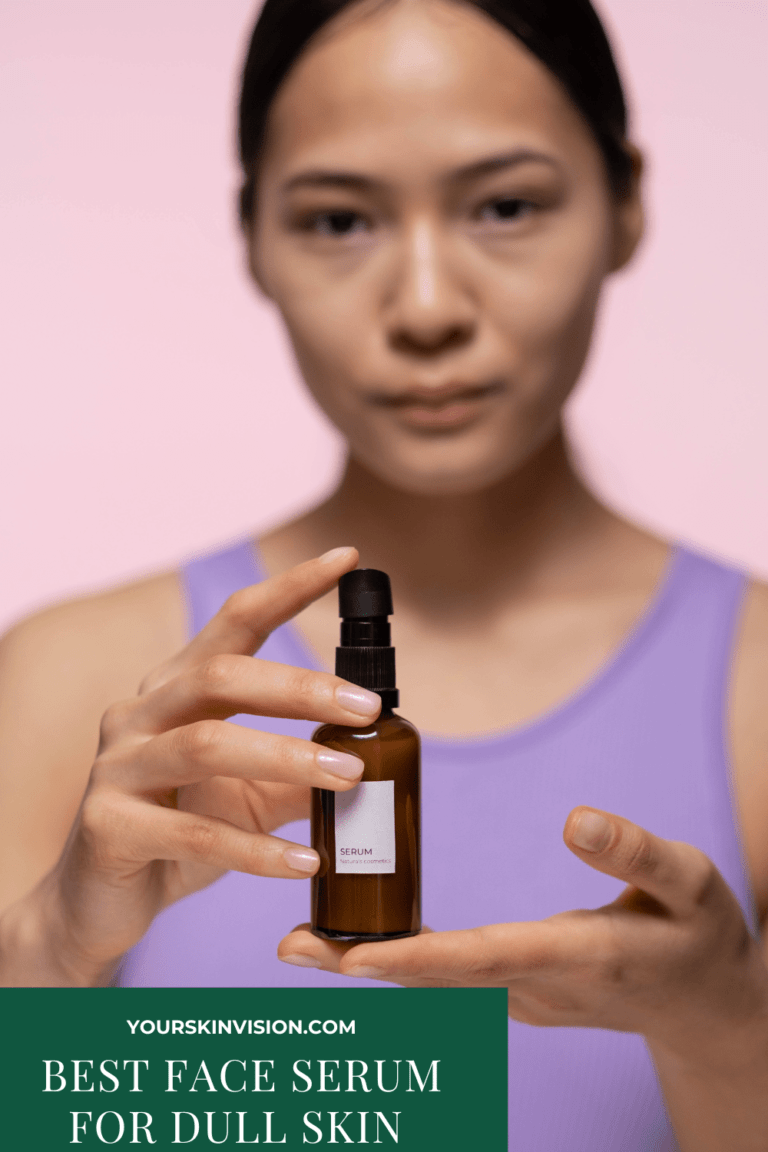 A Quick Look At The Best Face Serum For Dull Skin
What Is Face Serum?
Face serum is a skin care treatment that's usually used after washing your face and before applying moisturizer. It's designed to help your skin look healthy, smooth, and youthful by adding moisture to dry areas, reducing the appearance of fine lines and wrinkles, and brightening dull skin.
Face serums have a higher concentration of active ingredients than other types of skincare products, which makes them ideal for people who struggle with sensitive skin or who want their products to work quickly. You can find face serums at most drugstores and grocery stores.
Does Facial Serum Help To Combat Dull Skin?
Facial serums are a beautiful addition to your skincare routine. They can be used to make your skin look and feel its best, but are they any good for combating dull skin?
The answer is yes. Facial serums contain exfoliating ingredients that help to combat the dullness of the skin. They help to replace dull-looking skin with healthy skin. These ingredients include retinoids, hyaluronic acid, and vitamin C.
The hyaluronic acid in facial serums helps to keep moisture in your skin, which keeps it looking healthy and vibrant. Vitamin C also helps to brighten your complexion, so it's a win-win situation.
The Toxic-Free Ingredients Found In A Facial Serum
The most common ingredients in facial serums include vitamins C, niacinamide, ceramides, hyaluronic acid, Glycolic Acid, retinol, and peptides. These ingredients help to restore moisture levels to the skin while also helping to fight against free radicals.
They are effective because they are able to penetrate deep into the layers of your skin where they can help your cells produce new collagen (which helps repair damaged areas).
One of the best ways to use facial serums is by applying them after you have cleansed your face with a gentle cleanser such as apple cider vinegar or hydrogen peroxide. This will allow the serum more time to do its job.
Are These Facial Serum For Dull Skin Different From Regular Ones
There is a big difference between the serums here and regular facial serums, as they help to target different issues. Dull-skinned people tend to have dull and dry skin, which makes them more prone to breakouts and wrinkles than other skin tones.
Most regular serums can't really help, but the listed serum here helps with those issues, they create a balance in your skin's oil levels as well as make sure your pores are clean so germs don't grow inside them (which can cause acne).
They also focus specifically on dullness and dehydration, which causes both of those problems in addition to making them look older than their actual age.
How To Choose The Best Face Serum For Dull Skin
First things first: You need to find the right serum for your needs. When you are looking for a new face serum, there are a few things you can do to help narrow down your choices.
First, try to choose a serum that contains either vitamin A or vitamin C and hyaluronic acid. These ingredients will help brighten up your skin and fight off the signs of aging. Second, consider whether you want an oil-based or water-based formula.
Oil-based formulas will give you more intense results but might leave your skin feeling greasy after use. Water-based formulas will be gentler but might not provide enough coverage.
If these two things aren't enough information, consider asking friends who have used similar products. They may be able to recommend something that works well for them and their skin type.
What Are The Best Face Serum For Dull Skin
If you have dull, it can be difficult to find a face serum that works for you. There are so many face serums on the market, but which one is best for your skin type?
While some serums are specifically designed for dull skin and other serums are better suited for normal-to-oily skin, there's no reason to settle for less than what your face needs. Here are our 5 favorite face serums that will help you bring out the glow in even the most dull-looking skin.
The latest in skincare has arrived. TULA Skin Care Brightening Treatment Drops are designed to give your skin a healthy glow.
This ultra-lightweight serum helps to reduce dark spots and lighten the skin, making your complexion look healthy and radiant. The light-as-air serum is concentrated with Vitamin C to brighten the look of dull skin. It also absorbs quickly without leaving behind a greasy or sticky residue.
Rave Review: "Dealing with dark spots and dark circles has always been a challenge for me. However, when I discovered a product by Tula, I was compelled to purchase it, and it has made a remarkable difference in my complexion. Not only are my dark spots gradually fading, but my overall facial appearance has also become noticeably brighter."
Pros
It's a vegan product
It reduces the looks of hyperpigmentation
Non-comedogenic
It is oil-free
Fragrance-free
Sulfate-free
Parabens-free
Gluten-free
Formaldehyde-free
Phthalates-free
Silicon-free
Cons
---
This serum is a youthful skin care serum that has the power to reduce fine lines and improve early signs of aging. This Anti-aging serum helps in rejuvenating dull skin, hydrating it from within, and moisturizing it.
The serum also has a high content of Antioxidants and other active ingredients to help lighten and brighten, refine and smooth, lift and firm skin, and give elasticity.
Rave Review: "I have sensitive maturing skin and this works well for me. I can see the improvement in skin tone and texture which is noticeable now that I'm mid-60s. The scent doesn't bother me and the results are fantastic. I can see improved brightness as well."
Pros
Lightweight
Non-greasy serum
Non-sticky
Non-irritating
Dyes-free
Paraben-free
Phthalates-free
Sulfate-free
Cons
---
The Face Republic Vita Capsule Luminous Serum is a vegan-certified, mild serum that is designed to help you achieve a radiance-boosted glow and smoother, more radiant skin.
It is made of a proprietary blend of plant-based ingredients that can help soften, improve your skin texture, and create a more even complexion.
This serum is infused with vitamins, minerals, and jojoba seed oil to help brighten rough and dull skin, leaving you with a dewy and radiant complexion. This serum is also free of parabens, sulfates, and phthalates.
Rave Review: "I love this product Highly recommend I'll be using this for a year now all face-republic serum is good for my skin and also not sticky"
Pros
Formulated with toxic-free ingredients
No artificial fragrance
Dermatologically tested for safety
Cruelty-Free
Cons
---
This is a serum with a light texture that nourishes your skin. It is a serum that has been formulated with 100% pure hyaluronic acid which helps to hydrate the skin and leave it soft, smooth, and supple. The serum is also formulated with other antioxidants which help heal damaged skin and tones.
 It is also a highly effective product for treating delicate skin on the face and neck, and for brightening and softening dull skin. It also helps to reduce the appearance of dark spots, hyperpigmentation, and wrinkles.
Rave Review: "For several years, I have been consistently using a hyaluronic acid serum from this particular brand. While I occasionally experiment with other brands, I always find myself returning to Yeouth. This serum impresses me because it absorbs rapidly, has a subtle or nonexistent scent (which is crucial for me due to scent sensitivity), and possesses a slightly thicker consistency compared to other samples I've tried. Moreover, I personally prefer the convenient pump packaging over the droppers commonly found in many other brands. I apply a pump or more of this serum twice daily, and even with regular use, a small bottle lasts for approximately six weeks or even longer."
Pros
Paraben-free
Dermatology Tested
Cons
---
This Niacinamide Facial Serum is formulated with 100% pure niacinamide. It is specially designed for individuals with dull skin and uneven tone as it is a powerful antioxidant that helps to fight against premature aging.
The Facial Serum Pore Reducer for Face and Acne Serum reduces pores and treats acne, while the Facial Serum Uneven Skin Tone for Women and Men is a lightweight serum that helps to balance your skin tone.
---
Best Face Serum For Dry Dull Skin
Dryness and dullness are two of the most common skin problems faced by people these days. A lot of lotions and moisturizers don't seem to do much to help treat them both.
Thankfully, there's an easy, simple, and effective solution. Face serums. Below, we will take a quick look at the best face serums for dry dull skin.
What Are The Best Face Serum For Dry Dull Skin
Best Face Serum For Oily And Dull Skin
Oily skin is a common problem and leads to dull, dry, and sad skin. As a result, it is a common skin care problem for many people.
The best way to fix this problem is to use a good face serum in order to remove the excess oil from the skin.
The best face serum for oily skin is not a very tough decision and will make a huge difference to your skin. Below is the best face serum for oily and dull skin.
What Are The Best Face Serum For Oily And Dull Skin
Best Brightening Serum For Dull Skin
A lot of people today are dealing with a dull complexion. Not just single people but also couples. If this is the case in your life, you should start looking at ways to lighten your dull skin. Although, there are many factors that contribute to dull look skin.
One of the best ways to do this is through the use of a brightening serum. A brightening serum is a product that is applied to the skin that has a high concentration of ingredients that lighten your skin. This article will explore some of the best brightening serums for dull skin.
What Are The Best Brightening Serum For Dull Skin
Best Serum For Dull Uneven Skin
There is no doubt that everyone wants their skin to look flawless. A dull and uneven skin tone is one of the ultimate beauty disasters to happen.
There are many reasons why you might have dull uneven skin. It might be the result of premature aging, hormonal changes, or other skin conditions. No matter the cause, there is one thing that can help you in the long run.
You can use a serum or cream to help heal and remedy the issue. Below, we have listed the 6 tried and tested serum that is guaranteed to give you the best results.
What Are The Best Serum For Dull Uneven Skin
Conclusion
We hope that you found the list of recommended face serums helpful and informative. There are a ton of products on the market to choose from, which can make the selection process overwhelming.
However, don't let that deter you. The right face serum will brighten, moisturize and revitalize your skin, effectively improving its overall appearance. We hope that you've found the perfect serum for you within this list.
Other Related Articles