Last Updated on August 28, 2023 by louischilton
Facial Serum is not just meant for the young to treat their skin problems, it is very well needed for mature skin.
As you get older, the skin cell workout recovery slows down its functions due to the loss of collagen and elastin. This majorly results in skin wrinkling, stretching, and the presence of fine lines. They are also more prone to dry skin due to the excess loss of water and natural skin oil.
Facial serums are the true remedy used to eradicate fine lines and wrinkles. The product helps to slow down their advances completely. They are also formulated with ingredients that can help infuse hydration for those with dry skin.
Locating the right face serum for a mature skin type isn't that easy but don't panic, we are here to help you with the right product. In this article, we have reviewed the best facial serum for mature skin.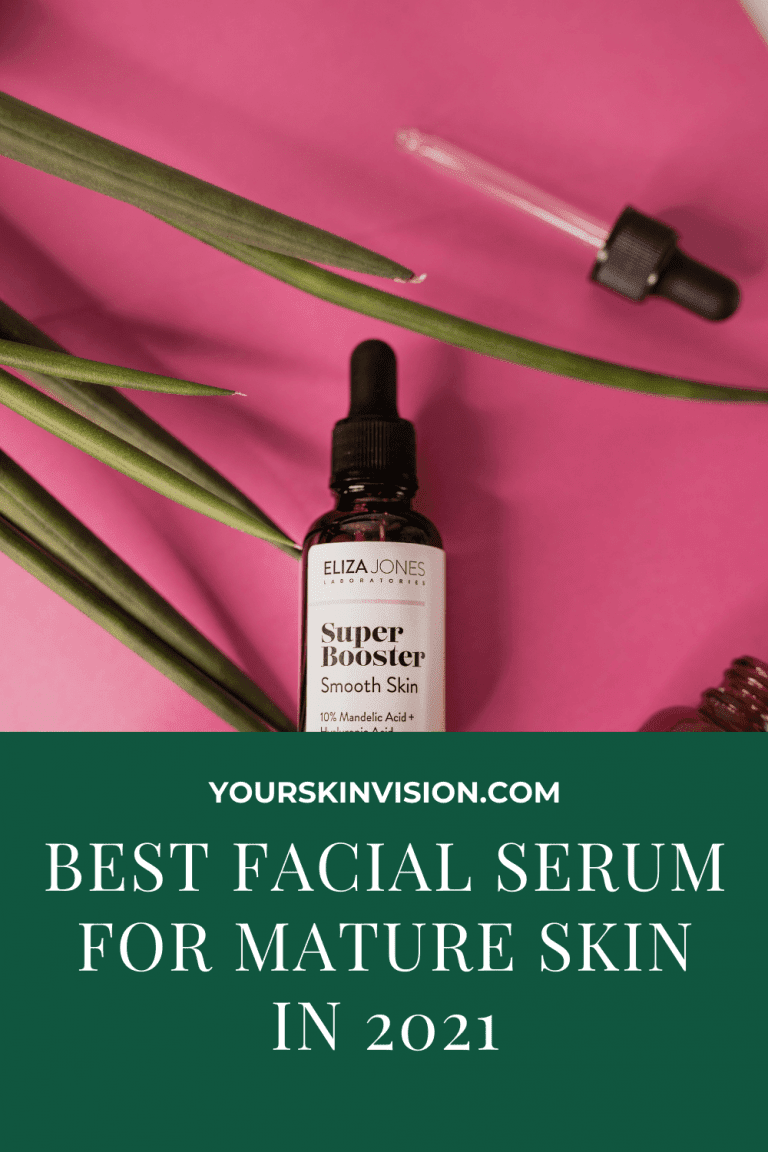 A Quick Look At The Best Facial Serum For Mature Skin
What Are Facial Serums?
Face serums are a great way to get a little extra TLC in your skincare routine. In general, they're lightweight, but pack a powerful punch of good ingredients, allowing you to deeply nourish your skin and help it stay healthy and young-looking for longer.
Face serums are highly concentrated, so you only need small amounts to get the benefits, which makes them worth the investment.
If you're just getting started with face serums, it's important to choose one that targets your specific needs. For example, if you have dry skin, look for ingredients like hyaluronic acid that will bind moisture in the skin and leave it looking supple.
If your skin is oily or acne-prone, look for lightweight ingredients like glycerin and squalene that won't clog pores.
Who Needs To Use A Facial Serum For Mature Skin
Mature skin is much more prone to wrinkles and fine lines. other than wrinkled and dry skin, they suffer from extremely dry skin due to the gradual loss of natural skin oil and water as aging comes. In order to fight this, you need a serum with moisturizers (creams or lotion).
Facial serums are very important because they are lightweight and oil-free products made with very small molecules, This makes it very easy to penetrate deeply into the skin for proper hydration.
As we said previously, it is very difficult to eradicate wrinkles and fine lines. Facial serum can help improve the skin in conjunction with our regular moisturizer.
Mature aging skin needs a serum, it's a partway to making you look younger even though you are up to 50 years old.
Why Should I Add A Facial Serum For Mature Skin To MY Skincare Routine
Adding a facial serum to your skincare routine is a big step that will add much difference to the way your face looks.
If you are not satisfied enough, we have listed the major benefits of adding a facial serum to your skincare routine.
They don't have filler
There is some clogging agent you really need to avoid like the fillers (petroleum and mineral oil). Thanks to this modern serum, they are designed without fillers.
The reason for this is that a serum without fillers can penetrate easily into your skin without any hindrance.
Sun Protection
The antioxidants present in a facial serum can help to strengthen then the skin against that element from the sun, (the ultraviolet (UV) light).
Increased Nourishment
The serum is designed with super active ingredients to nourish your skin from the outer layer to deep down the skin.
Ingredients like Vitamins and peptides are found very effective for this.
Are These Face Serum For Mature Skin Different From Regular Ones?
Yes, because they are made with the best ingredients that are safe and healthy, Also these ingredients help to fight against environmental attacks.
These ingredients include.
Hyaluronic Acid
This is a moisture-binding ingredient, it also helps in collagen restructuring. This supplies and takes the major aspect of hydration.
This is the ingredient that takes full charge of collagen synthesis. It also helps in restructuring to give a glowing complexion. It also plays a very big role in reducing the appearance of fine lines and wrinkles.
Peptides
In a way, the peptide is very important because it enhances the growth of collagen thereby increasing skin strength.
It also plays a role in reducing the presence of fine lines and wrinkles.
Other important ingredients that are essential include Niacinamide, Vitamin B3, Vitamin E, AHAs (Alpha hydroxyl Acid) Retinol/Vitamin A, and Stem Cells.
Always watch out for the following toxic ingredients, they include SD alcohol 40, denatured alcohol, fragrance, and phthalates. These ingredients are not found useful in a good facial serum product.
How Do I Choose The Best Facial Serum For Mature Skin
Getting the perfect facial Serum in the market does not come easy because there are numerous products tagged for mature skin, not working.
In order not to get it wrong, it is suggested that you take the following factors into consideration. Try as much to know your skin type, this will help in locating the right facial serum.
Also, it will help you in less search with reduced stress in the market. The major essence of this is to save you from making the wrong purchase.
The second factor has to do with the product ingredient. A serum meant for mature skin is composed of ingredients like vitamins E, A, and C, and Hyaluronic Acid.
These ingredients are the major ingredients you should always watch out for when picking a facial serum for mature skin.
Always watch out for toxic ingredients like fragrance Phthalate.
What Are The Best Facial Serum For Mature Skin
The following facial serum is best for mature skin. They are safe and free from toxic ingredient
This comforting serum works on all skin types to help soften the appearance of wrinkles, support collagen, and help fight against environmental damage.
It is also made to brighten and tighten the skin. Formulated with Hyaluronic acid it helps to provide the much-needed moisture to one skin.
Contains other active ingredients like Vitamin E, peptide, grape seed extract, algae extract, green tea extract, and other active ingredients.
It is one of the best serums for mature skin that works morning and evening. Also, made with multiple forms of Vitamin C to help brighten the skin and fight the visible signs of dullness and fatigue.
Rave Review: "This serum feels very nice on your face. Well, it does on mine. I used this after I used Vu Ski Vitamins C & E and you need a moisturizing product after using. So, this came on the same day and I used this. My skin absorbed the serums and doesn't feel dry at all."
Pros
Best recommended for dry patches during winter.
Cons
Fake products in the market
This is an anti-aging formulation that helps to boost collagen and hyaluronic acid synthesis to tighten skin. It helps to erase fine lines and wrinkles.
It also has other active ingredients like vitamin E, organic aloe vera, and jojoba oil to help improve the skin's look and feel.
This serum is formulated without fillers and toxic ingredients. The hyaluronic acid helps in keeping the skin plump and hydrated, which results in skin moisturizer benefits. This product is best to improve or fight against signs of aging and reduce wrinkle appearance.
Rave Review: "I recently started using the TruSkin Vitamin C Serum for my face, and I must say, it's absolutely amazing! In just two days of using it, I've already noticed some incredible changes. My skin feels smoother and looks brighter, and my dark spots have started to fade. The combination of Vitamin C, Hyaluronic Acid, and Vitamin E is truly effective in combating signs of aging, evening out my skin tone, and reducing fine lines and wrinkles. I'm truly impressed with the results so far, and I can't wait to see the long-term benefits. This serum is definitely a game-changer in my skincare routine."
Pros
No added synthetic colors
It goes into the skin smoothly
Best recommended product for mature skin
Free from fragrances, and parabens
PhthalateS and sulfates free
Cons
This is best recommended for mature skin. It gives the skin proper hydration and helps to smooth the surface of the skin.
It contains hyaluronic acid which provides deep, long-lasting hydration for the moisturized skin from the inside out.
Best used to remove fine lines and wrinkles from mature skin. It also contains other active ingredients like Niacinamide, Dimethicone, Glycine, and others. Made without toxic ingredients like fragrance, and synthetic dyes. There is also no animal testing.
Pros
Gives silky skin after use
CONS
This product is recommended by Amazon to those with dry skin because of its high quality.
It contains hyaluronic acid which penetrates deeply into the skin dermis layers to achieve real moisturizing.
These leave the skin feeling soft and fresh best to stabilize the moisture content via the top layer of the epidermis to help reduce the appearance of wrinkles and fine lines.
This facial serum helps to moisturize, and prevent, aging and is safe for sensitive skin/pregnant nursing mothers.
Rave Review: "The seller is extremely helpful and always replies to my request promptly. The Ojesh products are always amazing as I have using them for a few years and it has improved my skin a lot. It's completely safe to use even during pregnancy and breastfeeding. My skin has been glowing during my pregnancy and even after childbirth. I also used the serum with Evian facial spray together on my belly after childbirth to prevent scratch marks."
PROS
It gives super moisture and helps also reduce fine lines
Absorbs quickly and is very moisturizing
Helps to reduce the appearance of age spots
CONS
This serum is formulated with both hyaluronic acid and vitamin C to reduce the appearance of wrinkles and age spots.
The serum protects your skin from environmental damage and the aging effects of the sun. It also provides hydration for your skin, helping it to retain moisture. With a combination of skin-loving ingredients, this serum is recommended for oily and acne-prone skin.
Rave Review: "I've been using the product for about 3 weeks along with the PCA pHaze 13 Pigment Gel Dyschromia Controller HQ Free 1oz. Works great together! Helps to lighten age or pigment spots. Makes my skin feel hydrated and soft! I can already tell a difference! Would highly recommend it to anyone wanting to beautify their skin! 🙂 Don't hesitate."
How Often Should You Use A Serum
The frequency of using a serum can vary depending on the type of serum, your skin type, and your skincare goals. Serums are concentrated formulations that typically contain active ingredients targeting specific skincare concerns, such as hydration, anti-aging, or brightening. Here are some general guidelines to consider:
Read the Instructions: Always start by reading the instructions provided by the manufacturer or brand. They often include recommended usage frequency.
Skin Type: If you have sensitive or reactive skin, you might want to start with using a serum every other day or a few times a week to gauge how your skin reacts. If you have normal or resilient skin, you might be able to use it more frequently.
Start Slowly: When incorporating a new serum into your skincare routine, start by using it less frequently, like every other day, to allow your skin to adjust. If your skin reacts well, you can gradually increase the frequency.
Targeted Concerns: The specific skincare concern you're targeting can also impact how often you should use a serum. For example, if you're using a serum with active ingredients like retinol or glycolic acid for anti-aging or exfoliation, you might start with using it a few times a week and then gradually increase as your skin gets accustomed to it. Hydration serums can often be used daily.
Layering: Consider how the serum fits into your overall skincare routine. Serums are typically applied after cleansing and toning, but before moisturizing. If you're using multiple serums or other treatments, you might need to adjust the frequency of each product to avoid overwhelming your skin.
Day and Night: Some people prefer to use certain serums during their morning routine (e.g., those with antioxidants for protection against environmental stressors) and others during their evening routine (e.g., those with ingredients that promote cell turnover and repair).
Listen to Your Skin: Pay attention to how your skin responds. If you notice signs of irritation, redness, dryness, or other adverse reactions, reduce the frequency of serum usage.
Consistency is Key: Regardless of how often you use a serum, consistency is important for achieving results. It's often better to use a serum less frequently but consistently over time rather than using it too often and causing irritation.
Consult a Professional: If you're unsure about how often to use a serum, or if you have specific skin concerns, consider consulting a dermatologist or skincare professional. They can provide personalized recommendations based on your skin type and goals.
Conclusion
This article was written in order to help those who are struggling with aging skin. We all know that aging skin is a part of growing old, but there are ways to combat it and slow the aging process.
We hope that the information in this post was able to help you find the best facial serum for mature skin. If you have any more questions or concerns, please feel free to reach out to us at [email protected]
Other Top Related Blogpost