Last Updated on August 13, 2023 by louischilton
Acne is a common skin problem that affects people of all ages, but it can be particularly troubling for teenagers. Statistics have shown that about 85 percent of acne victims are teenagers and young adults which falls between the age of 12 to 24.
With hormones raging and stress levels high, many teens struggle to find an effective solution to combat their acne. One of the most important steps in any acne-fighting routine is choosing the right facial cleanser.
But with so many options on the market, it can be overwhelming to figure out which one is the best. In this article, we will explore the top facial cleansers for teenage acne and provide helpful tips on how to choose the right one for your skin type.
So, if you are a teenager struggling with acne, read on to find out which facial cleanser can help you achieve clearer, healthier-looking skin.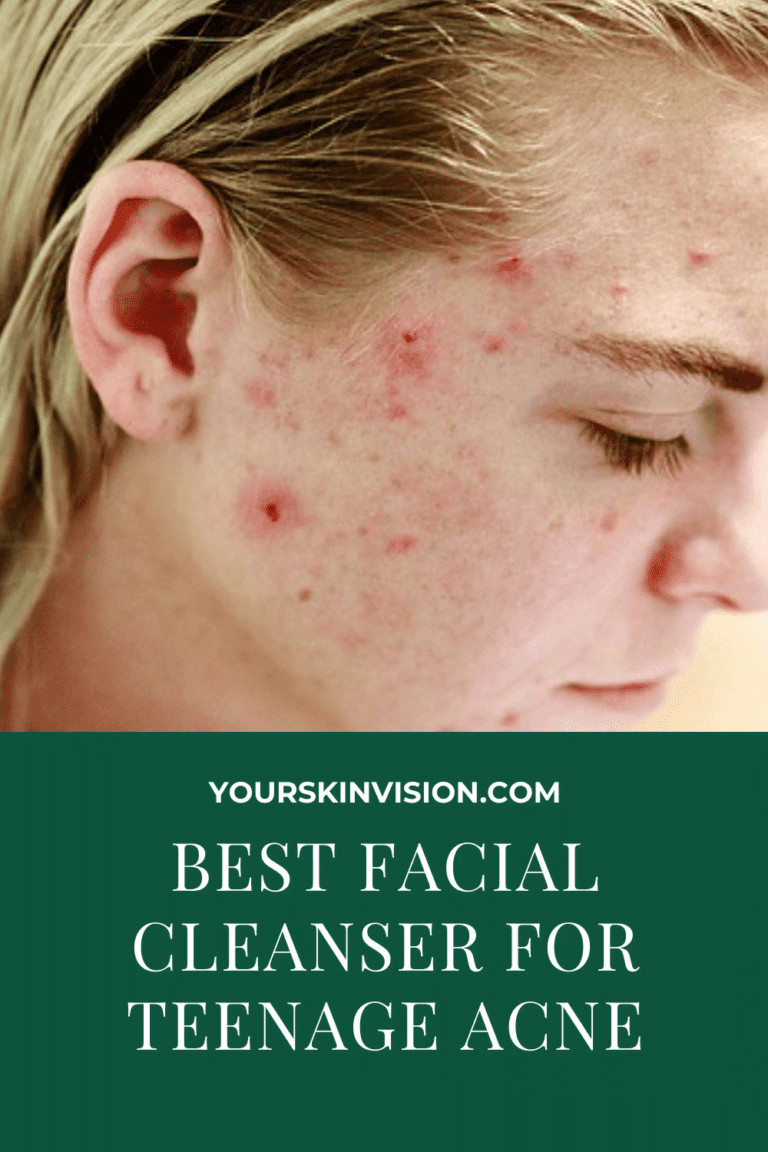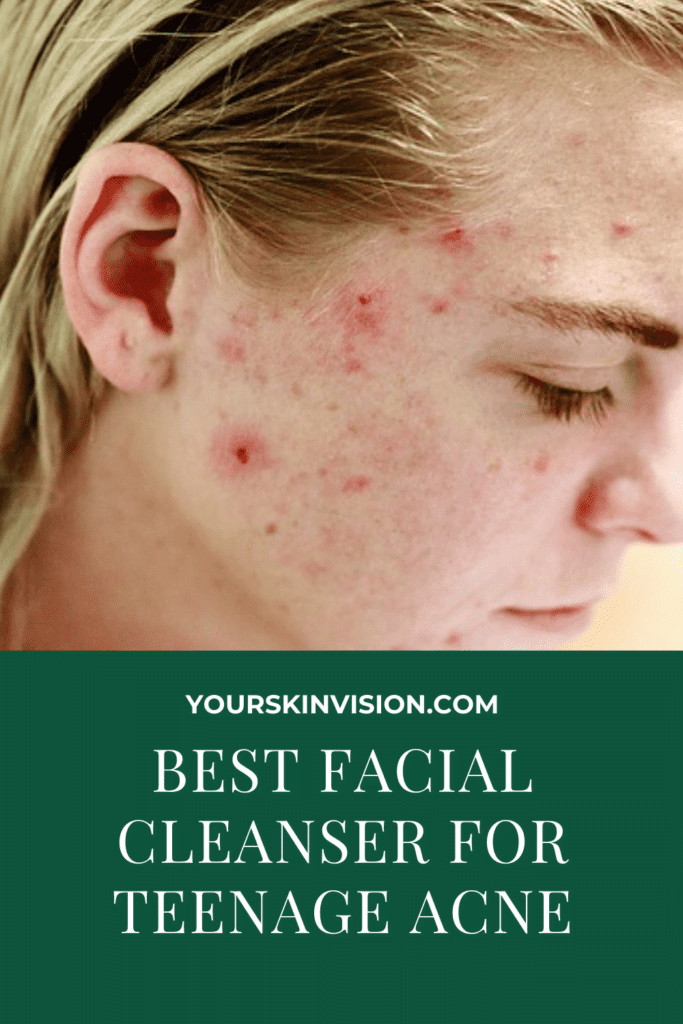 A Quick Look At The Best Facial Cleanser For Teenage Acne
How Does Acne Occur?
Acne is one of the most common skin problems. It occurs when pores get clogged with oil, dead skin cells, and bacteria. These blockages make it harder for the skin to absorb oil, which causes acne.
Acne can happen on any part of your body, but it's most common in areas with a lot of sweat glands such as your back, chest, and face.
Are These Facial Cleansers For Teenage Acne Different From Regular Ones
Facial cleansers marketed specifically for teenage acne may have some differences compared to regular facial cleansers. These differences are often designed to address the unique characteristics and needs of teenage skin, which tends to be more prone to acne due to hormonal changes and increased oil production. Here are some common distinctions:
Ingredients: Teen acne cleansers often contain active ingredients like salicylic acid or benzoyl peroxide, which are known for their effectiveness in treating acne. These ingredients help to unclog pores, reduce inflammation, and kill acne-causing bacteria. Regular cleansers may not always include these specific acne-fighting ingredients.
Gentler Formulas: While teenage skin might be more prone to acne, it can also be sensitive. Many cleansers formulated for teenagers aim to strike a balance between treating acne and being gentle on sensitive skin. They may have milder formulations to avoid over-drying or irritating the skin.
Oil Control: Teenage skin often produces more sebum (skin oil) due to hormonal changes. Acne-targeted cleansers might focus on oil control to prevent clogged pores, which can lead to acne breakouts. They might include ingredients to regulate oil production.
Preventing Future Breakouts: Teen acne cleansers may emphasize long-term benefits by including ingredients that help prevent future breakouts and maintain clearer skin over time.
Marketing and Packaging: Cleansers marketed for teenage acne might have packaging and marketing that resonates with younger consumers. They might use vibrant colors, catchy names, and imagery that appeals to teenagers.
Educational Resources: Some brands that offer products for teenage acne might also provide educational resources or skincare advice targeted at this age group. This could include tips on proper skincare routines, dietary considerations, and other factors that can affect teenage skin.
Choosing the right facial cleanser for teenage acne involves considering various factors to ensure you're addressing your skin's specific needs. Here's a step-by-step guide to help you make an informed decision:
Understand that facial cleansers are different from facial wash
Different acne treatments come with different functions, toners, and lotions are made differently from acne wash. So specify basically on acne cleansers.
Consider your skin type
Determine your skin type (oily, dry, combination) and any other specific skin concerns you might have (e.g., sensitivity, redness). This will help you choose a cleanser that is compatible with your skin's needs.
Check the ingredients
Check out active ingredients like Salicylic acid, Benzoyl peroxide, and Adapalene Alpha-hydroxy acid (AHA). These are the basic ingredients to watch out for. Others include sulfur and glycolic acid.
Check the product strength
The best face wash for acne always comes in 2% Salicylic acid and 2.5% of Benzoyl Peroxide.
Also, consider the following factors
Avoid Harsh Ingredients: Be cautious of cleansers with harsh ingredients like alcohol, as they can strip the skin of essential moisture and worsen irritation.
Non-Comedogenic: Choose a cleanser labeled as "non-comedogenic," which means it won't clog pores and contribute to acne.
What Are The Best Facial Cleanser For Teenage Acne
The following cleansers are the best recommended by dermatologists to combat teenage acne.
This super gentle cleanser cleanses your skin without over-drying. The face wash is highly recommended by dermatologists.
It has ingredients that are gentle on the skin and won't clog pores. The mild creamy face cleanser washes away oil, dirt, bacteria, and makeup and cleanses even the most dry and sensitive skin, including skin with acne, eczema, or rosacea.
Rave Review: "I love this cleanser, it leaves my skin clean and hydrated and doesn't cause any irritation or break-outs. It's great. I have bought it before and will keep buying it. High-quality product and not too expensive."
Pros
Hypoallergenic
Non-comedogenic
Oil-free
Soap-Free
Fragrance-Free
Paraben-Free
It is suitable for sensitive skin
Cons
---
This acne cleanser is formulated with salicylic acid to unclog and shrinks pores. It is also formulated to help regulate the production of oil.
This cleanser is made without toxic lauryl and Laureth sulfates. It also contains glycerin which helps to hydrate the skin. It is specially made for teens and adults to clear up severe acne and calm their irritation.
Rave Review: "In my teens and early 20s I was faithful to the good old Neutrogena oil-free acne wash (the orange gel formula). As I've gotten older I don't have breakouts as often but I still have oily skin and prefer a gel cleanser. I am not ready to give up a salicylic acid cleanser but wanted something a little less drying. I am in my early 30s now and cannot live without this face wash. It's in my subscribe and save because I can't imagine being without it."
Pros
This cleanser clears skin and prevents blemishes
Great product for teen breakouts
Cons
---
If you are looking for a quick means to clear up acne, call for Bioré Witch Hazel product. It is formulated with Salicylic Acid to help reduce acne breakouts and blackheads.
This product clears up dirt and oil from causing blemishes in pores. It also contains another natural ingredient to help tighten pores, purify, refresh, and help heal the skin.
Rave Review: "I love the clean feeling, I'm sure it's from the menthol in it. I had a blotchy pink patch where most of my acne is on my cheek. The blotchiness is mostly gone after 2 weeks and the acne seems to be getting smaller but you really have to wash with this every day."
Pros
It is dermatologist tested
Gentle enough for everyday use
It is an oil-free product
It clears up pigmentation
Best for combination skin
For acne scars and black spots
Cons
It contains Laureth Sulfate
---
This facial cleanser is formulated with benzoyl peroxide, the best ingredient used to clear up pimples, whiteheads, and blackheads from the skin's surface. It also helps to wash away excess oil, dirt, and other impurities.
The product is designed to quickly penetrate deep into skin pores to kill acne-causing bacteria on contact.
It also contains hydrating hyaluronic acid and niacinamide, which helps supply moisture to the skin. This product combines cleansing and exfoliating to help quench acne blemishes. It also prevents new coming ones.
Rave Review: "If you are acne prone, you need this in your life, Get rid of pimples in less than 3 days of using this product. Also very important to moisturize afterward."
Pros
Fragrance-free and non-comedogenic
The real deal for normal skin
Cons
---
Proactiv is a revolutionary acne treatment that includes Benzoyl Peroxide, an exfoliating toner, and a repairing spot treatment. This kit provides a complete acne treatment for the face and body.
The face wash is designed to clear out dead skin cells and help prevent new acne from forming. The spot treatment is a 1-time application that helps to clear up existing acne and prevent future breakouts.
The acne treatment kit provides the same powerful skin care for teens and adults and is great for sensitive skin.
Rave Review: "Works amazing, I got the 90 because I had super high hopes for trying this, and it works SO WELL. I had really consistent cheek acne that would keep coming back and staying bad no matter what. Paula's choice of products did not work at all for it either. But this OMG, my new favorite product."
---
Best Facial Cleanser For Teenage Acne Sensitive Skin
Teenage acne can be a tough thing to treat. It's an age-related disease that can be aggravated by many different factors. Teenagers are generally more sensitive to the environment and chemicals, which can make the process of treating teenage acne more difficult.
However, acne can be a more manageable condition if you choose the right cleanser and know the right ways to use it. The best facial cleanser for teenage acne-sensitive skin will be the one that has the following features: gentle, leaves skin clean, removes oil, and moisturizes. Check out the following cleansers.
What Are The Best Facial Cleanser For Teenage Acne Sensitive Skin
Best Face Cleanser For Tweens
Many people are looking for the best face cleanser for tweens. The tween years are important because it is when many people are going through their teenage years.
During this time, it is important for them to take care of their skin. There are many different cleansers for the face, but the best face cleanser for tweens is the one that will be the most beneficial for them. Pick any of the cleansers below.
What Are The Best Face Cleanser For Tweens
Best Face Wash For 15 Years, Girl
For a 15-year-old girl, you need to choose the best. This includes choosing the right type of wash. There are quite a few facial shampoos and cleansers to choose from, but you have to make sure it's right for your skin.
A good facial wash can get rid of oil and dirt, as well as make your skin softer. But a facial wash that does not work on your skin may lead to other health problems. Below are the best face wash for 15-year-old girls.
What Are The Best Face Wash For 15 Years Girl
Best Face Wash For 16-Year-Old Girl
Cleaning your face is not just an everyday task, but it is an important one too. Keeping your skin clean and fresh is important and you should be doing as much as you can to ensure your face is healthy.
As well as taking care of your skin, you should be looking after your skin as well. One of the best ways to do this is by using face washes which work to remove excess oil. for your age group.
As a 16-year-old girl, you may be wondering which is the best face wash for you. Below will take a look at the best face wash for a 16-year-old girl.
What Are The Best Face Wash For 16-Year-Old Girl
Best Facial Cleanser For Teenage Skin
Every product that targets teenage skin is not created equal. Many parents are in a constant battle to find the right product for their child, not only to improve their skin but to also reduce their acne.
With so many products to choose from, it can be hard to make a decision. Below is a list of the best facial cleanser for your teenage skin.
What Are The Best Facial Cleanser For Teenage Skin
Further Asked Questions On Acne
At what age does acne start?
Acne usually starts between the ages of 12 and 15 years old. It's most common in those who have oily skin, but it can also affect people with dry skin. Acne can affect your face (including your forehead, cheeks, and chin), neck, chest, and back.
Acne is a condition caused by sebaceous glands that produce an oily substance called sebum. This oil causes acne lesions to develop on your skin. The more inflammation you have in your skin, the more likely you are to get acne.
Conclusion
If you want to find the best facial cleanser for teenage acne, you should first find a cleanser that is non-comedogenic. This will help you to prevent breakouts from forming. You should also find a cleanser that is specifically designed for teens.
This will help you to prevent your skin from aging as quickly as it normally would. There are so many products available for you to choose from that you. Our recommended products here are the most perfect facial cleanser for you.
We hope that this article on the best facial cleanser for teenage acne was helpful to you. If you have any other questions, please contact us at [email protected].
Other Related Blogpost