Last Updated on February 13, 2023 by louischilton
The Korean skincare and cosmetic industry have long understood the importance of covering up skin imperfections. If you have a dry skin problem, there are good Korean concealers that can hydrate and give your skin the flawless look you deserved.
But looking for this Korean concealer can be difficult because there is a lot of variety out there. In this article, we will take a look at some of the best Korean concealers for dry skin.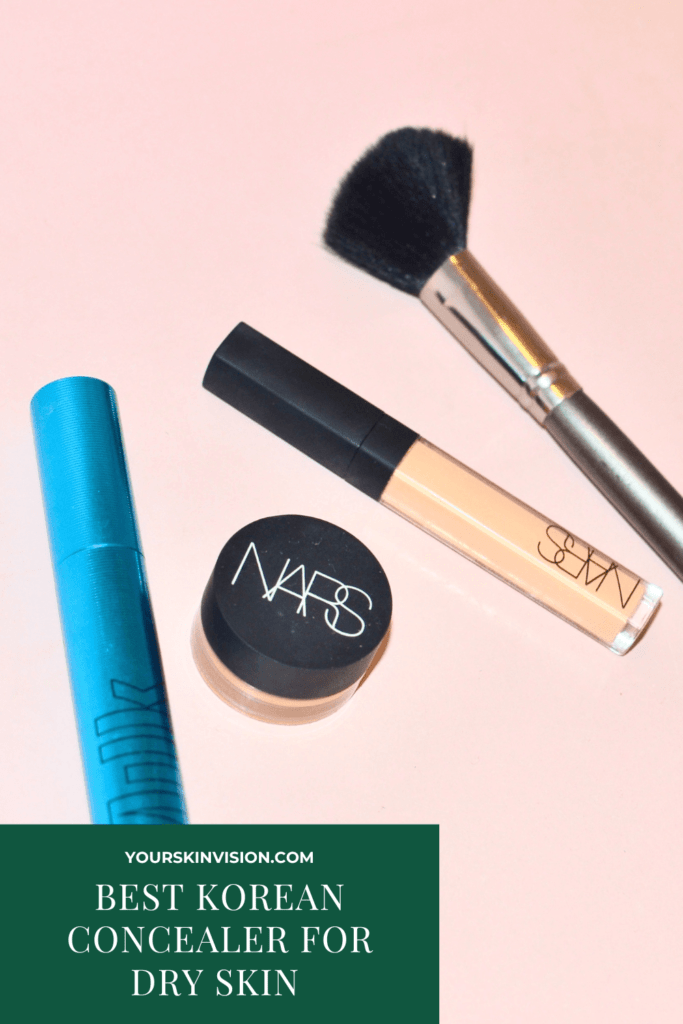 A Quick Look At The Best Korean Concealer For Dry Skin
What Are Concealers
Concealers are makeup products that help to make your skin look flawless. They are great cosmetic products that can be used with a foundation, and they can be used on your face to hide very obvious flaws that your foundation couldn't hide. Concealers are also great for covering blemishes and dark circles under the eyes.
Concealers come in many different colors, but they are not just for covering up redness or discoloration. You can also use them to add a pop of color to your makeup look.
Types Of Concealers
There are a lot of different types of concealers on the market, and it can be hard to know which one is right for you.
Here are some common types:
Cream concealers
These are usually thicker than liquid concealers, so they are best for covering up blemishes and dark spots. They also have more coverage than liquid varieties because they don't run easily or melt into skin texture as liquids do. Most recommended for normal and dry skin types.
Liquid concealers
These are thinner than creams, so they are easier to apply but still offer plenty of coverage. You can apply them with a brush or fingertips; however, they tend to melt into skin texture more quickly than creams do (and they can sometimes be too light).
This type of concealer is mostly recommended for those with combination, normal, and oily skin type.
Powder concealers
Powders are great for covering up dark spots and blemishes that don't need much extra coverage. They just need a little extra coverage from time to time. Powders come in many forms including pressed powder, loose powder, or baked powders, so there's something for everyone here.
Stick Concealer
This type of concealer is best for those with normal to dry skin. They generally have more coverage than your creamy and liquid concealers and have a semi-solid texture leaving a very pigmented and vibrant look.
This type of concealer is superb for little blemishes and dark spots.
What Are Some Of The Benefits Of A Korean Concealer?
A Korean Concealer is a great option for people who want to conceal some of the more obvious blemishes on their faces. It can help get rid of hyperpigmentation, sunspots, and other blemishes that might be hard to cover with makeup from other brands.
The best part about a Korean Concealer is that it's also great for covering up dark circles under your eyes! If you've got dark circles under your eyes, a Korean Concealer will keep them from showing through your makeup.
Another benefit is that it makes your skin look flawless and even-toned. If you have any dry patches or other skin issues that need extra hydration, using a Korean Concealer will help take care of them so they don't become visible through your makeup.
Finally, if you are looking for something that won't irritate sensitive skin or leave an oily residue behind when it dries up, this concealer has got you covered.
How Does A Korean Concealer Compare To Other Brands?
Korean concealers are a hot commodity. They are not only high quality, but they are also incredibly affordable and their formula is just as good as the more expensive brands.
These products are not made from parabens or phthalates, which means that they are safe and your skin will be left feeling soft and smooth after using them. They contain skin-identical active ingredients that help your skin look younger and feel better with regular use.
Korean concealers are also formulated to provide the coverage you can't get anywhere else. They are designed to keep redness, acne scars, blemishes, and any other discoloration under control while also concealing your blemishes so they don't show through in photos or on video calls.
How To Choose The Best Korean Concealer For Dry Skin?
The best Korean concealer for dry skin is a product that will hydrate the face and provide long-lasting coverage. It should also be easy to apply and remove so that it doesn't get messy or cause breakouts.
The following tips can help you choose the best Korean concealer for your dry skin:
First things first: find out what your skin type is. This will help you determine if a moisturizing or matte concealer will be better for you.
Next, take some time to look at each concealer's ingredients. Make sure that any ingredients that are irritating or drying are removed from the formula, because they will only make your skin worse.
You should also consider how long it will take to apply the product and how well it stays on throughout the day. If it's difficult to apply or doesn't stay on well enough, it won't be worth using in the long term.
Finally, think about how much money you want to spend on an item like this one. Are there other items in your budget that would serve as good alternatives? You don't necessarily need to spend an arm and a leg if there aren't any other options available.
What Are The Best Korean Concealer For Dry Skin
Check out the following Korean concealer for dry skin, they are safe and healthy for the skin.
This Korean concealer is perfect under the eye Serum Concealer that provides a comprehensive solution when it comes to reducing dark circles, puffiness, and fine lines. This cream concealer provides hydration for dry skin with the help of ceramides.
It also has peptides for anti-aging, and anti-wrinkle solutions as well as provide a smooth, even finish. This is a unique product providing a dual purpose, it is also a hydrating skincare eye treatment.
No other product comes close to providing the range of benefits that this product does. With continued use, you will experience a reduction in dark circles and puffiness, smoother, softer skin, reduced fine lines, and brighter, fresher eyes.
Pros
The concealer is available in 10 shades
Cruelty-free
It comes with full coverage
Its a lightweight concealer
Formulated for all skin type
Cons
---
When you add AEKYUNG Luna Long-Lasting Tip Concealer to your makeup arsenal, dark circles, dry skin, blemishes, and dark spots will be a thing of the past. This long-lasting, full-coverage Korean concealer will cover your flaws like no other.
This highly concentrated Korean concealer formula is infused with active Vitamin E, Chamomile Extracts, and Portulaca Oleracea Extracts to ensure a smooth, even finish and to make your skin feel comfortable all time.
With 5 hydrating shades to choose from, you can easily find the one that best matches your skin tone and concealer your dry skin.
Pros
Formulated for dry and normal skin
It is quite affordable
Cons
It has talc and fragrance
---
The Kaja Concealer is a lightweight liquid formula that provides buildable and lightweight coverage that is great for any area of the face. It provides full coverage of blemishes, and dark circles. This Korean product is a great moisturizing concealer for dry skin.
It helps even out complexion, brighten and camouflage for a much better looking and feeling skin. The concealer is available in 12 natural finish shades with light-to-medium coverage.
Pros
Cruelty-free
Paraben-free
Sulfate-free
The concealer doesn't leave any cakey feeling
Cons
---
This Korean Skinfood concealer cream is specially formulated with salmon oil as a highly concentrated active ingredient to effectively conceal dark circles, fine lines, and wrinkles and gives you a healthy look by covering and perfecting under the eye area.
It also helps to conceal and retexturize your skin, leaving it looking flawless and natural. The salmon extract also helps to feed and nourish your skin and gives it a perfectly smooth and supple appearance.
Pros
It is lightweight
Very affordable concealer
Cons
---
Introducing ETUDE Big Cover Skin Fit Concealer PRO. Our most lightweight yet high-coverage concealer. The brightening concealer covers dark circles, and redness, for an overall clean and clear look. Covering up any imperfections, the formula adheres to your skin like a second skin and lasts all day long.
This long-lasting, creamy formula is completely non-drying, which makes it perfect for those with dry skin. It's available in 9 shades to fit a wide range of skin tones.
---
Best Korean Concealer For Under Eyes
A lot of people are getting in the habit of wearing concealer under their eyes. It's because a lot of people know how good concealers can be for hiding blemishes. But there are some people who don't know what to use.
This is where the Korean concealer comes in. So what are some of the best Korean concealers for under eyes? Below we have listed the best Korean concealers for under eyes that you need to know about.
What Are The Best Korean Concealer For Under Eyes
Best Korean Concealer For Mature Skin
A lot of people are concerned about the quality of their skin as they age. There are countless beauty treatments that go with it, including the application of makeup. One of the most effective treatments used to maintain your skin is the use of concealer.
There are a number of Korean concealers on the market which provide intensive coverage while still being undetectable on your skin. This article will look at the best Korean concealers for mature skin.
What Are The Best Korean Concealer For Mature Skin
Best Korean Concealer For Oily Skin
Finding the right Korean concealer for oily skin can be tough. But, with the right products it can be simple. The key is to find products that are oil-free, provide high coverage, have high pigmentation, and have a matte finish. Below is a list of the best Korean concealers that cover all the bases for oily skin.
What Are The Best Korean Concealer For Oily Skin
Best Korean Concealer For Acne
Acne is a common skin condition that can affect anyone. It is considered a chronic inflammation of hair follicles, which can cause red, dry, or oily skin. In addition, acne can be caused by hormonal changes in adolescents or can be a result of other medical conditions.
Between the three types, acne differs in severity and the extent to which it can be treated. We will be focusing on how to cover these flaws with the best Korean concealers for acne. Check out the concealers below.
What Are The Best Korean Concealer For Acne
Best Japanese And Korean Concealer
The best Japanese and Korean concealer brands are often underrated and not as popular as their Western counterparts, but there are good reasons for this.
These brands offer more natural coverage and more natural ingredients as well. Korean and Japanese concealers are also commonly seen as more affordable. These are all great things to consider if you are looking to buy a new concealer. Below is a list of the Best Japanese And Korean concealers.
What Are The Best Japanese And Korean Concealers
Conclusion
From our research, The JOAH Perfect Complexion Eye Serum Concealer is our overall pick for the best Korean concealer for dry skin.
The matte finish, buildable coverage, and variety of shades make it a perfect match for users looking to correct their complexion but who still want to look natural. So what are you waiting for? Get your hands on this product right away.
Other Articles