Last Updated on January 3, 2023 by louischilton
Finding the best lotion for children's dry skin is no easy task. There are so many different brands claiming their cream is 'the best but how do you know who to believe?
Dry skin is something that plagues many children and can be incredibly uncomfortable. On top of this issue being something of an inconvenience for the children, it's also uncomfortable for parents dealing with a child who won't stop scratching.
We all want the softest skin for our children but the cure for greasy, slippery hands is not one size fits all. In this article, we have teamed up with some top dermatologists to find the best lotion for children's dry skin. They are listed with their review below.`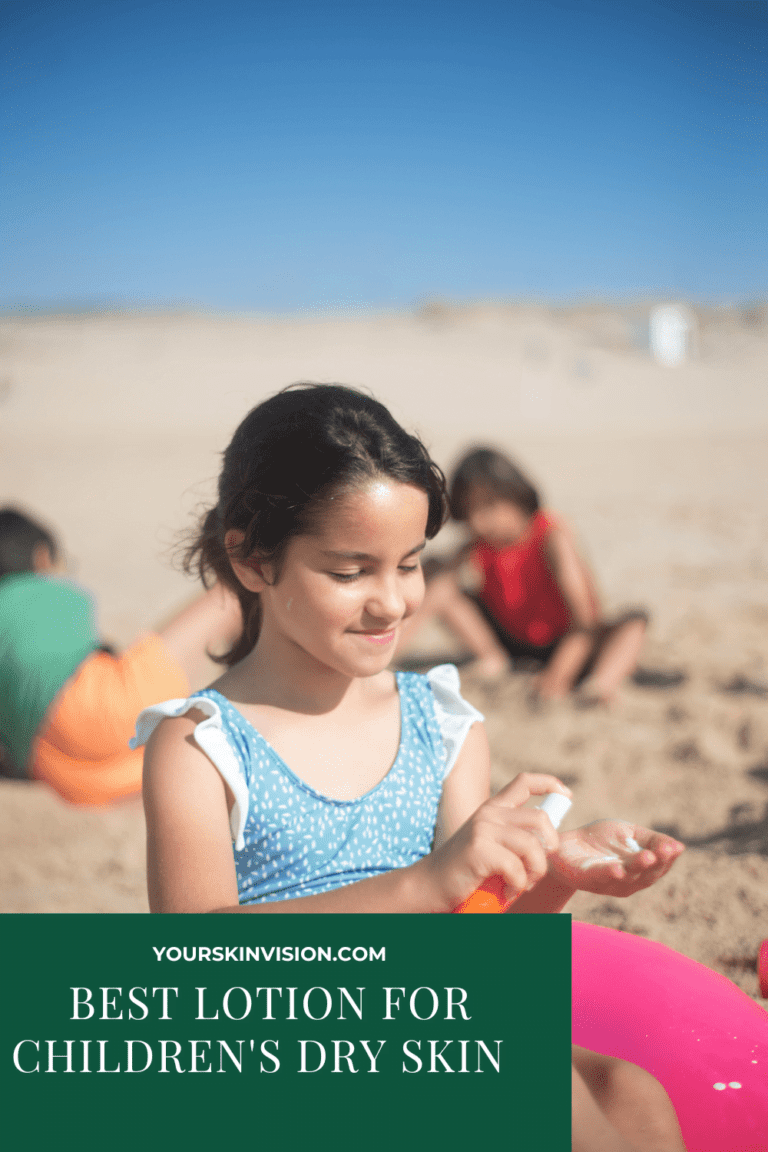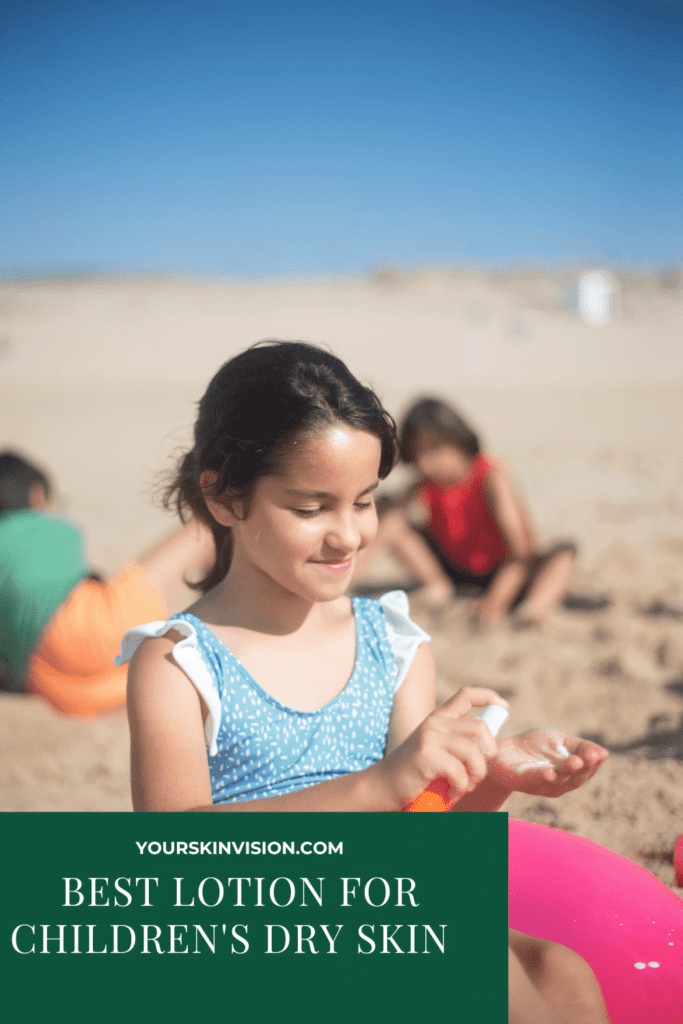 A Quick Look At The Best Lotion For Children's Dry Skin
The Benefits Of Lotion On Your Child's Dry Skin
A lotion is a great tool for parents to help keep their children's skin healthy.
If you have a child that has dry skin, you know how uncomfortable it can be. It might look red and scaly, and they may experience itching or tightness. Some children complain of having a stinging sensation when applying lotion to the skin.
Given all the discomfort associated with dry skin, we wanted to share some of the benefits of using lotion on your child's dry skin:
It helps improve skin texture by making the skin more supple and smooth.
Applying lotion at least once a day can help lock in moisture and prevent further irritation from dry skin.
lotions are a better choice than creams and ointments for most children because they're easier to apply.
How We Choose The Best Children's Lotion For Dry Skin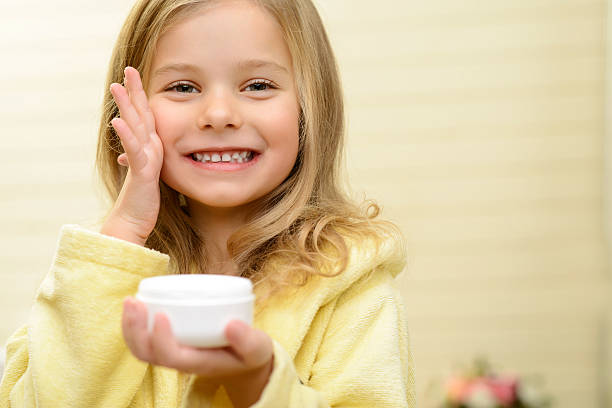 We recommend children's lotion for dry skin based on our extensive research into the following criteria:
Price
We look at whether the lotion is sold in an affordable package, and whether that package is large enough to last for some time.
Ingredients
We look into what ingredients are used in the product, as well as how they contribute to the product's benefits. The best ingredient in lotion for children is those that help to soothe and calm the skin.
Many experts recommend using ingredients like oatmeal, chamomile, aloe vera, and lavender oil. These ingredients are known to be calming and soothing, which helps to reduce redness and irritation while improving the overall look of your child's skin.
Another important ingredient is shea butter, this ingredient is great because it helps to moisturize your skin and helps to heal dry patches. It also has anti-inflammatory properties that can help reduce redness and irritation.
Product Features
We take a look at what features make this product stand out, and how they can help you and your child benefit from using it.
Effectiveness
We review the effectiveness of the product and its ingredients, by studying customer reviews and official documentation.
Brand
We consider how reputable the brand is, whether it has a long history of success and good products and whether they have a good reputation amongst customers.
What Are The Best Lotion For Children's Dry Skin
The following products are ideal for children battling dry skin. They are safe and free from toxic ingredients.
This dermatologist-recommended formula is infused with 100% natural ingredients to help combat dry and sensitive skin in kids. This baby skincare product is formulated with lavender and chamomile.
The all-natural moisturizing lotion is suitable for all skin types for all ages. Other than toddlers and infancy, it is also recommended for adults. The product comes without any skin irritation.
Pros
Cons
This gentle moisturizer is formulated to help soothe and protect delicate skin. This non-greasy, non-comedogenic formula protects and nourishes your baby's skin by reducing dermatitis.
It is dermatologist recommended and is pH 5.5. The product doesn't leave any harmful residue. This "ultra mild" formula is suitable for babies with skin. It is non-comedogenic and makes for a perfect baby moisturizer for sensitive skin.
This lotion is also ideal for babies with eczema, cradle cap, atopic dermatitis, and other skin conditions.
Pros
It's free of preservatives, and alcohol
Cons
Aveeno Baby Daily Moisture Lotion is a special lotion that hydrates and delivers a calming effect. This lotion prevents dry skin and leaves it feeling soft and smooth. It restores the skin's natural moisture balance with a unique blend of natural colloidal oatmeal and dimethicone.
The lotion is ideal for any age and is safe for babies. It is dermatologist tested and pediatrician-recommended.
Pros
It's ideal for eczema skin
Cons
The TRISWIM Kids Scented Body Lotion Skin Hydrating Moisturizer Chlorine Removal with Aloe Vera is the perfect lotion for the whole family. This body lotion has a light citrus scent that smells good and is great for use by kids and adults.
It provides a skin-friendly and long-lasting skin hydration that moisturizes the skin and soothes and softens dry and rough skin while reducing the risk of skin irritation.
With a unique formulation, this scented Body Lotion is infused with Aloe Vera, Vitamin E, and Pro-Vitamin. The product is ideal for all skin types and is suitable for daily use.
Pros
TRISWIM body lotion both smell great
Cons
This rich body lotion is specially designed to meet the needs of babies and children.
The lotion is infused with natural ingredients and is clinically proven to help soothe dry, itchy skin. The lotion is free from fragrances and is suitable for children of all ages. It has been dermatologically tested.
Pros
Dyes, parabens, and phthalates-free
Cons
A moisturizing lotion for babies and kids that is free of synthetic fragrances, parabens, petrolatum, phthalates, and other harmful chemicals. Made with organic aloe vera and natural shea butter, this lotion provides a protective barrier to help heal dry, chapped skin and to prevent eczema and other irritations.
It is non-oily and non-greasy, so it will not leave your skin feeling sticky or weighed down. This lotion is also infused with natural antioxidants and vitamin E to soothe the skin.
Frequently Asked Question
What Does Lotion Do?
It moisturizes the skin by trapping water in it. This keeps it from drying out, which happens when exposed to harsh elements like wind and cold temperatures.
How Often Should I Put Lotion On My Child?
In the winter, put lotion on your child at least twice a day (after each bath). It's best if you use an unscented lotion that won't irritate their sensitive skin further with strong scents like lavender or vanilla.
You can also add essential oils like coconut oil or olive oil if your child has eczema or other conditions that require extra hydration.
What Happens If I Don't Use Lotion?
Your child will suffer from cracked heels and dry, flaky skin all over their body which could lead to infections from bacteria entering open wounds created by these cracks. This can cause pain when walking as well.
Conclusion
We hope you enjoyed our blog about the best lotion for children with dry skin. There are a variety of lotions on the market, but many children's products are loaded with unnatural chemicals.
We're here to tell you that you don't have to worry about your little ones' skin with our blog post on the best lotion for children's dry skin. With the help of our advice, you can rest easy knowing your kids are getting all the moisture they need with natural ingredients.
Please contact us anytime if you have any further questions or concerns by visiting. Thank you for reading, we would love to hear from you.
Also, Read