One of the most painful parts of having back acne is how it can affect your skin. Acne can make it difficult to achieve a smooth and healthy complexion.
So what can you do? The best way to remove dead skin cells, reduce excess oil, and decrease inflammation is by using a back exfoliator.
However, that doesn't mean you need to spend hundreds of dollars on one. There are tons of cheaper options that many people are turning to these days. This blog will look at the top best back exfoliator for acne.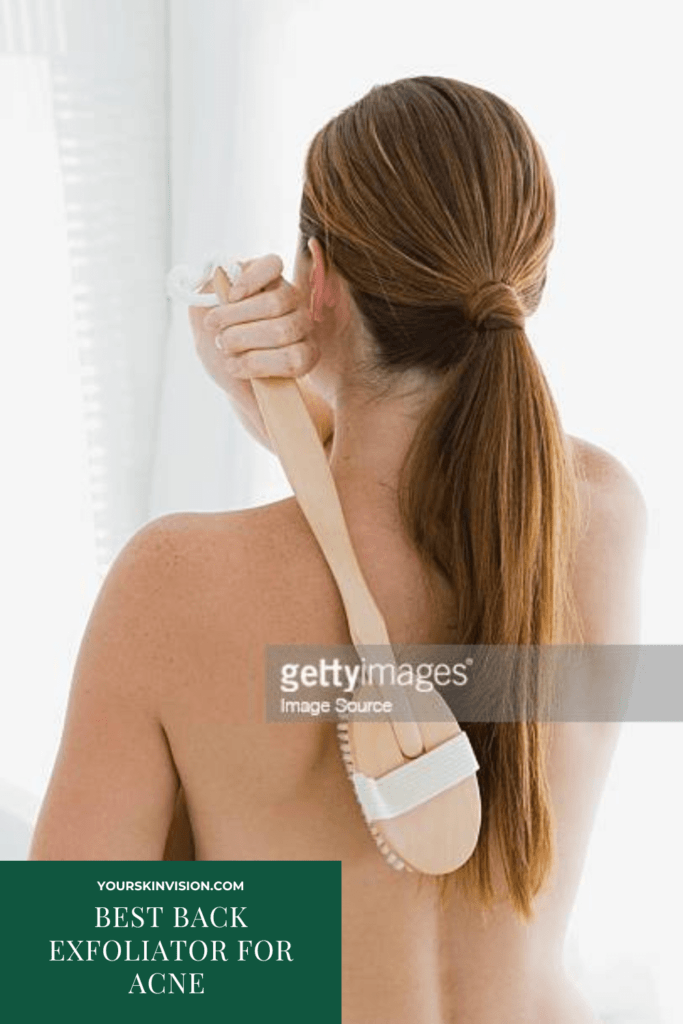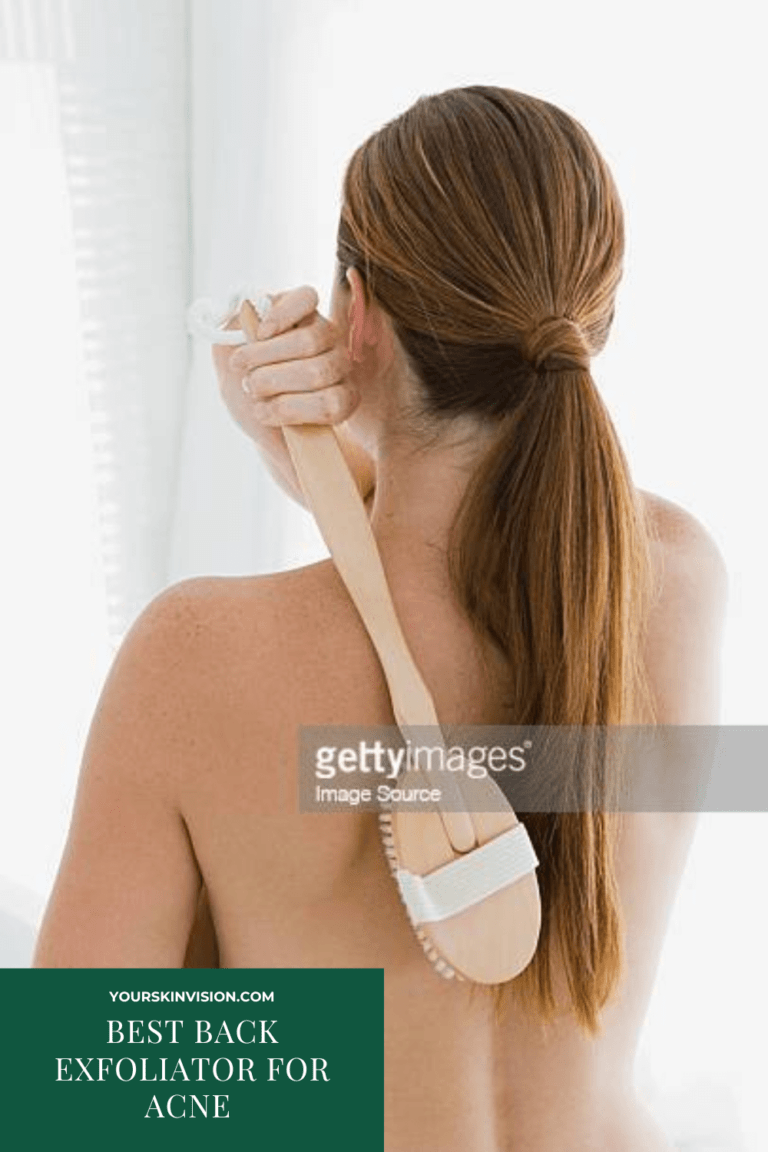 A Quick Look At The Best Back Exfoliator For Acne
What Is A Back Exfoliator?
A back exfoliator is a product meant to remove the dead skin cells that accumulate on your back, your neck, shoulders, and chest. These dead cells can cause irritation and itchiness, which can be uncomfortable and even painful.
Removing these accumulated dead skin cells helps you feel better by reducing inflammation and improving circulation in your back region.
Why Is It Important?
Having healthy, glowing skin is important for your overall well-being. A good exfoliator will help you maintain clear, smooth skin that also feels soft and smooth to the touch. It can also help you avoid blemishes and acne breakouts, which are often caused by dead skin cells clogging pores.
How To Choose The Best Back Exfoliator For Acne
Finding the right back exfoliator is a bit of a challenge because there are so many options. But don't worry. With some research and patience, you'll be able to find a product that's perfect for your skin type.
First things first: What are your concerns? If you have acne or oily skin, you want to choose a back exfoliator that will help remove dead skin cells from the surface of your skin so that oil doesn't build up on it.
You should consider a back brush(back scrubber) that has a long handle so that it extends to reach the back and moves efficiently to exfoliate and get rid of dirt. For more convenience, choose a back scrubber with both soft and stiff bristles so that the scrubber serves both as a cleaning tool and an exfoliator.
If you are considering a chemical exfoliator for your back acne, consider products with glycolic acid, lactic acid, salicylic acid, and other active ingredients. These acids are responsible for dissolving dead cells on your back, which means they can also be used on other areas of your skin as well.
Next up: What's your budget? You will need to decide how much money you are willing to spend. You may want something inexpensive but effective or something more luxurious but expensive.
Think about what kind of results you are after and make sure that the product will achieve them before making any purchases.

How To Use A Back Exfoliator?
First thing first, Make sure your back is dry(Dry exfoliating is considered to be more productive because the removal of dirt and dead cells is more efficient when the skin is dry). Go over your back with a natural bristle body brush.
Use the back exfoliator gently to scrub your skin in a circular motion. The brush will exfoliate away the dead skin on your back. Do this for about 25 seconds, and then rinse off with warm water.
How Long Should You Use A Back Exfoliator?
The amount of time that it takes for your back exfoliator to work depends on the efficiency of the product you choose. Some products may take longer than others because they contain more ingredients or have more potent effects on the skin.
The average person should use their back exfoliator twice per week. This will ensure that your body has enough time to absorb all the benefits of using this product over time depending on how often you use it each week or month.
What Constitutes An Effective Back Exfoliator?
An effective back exfoliator consists of a handle and a brush attached to it. The handle has small holes in it, which are meant to allow water to run through it as you use it on your back. The brush has bristles that are meant to remove dirt and grime from your skin.
What Are The Best Back Exfoliator For Acne
Back exfoliation is a great way to keep your skin in good shape, but it can be hard to find a product that provides enough scrubbing power. We have got some good news, there are tons of different products out there that can help clear up your skin and keep it clear.
So let's take a look at some of the best back exfoliators for acne and how they work.
This Back exfoliator is a great way to stay healthy and clean. The exfoliating scrubber includes a double-sided back scrubber for the removal of dead surface skin, increasing blood circulation for smoother skin.
The scrubber includes a strap handle to easily hang up while showering or bathing. The best part? It provides a deep clean and is designed to remove dead skin cells and prevent the buildup of bacteria causing acne. The scrubber is an affordable addition to your health and beauty routine.
Rave Review: "The scrubber is exceptionally durable, and its handles are securely attached. I am particularly fond of the exfoliating side, and the length of the handles is perfect for me to comfortably reach and maneuver on my back. Additionally, I have found the exfoliating side to be effective in addressing the bumpy texture of my thighs during the summer. Without hesitation, I would highly recommend this scrubber to anyone."
Pros
It's a safe natural Exfoliant
100% organic materials
Contains no harmful chemicals
Cons
---
If you are looking for a cheap way to get rid of acne on your back, try using a Yiclick 2 Pack Exfoliating Washcloth Towel. It is more effective at removing dirt and dead skin cells from your back than other sponges because it has more rough edges that can grab onto dirt and grime (and help you remove it).
The scrubber also makes it easier to get into hard-to-reach areas like under your arms and around the sides of your legs.
Rave Review: "I'm extremely happy with the results of getting rid of dead skin so fast. It also invigorates stimulation and you feel cleaner. A lot more sanitary than a brush or sponge because it's washable"
Pros
Its also formulated for Sensitive and Rough skin
It is light and soft
Helps in stimulating blood circulation
Cons
---
Get flawless skin by exfoliating with Supracor Stimulite Body Exfoliator. A premium, three-step body scrub with a natural body scrubber that helps in exfoliating the skin, removing dead and dry skin cells, stimulating blood flow to tissues, and giving a natural glow.
It also helps to completely combat acne on the back. Boost the natural beauty of your skin with this powerful exfoliator for a smoother, softer, and brighter appearance.
Rave Review: "I was pleasantly surprised to find that this product had a clear side in addition to the expected black side. Upon using it, the purpose of having both clear and black sides became evident. The clear side is ideal for washing your back, while the black side is more suitable for exfoliating, based on my personal experience. Although I believe the product is somewhat pricey considering its nature, I would still choose to repurchase it every time because the quality is unmatched."
Pros
Never harsh on the skin
Made in the USA
it is extremely effective yet gentle on my skin
Cons
---
Clear your back acne with the Supracor Spa Body Exfoliator. This sponge is a solid body exfoliator that removes dry dead skin cells, minimizes pores, and leaves skin feeling smooth and soft. This product is perfect for back acne or for those looking for a scrub for the whole body.
The back scrubber also helps to break down the toxins that produce cellulite and helps to promote blood flow.
Rave Review: "I cannot express enough how fantastic these products are. They are incredibly durable and hold up exceptionally well. When it comes to exfoliation, they are undoubtedly the best scrubbers. I am absolutely enamored with these products. I have previously purchased two gloves, and now I have also acquired the back scrubber. Let me assure you, they are worth every single penny."
---
This fast-drying microfiber is a double-sided exfoliating and cleansing back scrubber that is perfect for back acne. It is made of high-quality material which is skin safe and helps in easing pain and soothes skin irritation.
The scrubber removes dead skin cells and dirt from your back, leaving your skin smooth and soft. The microfiber also keeps the scrubber from retaining extra moisture.
Rave Review: "I bought this to scrub my back. It is perfect. I put soap on it, get it wet, and scrub it away. So easy and it has a course and a soft side. I use the course side."
---
Best Exfoliating Scrub For Back
Many people have trouble using the wrong exfoliating scrubs, especially those who have sensitive skin. These scrubs are harsh and can cause small, red bumps to form on the skin. They are generally not soft, you only use them by applying force to cleanse the skin, and it might be a potential cause of irritation.
Exfoliating scrubs are supposed to be a gentle, effective way to remove dead skin cells and increase moisture and circulation. In order to help in reducing your extreme search. We have listed the best exfoliating scrub for the back.
What Are The Best Exfoliating Scrub For Back
Best Exfoliating Scrub For Blackheads
Exfoliating scrubs are great for getting rid of blackheads and other blemishes. There are many options for exfoliating your skin, but the best ones are going to be those that are natural and free of toxic ingredients.
Fortunately, you can find these types of exfoliating scrubs in any store that sells beauty products. It is best to use these natural exfoliating scrubs a couple of times a week to ensure your maintenance. Below is a list of the best exfoliating scrub for blackheads.
What Are The Best Exfoliating Scrub For Blackheads
Best Back Exfoliator Towel
We all know how important it is to exfoliate our back, but what is the best way to do it? There are many ways to exfoliate. But the question here is have you ever tried using an exfoliating towel?
Back exfoliator towels do a decent job of cleansing your skin, they help in removing dead skin, blackheads, and clogged pores from the neck and face, providing a clean and fresh feeling.
They usually come with a soft texture and make the skin feel very soft and smooth. Below is a list of the best back exfoliator towel for your skin.
What Are The Best Back Exfoliator Towels
Best Back Exfoliator For Shower
Many people want to use a back exfoliant for their shower to remove the rough, dry skin that could make it look dull. However, the exfoliants need to be able to remove the dead skin and the blackheads without damaging the skin.
There are a lot of different types of back exfoliants that you can choose from and some are better than others. Below is a list of the best back exfoliator for showering and how they can help you.
What Are The Best Back Exfoliator For Showers
Best Men's Back Exfoliator
You must use a good exfoliator for your skin. That is why this blog is about the best men's back exfoliator.
The best men's back exfoliator is a natural exfoliating scrub that gently buffs away the dead skin, leaving your skin smooth and healthy-looking. It is safe for all skin types and can be used on your face as well.
What Are The Best Men's Back Exfoliators
Best Exfoliator For Back Of Arms
In the past, there was only one way to exfoliate the back of your arms, which was to rub your hands against your skin until it was smooth again.
But that's changed, and now you can use an exfoliating shower puff or scrub to scrub away the dead skin. But which one is the best? It all depends on your budget, your skin type, and your preferences. So, without further delay, let's take a look at the five best-picked exfoliators for the back of your arms.
What Are The Best Exfoliator For Back Of Arms
Best Homemade Body Scrub For Back Acne
Do you want to use a homemade body scrub for back acne? If so, you should know that there are many different types of homemade body scrubs that you can make. A lot of them are very similar, but they will all work in different ways to help you get rid of your back acne.
You don't need to use expensive products or expensive ingredients when making your own body scrub because most of the things that you need are usually found in your kitchen cabinets.
There are plenty of alternatives out there, and this blog will help you find the best homemade body scrub for back acne.
What Are The Best Homemade Body Scrub For Back Acne
It is very important to tackle back acne before it gets out of hand. This can be done by using a homemade body scrub. You need to mix 2 tablespoons of baking soda with 1/2 cup of sea salt and 3 tablespoons of coconut oil.
It is important that you use 100% pure coconut oil so that there are no impurities in the mixture. Mix all these ingredients together well and then apply them on your back. Leave it on overnight and wash it off in the morning. This will help you get rid of the pimples faster than any other method available today.
Conclusion
After trying a wealth of back exfoliators that claim to eliminate acne on the back, here's our conclusion, we recommend the Seraphic Skincare Premium Exfoliating Back Scrubber. Its extra gentle exfoliation is the perfect way to purify your skin without irritating it, and its ingredients will leave you feeling renewed and refreshed.
None of our other picks offer all the perks of this particular product, making it the clear winner in our book.
Other Articles